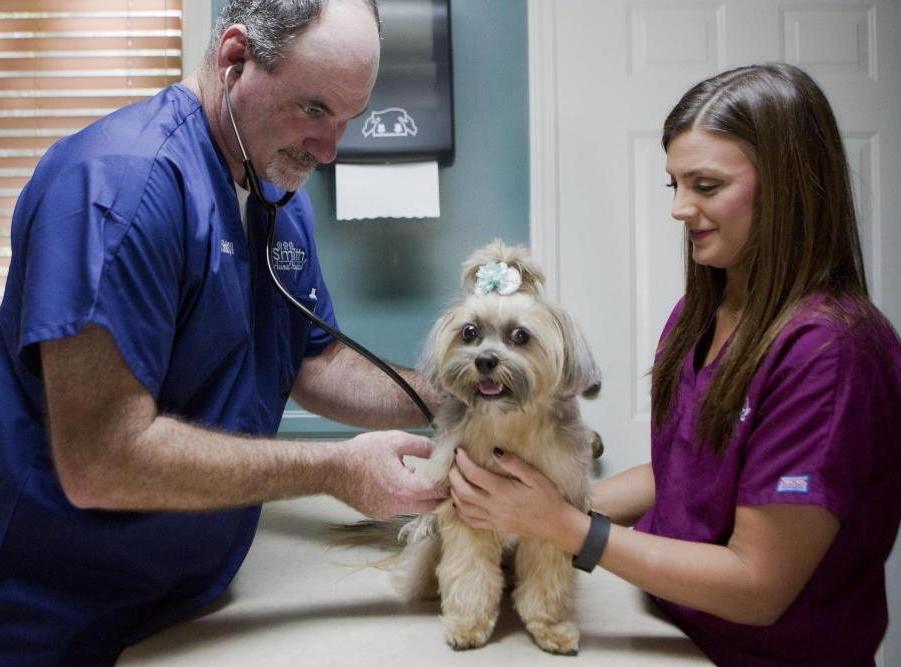 Infection Control and the Veterinary Practice
Companion
|
Sales
|
February 2019
As a rep, you'll be doing your customers a favor by reviewing their current protocols against the 2018 AAHA Infection Control, Prevention and Biosecurity Guidelines
Editor's note: The following is part 2 of a series on infection control. Visit www.vet-advantage.com to download the January issue for part 1.
When it comes to protecting veterinary professionals, patients, and clients against biohazards – there's a great resource for best practices: the 2018 AAHA Infection Control, Prevention, and Biosecurity (ICPB) Guidelines.
And, as an industry sales representative, you can use these new guidelines to help your customers do all they can to stay safe.
According to the AAHA website, where you can find the Guidelines, the objectives of the guidelines are to:1
• "Help veterinary practice teams understand the importance of ICPB and why it should be prioritized.
• Help practice teams implement appropriate ICPB protocols that enhance patient care and safety.
• Provide general concepts that guide effective ICPB (versus exhaustive information on all potential pathogens).
• Provide specific surveillance strategies and protocols that will allow practices to self-audit, assess, and adjust their [Standard Operating Procedures] (SOPs) for infection control.
• Provide resources for motivating and training staff to understand, implement, and comply with ICPB strategies.
• Provide practical information that can be adapted as client education materials."
RECOMMENDED STEPS
Here's a step-by-step recommendation on how you can help practices follow these guidelines and benefit from improved safety measures.
1. Study the 2018 AAHA Infection Control, Prevention, and Biosecurity (ICPB) Guidelines and the accompanying website, and make note of the top takeaways. This groundwork is critical for your efforts, and may take only about 30 minutes.
2. Create a discussion checklist based on the take-aways (or use the AAHA checklist(s) and plan to use some of your clinic-visit time to discuss safety. Ask your contacts, "Have you seen the new AAHA Guidelines?" and proceed accordingly.
3. Help practices assess their current infection control methods by asking your contacts to describe their current protocol. Together with members of the practice, review AAHA's online biosecurity tracker to help them discover how they measure up and to pinpoint gaps.
4. Ask about the supplies they use in preventing exposure, such as cleaning/disinfection products, pre- and post-surgery equipment, autoclave equipment, gloves, masks, clothing, etc. To make sure you cover everything, you may want to create an inventory checklist based on the biosecurity tracker items.
5. Make note of the age and type of these supplies; it may be time for an upgrade to better, more modern, and more effective solutions.
6. Go beyond supplies. The AAHA Guidelines include "Environmental Recommendations" that cover heating, ventilation, and air conditioning; spills and waste; laundry; and much more. You may help the team discover issues that need to be addressed (with your assistance).
7. Walk through all the AAHA recommendations and tools for team training and client education, so everyone in the clinic knows how to stay safe … and can help clients stay safe at home with their pets.
The AAHA ICBP guidelines are supported by an educational grant from Virox, makers of Rescue Disinfectants. Here are two tips that Virox wanted to pass along to you, so you can share them with practices:
Tip No. 1: Use the right contact time
All disinfectants have an EPA registered contact time between 30 seconds and 10 minutes. This is the time the surface must stay wet for disinfection to occur. If the surface dries before the contact time has been met, that means disinfectant must be reapplied to meet that minimum contact time. A 10-minute contact time could require 2 or even 3 applications to achieve disinfection, so choose a disinfectant with the shortest possible contact time. (Rescue concentrates have a 5-minute contact time, and the wipes and ready-to-use liquids have a 1-minute contact time.)
Tip No. 2: Measure it
It's easy to think that since a little bit of disinfectant does a great job, a lot will do an incredible job, but that's just not true. Using too strong a concentration can lead to sticky floors, soapy residue and wasted product. Use the right amount for the pathogen you're trying to kill. With Rescue, it's usually 2 ounces. per gallon. Pro tip – sell a mixing station with Rescue and it will pay for itself, plus make your clients' lives easier. 
Randy Pilon, President and CEO, said, "Virox is thrilled to support the 2018 AAHA Infection Control, Prevention, and Biosecurity Guidelines. It's rewarding to contribute to the good health of animals and people by helping to provide measurable improvements to infection prevention in the veterinary practice. Advancing the importance and practice of infection prevention has been our highest priority since Virox was founded 20 years ago. We appreciate the tremendous effort and contributions by the Task Force and the entire team at AAHA."
In addition to the AAHA Guidelines, you can also steer your customers to helpful information provided by the Centers for Disease Control and Prevention (CDC) – specific to veterinary biohazards and safety. Visit https://www.cdc.gov/niosh/topics/veterinary/biological.html
To summarize, your customers count on you to provide the best solutions for animal care and practice success. They may not expect you to discuss biohazard safety with them, but they'll definitely appreciate it! 
1. AAHA disclaimer on the new guidelines: "These guidelines were prepared by a task force of experts convened by AAHA … [and are] intended as a guideline only, not an AAHA standard of care. These guidelines and recommendations should not be construed as dictating an exclusive protocol, course of treatment, or procedure. Variations in practice may be warranted based on the needs of the individual patient, resources, and limitations unique to each individual practice setting. Evidence-based support for specific recommendations has been cited whenever possible and appropriate. Other recommendations are based on practical clinical experience and a consensus of expert opinion. Further research is needed to document some of these recommendations. Because each case is different, veterinarians must base their decisions on the best available scientific evidence in conjunction with their own knowledge and experience."