Prepare for Tetanus Antitoxin Backorder
Major manufacturer warns of unavailable product due to a change in USDA regulations that will limit production.
Colorado Serum Company – the only manufacturer of Tetanus Antitoxin for livestock in the United States – is warning of a product backorder due to a recent change in regulations from the U.S. Department of Agriculture (USDA).
Equine origin product
The change limits the production of the antitoxin product, which is produced using donor horses. Horses have been used for decades to make serum antibodies. In fact, this process of antibody collection is used for human products as well.
"They have good immune responses and have a lot of blood, so they are the perfect antibody production factory, so to speak," said Randall J. Berrier, DVM, senior vice president – Scientific Affairs at Colorado Serum.
To create the serum antibodies, horses are hyperimmunized with antigens from different disease-causing organisms. The animals produce high levels of antibodies to these antigens, and then they are intermittently bled for antibody collection in the serum or plasma.
In addition to Tetanus Antitoxin, this process is used to create other products including: Snake Antivenin, Tetanus Antitoxin, Clostridium perfringens Types C & D Antitoxin, Clostridium botulinum Antitoxin, West Nile Virus Serum Antibody and Rhodococcus equi Antibody.
New regulations
Horse donors must be healthy and screened for equine infectious anemia (EIA), piroplasmosis and Brucella prior to being used as serum or plasma donors for licensed equine products. For equine serum products, the blood is collected aseptically, is pasteurized and contains preservatives. The final product is also sterility tested prior to release.
As of June 1, 2021, new USDA regulations also require horse donors to test PCR negative for equine parvovirus (EqPV). The final serum or plasma product also will be required to test PCR negative for EqPV if it is intended to be used in horses.
Risks to horses
Tetanus Antitoxin is sometimes administered to unvaccinated horses, which are also vulnerable to tetanus. Very rarely, horses will develop serum hepatitis two to three months after receiving an equine serum or plasma product, which is a life-threatening disease. The affected horses may show clinical signs of liver failure such as anorexia, lethargy and jaundice.
Until recently, cases of serum hepatitis were attributed to an allergic reaction. Recently, a study linked these instances to the presence of equine parvovirus in donor horses used to produce the antitoxin.
"The link between equine blood origin products and hepatitis has been well documented for over 100 years," Berrier said. "Serum hepatitis is a very rare event. Some horses will develop hepatitis having never received an equine serum product before. A warning regarding the link of equine serum products with serum hepatitis has been on all of our equine serum products used in horses for decades."
Horses that develop severe clinical signs of Theiler's Disease, or idiopathic acute hepatic disease, have a mortality rate greater than 50%. Horses that recover make a full recovery with no lingering liver disease.
New links to equine parvovirus
New research demonstrates equine parvovirus may be the cause of some cases of serum hepatitis in horses.
"Screening of healthy horses by PCR testing shows that this virus is very common in the healthy equine population, usually causing no disease or clinical signs," Berrier said. "We have found EqPV genetic material with our PCR test present in over 50% of the healthy potential donor horses we have screened on multiple occasions. Very rarely, however, it appears that this virus is associated with hepatitis in horses."
The limitation of PCR testing (which only detects genetic material) is the inability to determine if live equine parvovirus can be transmitted from donor horses through serum or plasma to, ultimately, cause serum hepatitis.
Licensed serum antibody products like tetanus antitoxin are pasteurized and contain thimerosal and phenol preservatives to help mitigate bacterial and viral contaminants. Colorado Serum confirmed its equine serum products contain phenol levels above what has been shown to kill many viruses, including similar parvoviruses.
"Unfortunately, until an assay can prove that our processing and preservatives inactivate the EqPV, we will be required to screen all donor horses with the PCR test as well as final products that have horses on the label. This obviously adds a lot of additional costs to produce these products and makes it very difficult to find negative donor horses as well since EqPV prevalence is so high in the general horse population," Berrier said. "To date no one has been able to cultivate live EqPV from equine blood or tissues."
Vaccinate to prepare for backorder
Colorado Serum warns the regulation will limit the availability of equine serum products – for horses and for ruminants – and some may be discontinued altogether.
"We recommend producers be more proactive with Tetanus Toxoid and Clostridium perfringens Type C&D Toxoid vaccinations," Berrier said. "Vaccinate all young livestock with Tetanus Toxoid and C. perfringens Type C&D Toxoid according to label instructions. Vaccinated animals rarely need serum antibody treatment, and even in the case of vaccinated livestock that are wounded, all they would need is a Tetanus Toxoid booster, along with antibiotics, at the time of injury."
He also recommends cattle producers give annual boosters to pregnant dams about three to four weeks prior to parturition to ensure passive antibody transfer in the colostrum to protect neonatal animals during the first few weeks of life against these diseases.
The same also applies to West Nile virus immunization in horses.
Timeline for product availability
The USDA has temporarily suspended the use of Tetanus Antitoxin in horses through Nov. 30, 2021, until all donor horses and final product have all tested negative for equine parvovirus by PCR.
In the future, all donor horses for Tetanus Antitoxin products will also be tested upon arrival and annually as well as the finished product.
The USDA also suspended the sale of three other Colorado Serum Company products: West Nile Virus Serum Antibody, Normal Serum-Equine Origin and Tetanus Antitoxin-Concentrated/Purified until after all donor horses and final product have been tested and found free of EqPV-H.
"At the present time, these products will most likely be discontinued until an assay has been approved that can differentiate live vs. dead EqPV," Berrier said.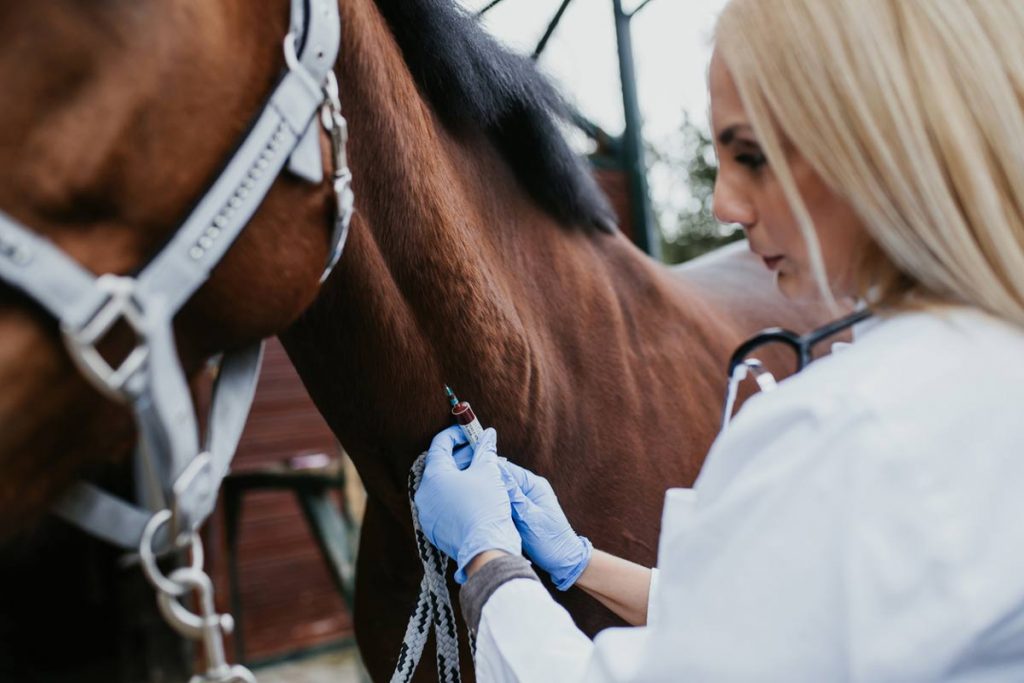 Key points
As of June 1, 2021, new USDA regulations require horse donors test negative for
equine parvovirus (EqPV).
EqPV was recently identified as a possible cause of rare, but serious, cases of serum hepatitis in horses.
Colorado Serum Company anticipates a backorder of several serum and antibody products until donor horses with negative tests can
be identified.
Ruminant producers should proactively vaccinate for tetanus and Clostridium perfringens Type C&D in anticipation of the shortage.
The regulations will affect Colorado Serum equine serum origin products labeled for ruminants and horses, including: Tetanus Antitoxin, Clostridium perfringens Type C&D Antitoxin, West Nile Virus Serum Antibody, Normal Serum-Equine Origin and Tetanus Antitoxin-Concentrated/Purified.
Photo credit:  istockphoto.com/Hoptocopter
Photo credit:  istockphoto.com/Group4 Studio