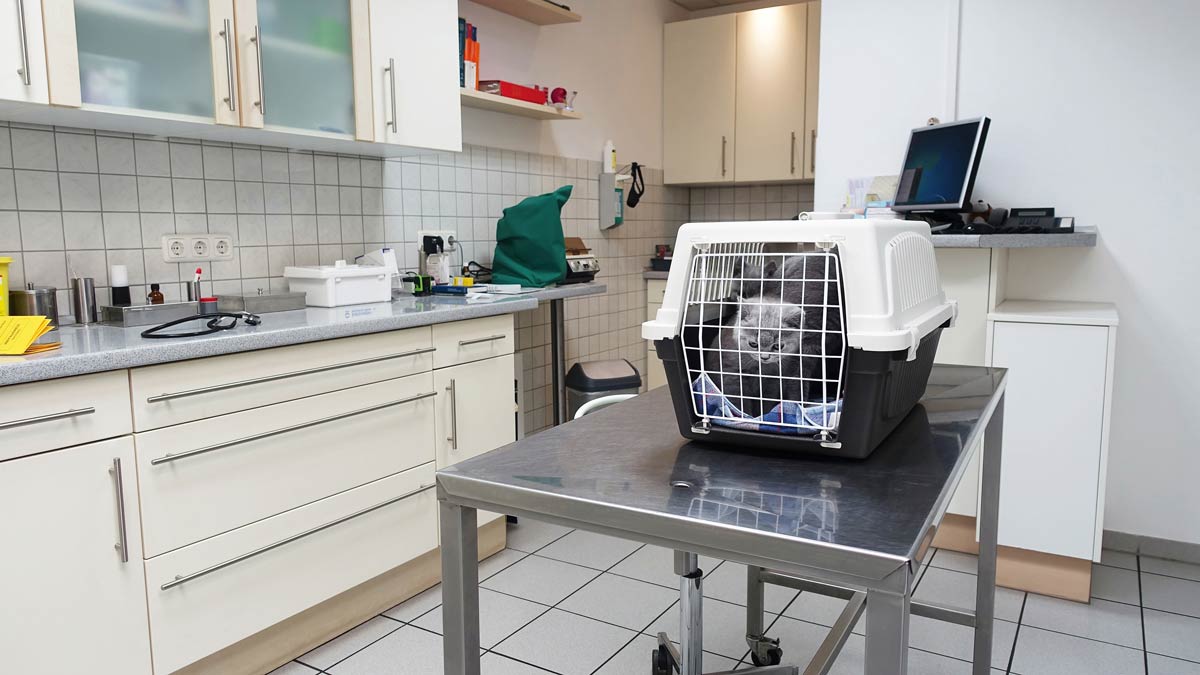 Short-Staffed Veterinary Clinics
Veterinary clinics don't have enough hours in the day or team members on staff to meet client demands. What can veterinarians – and the industry – do to address the workforce shortage?
Editor's note: The following is part one of a two-part series examining the labor shortage in veterinary medicine. The first article delves into the issue and how it is affecting veterinary clinics. The second part will focus more on solutions to some of the issues behind the shortage. 
After years of practicing, many veterinarians have reached a breaking point. Whit Cothern, DVM, said his wife is one of them. A practicing veterinarian for 25 years, Cothern's wife came home one day in the late summer to tell her husband she had done what was once considered sacrilege among hard-working veterinarians.
"I had to tell people 'no' today," she admitted.
It used to be when a client would call 15 minutes before closing to see if they could bring in their pet, veterinarians wouldn't think twice about keeping their doors open. "It's always been 'OK, come on in,'" said Cothern, who is a regional medical director at Mission Veterinary Partners. "But not now."
Now veterinary practices are backed up on appointments, short-staffed, and not fully recovered from the crises forced upon the industry by COVID. "It's a real struggle now," Cothern said. "Veterinarians are having to learn to say, 'No, we can't unless it's a real emergency. For the health and sanity of our veterinary team, we can't.'"
Depleted teams
In a recent commentary for JAVMA News, Matthew Salois, Ph.D., AVMA's chief economist, and Gail Golab, Ph.D., DVM, MANZCVS, DACAW, AVMA's chief veterinary officer, examined the reasons behind veterinary team burnout. One of the most obvious issues is team member retention or lack thereof. Employee turnover and attrition remain high in veterinary medicine, especially when compared with other health care professions, according to the AVMA. The average turnover for veterinarians is twice as high as it is for physicians in medical practice. And veterinary technicians have one of the highest turnovers of all health care positions.
Indeed, nearly every veterinary clinic is looking for help, said Cothern, whether it's kennel workers, technicians, receptionists or even veterinarians. "It's rare now to find a team that says they've got all the veterinarians and staff they need."
The issue is one that most businesses across all industries in the United States are dealing with. It's a trend analysts have dubbed "The Great Resignation." According to the U.S. Bureau of Labor Statistics, 4 million Americans quit their jobs in July 2021 alone. Resignations peaked in April and have remained abnormally high for the last several months, according to a National Public Radio report, with a record-breaking 10.9 million open jobs at the end of July.
Creating more pathways
With so much demand for more workers, Cothern said MVP's focus has been on helping their partner practices address livable wages for all staff members. "We want to help these practices optimize their pricing and pass on that increased revenue to the team, so they don't have people leaving veterinary medicine to go work at Walmart because they'd make more money and have better benefits there," he said. "As an industry, we can't afford for that to happen. So not only with benefits, but can we find ways to pay folks a livable wage where they can make veterinary medicine a career?"
This is especially important for positions such as technicians and receptionists. Are their wages and benefits competitive? Do they have opportunities for advancement and education within their job category, and beyond? "Can they go to veterinary technician school and make that a career versus just a job?" Cothern said.
MVP is not alone. Many veterinary organizations have recently announced plans to invest more in their workforce. For instance, in late July, Mars Veterinary Health North America, part of family-owned company Mars Inc., announced a $500 million multi-year commitment to create career advancement opportunities, increase workforce diversity, and offer differentiated pay and benefits by 2025. Mars Veterinary Health is a family of more than 2,000 veterinary health care and diagnostic providers nationwide, including Banfield Pet Hospital, BluePearl Specialty and Emergency Hospitals, VCA Animal Hospitals and Antech Diagnostics in the United States. Mars Veterinary Health employs more than 55,000 associates in the U.S. alone, according to the company.
The investments and commitments by 2025 include:
Increased wages and benefits, including more than 10,000 associates impacted by a $15/hour wage floor in the U.S. by the end of 2022.
Educational and career pathways solutions, for example partnerships with InStride, Penn Foster and Appalachian State University.
COVID-19 pandemic support for associates, including additional pay and benefits.
Student debt support, given today's veterinarians are estimated to graduate with an average of $150,000 in student loans, while some carry debt loads over $400,000.
Equity, Inclusion & Diversity (EI&D) initiatives, in addition to 100% gender-balanced senior teams.
"As a veterinarian who is deeply invested in advancing the profession – and addressing key challenges such as diversity, mental health and well-being, and veterinary professional shortages it is facing – we hope these commitments give associates the support and peace of mind they need to advance their careers and provide high-quality care to pets," said Dr. Jennifer Welser, chief medical officer, Mars Veterinary Health. "But more than that, we hope our actions communicate to veterinary professionals and especially our associates that their voices are heard and valued as we continue to invest in programs and initiatives that are intended to directly impact their lives for the better."
Another organization, Veterinary Emergency Group, a network of emergency hospitals, announced it would eliminate non-competes for all doctors, as well as offer shareholder opportunities and assistance with student loan debt. According to VEG, the announcement of eliminating non-competes "is the first of its kind." Non-competes are common in employee contracts for veterinarians and make it difficult to switch jobs, according to the announcement.
"Non-compete agreements have absolutely nothing to do with preventing competition and everything to do with restricting job choice," said David Glattstein, VEG's president and co-founder. "While there is pending legislation nationally and across some states about eliminating non-competes, we're not ready to wait. Non-competes should be gone today." VEG's student loan assistance for employees will start at $2,000 a year.
Recruiting a "top challenge"
According to a survey of 683 veterinary practice managers in 49 states by veterinary management consultant firm iVET360, 30% of respondents listed recruiting as their top challenge. The next closest challenge was scheduling at 14%, and client load at 8%. "Even though recruiting is the most overwhelming concern for PMs in all regions, what did shock us is that given this, most hospitals do not have a documented recruitment plan or process in place," iVET360 said. "This was true across the board, regardless of location, size, or experience level of the manager."
Indeed, roughly only about half of hospitals in any area have a staff development and training program, iVET360 reported. Smaller hospitals were less likely to have them, whereas 73% of mid-range ($3-4M) revenue hospitals had such plans. Also, the more experienced a PM, the more likely they were to have a development and training program.
The survey also showed:
Higher revenue hospitals were more stressed about recruiting than smaller ones. Over 60% of hospitals with revenues above $4M cite it as their primary concern.
Urban PMs spent more time on staff management, while their peers in suburban areas were on the floor more frequently. Rural PMs report spending more of their day on inventory management and financials.
iVET360 concluded that while there's no doubt the pandemic was a tornado that completely upended business as usual, most of the issues making life so difficult existed well before COVID-19 and were simply exacerbated by it. They are:
Shortage of doctors and certified/experienced technicians
Lack of effort towards team retention
Depressed wages/lack of career growth
Angry clients
Heather Romano, MHRM, SPHR, SHRM-CP managing director of HR and Training at iVET360, said it's common knowledge that most people don't get into the veterinary field to become millionaires. Most people get into the field because they wanted to help animals or help people, or both. "But all people have some combination of families to feed, rent or mortgages, and bills to pay," she said. "Plus, a lot of millennials (and now centennials) have high student loans. So the historic low wages in the veterinary field have become a lot more problematic."
The pandemic has changed the financial situations for a lot of families. "And that's where we're seeing a lot of stress come from," Romano said. "Many veterinary team members have had spouses and partners and other housemates that have lost hours, or lost their jobs, because of the pandemic. This creates a lot more financial pressure for team members and more incentive for them to go find higher wages elsewhere."
Angry clients are nothing new for veterinary clinics. "We are a point-of-service industry and a very highly emotional industry," Romano said. "And so it really doesn't surprise anyone that anger clients are just a day-to-day occurrence. Most people just are used to that."
What the pandemic has done, though, is increase the stress on everybody across the board. That makes what could have been just a mildly stressful event become a trigger point for clients who are already on the edge of a breakdown in some cases. If you factor in the diminished social interactions that many people have had over the last two years, "it's kind of understandable that clients have some short fuses."
For the most part, hospitals can deal with angry clients. It's the sheer ferocity that's overwhelming. Hospitals that have not had big problems with anger are now having very tough conversations with numerous clients every week for abusive behavior towards team members. "We've also seen hospitals in areas with increased COVID caseload and higher levels of income losses are having more of these conversations than in areas with lower levels."
This brings Romano to retention. Turnover in the veterinary field has always outpaced other medical fields. In some cases, hospitals that started working with iVET360 before the pandemic would see a year over year turnover of well over 100% each year, Romano said.
Now with the so called "Great Resignation" happening it has people thinking about what they want their lives to be like. They're tolerating things like low wages and abusive clients less and less. "And if we pair that with the really insufficient number of graduates from tech and veterinary schools, we find ourselves with a very difficult recruiting predicament."
Avoiding a knee-jerk reaction
In their commentary for JAVMA News, Salois and Golab wrote that a knee-jerk reaction to today's busyness might be to hire more people. But in reality, "improving team productivity, employee engagement, opportunities for professional development, and employee longevity are far more effective approaches."
Salois and Golab cited a study of human medical practices demonstrating that when efficiency is enhanced through improved work processes and engaged employees, burnout is reduced and job satisfaction improves. "We need to implement innovative and lasting approaches that harness technology, better utilize staff members, and engage our teams."
Salois and Golab suggest that one way to do this is to make sure veterinary clinics are using their existing employees – especially veterinary technicians – to full capacity and paying them accordingly. "This means familiarizing ourselves with the duties veterinary technicians are legally allowed to perform in each state and identifying opportunities to use more of our veterinary technicians' considerable skills. This can help us free up veterinarians for more of the work that fully uses their advanced veterinary medical education. The whole practice operates more efficiently."
Inefficient staff utilization hurts practices in other ways too, Salois and Golab wrote. When credentialed veterinary technicians are not efficiently utilized, they're likely to feel less engaged. "And while productivity certainly plays a role in employee burnout, the environment in which we work is just as – if not more – important. Devoting more attention to engaging employees, building teams, honing leadership skills, and paying staff members appropriately for the services they deliver have proven to be effective at reducing job dissatisfaction and lowering staff turnover."
Simply adding more staff won't address the issue. Salois and Golab wrote that adding veterinarians to the companion animal sector is unlikely to address the profession's current workforce issues either. They list several reasons. First, while there were more veterinary visits in 2021, it's uncertain if those increases are permanent, or due to temporary factors such as increased disposable income and owners at home more with their pets. Additionally, the backlog caused by delayed veterinary services adds to the current demand for veterinary care. "All of this takes time to work through."
Plus, some veterinarians have made it known via industry surveys that they want to reduce the number of hours they work each week. This could be contributing to increased feelings of effort and exertion at work, Salois and Golab wrote. According to a 2020 AVMA survey, about 30% of companion animal veterinarians said they wanted to work fewer hours, compared with 23%-24% from 2017-19. The top two reasons were work-life balance and mental health, including stress, anxiety, and burnout.
Little margin for error
As small business owners, the stakes are high for every hire that independent veterinarians make, especially when you factor in the need for competitive wages and benefits. Healthcare insurance alone is incredibly expensive when you're a business of 20-25 people versus a business entity of 5,000-6,000. Larger entities have more flexibility and purchasing power when shopping for better programs and rates.
Business owners are weary of hiring an employee that could turn out to be a bad fit, and with the job market the way it is, properly vetting individuals is even more difficult. "That's something we're trying to prevent at our level," said Cothern. "We want to hire the best, and with recruiting efforts and the resources and what we're wanting to do, we hope we can do that."
In today's marketplace, it's critical for owners to make sure the 8s, 9s and 10s on their team are getting taken care of, Cothern said. Ultimately, the cost of not doing so is too high. "You have to pay your good employee livable wages, as good or better than what they can get outside of our industry," he said. "The issue isn't losing that great technician to another vet clinic – it's losing that great technician to another industry."
How can reps help
Share best practices. By calling on accounts, reps are in a great position to observe veterinary clinics throughout their territory. Has anyone found success in recruiting and retaining employees? If so, are they willing to share their story with other clinics?
Share resources that work. Veterinary clinics may have access to resources, but which ones are best? Which ones have worked for other veterinarians? Reps can help them sift through what would work for their customers, and what wouldn't be the best use of their time.
Share efficient products. When discussing new products, time-saving and efficiency features and benefits should be high on the list.
Photo credit: istockphoto.com/Leesle