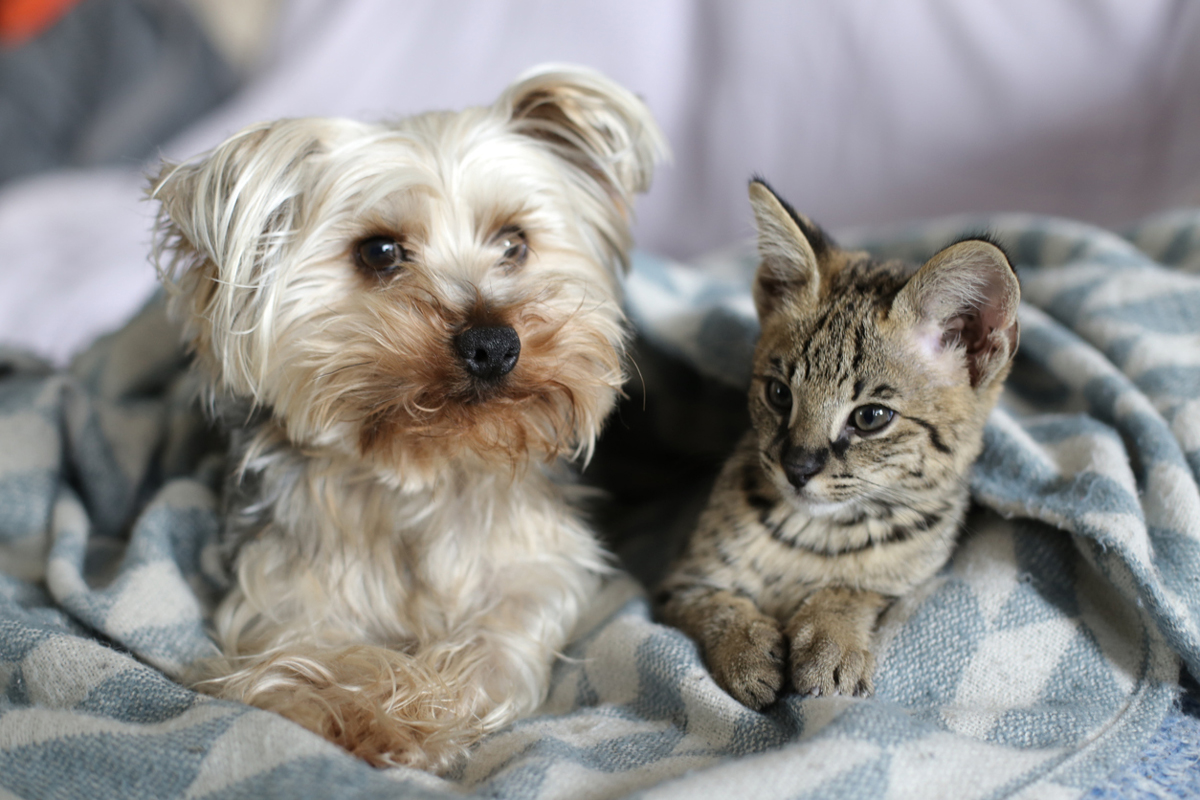 Weekly companion animal news: April 25, 2022
April 2022
Veterinary industry needs equivalent of nurse practitioners to meet demand for care: San Diego Humane Society president
NBC San Diego visited the San Diego Humane Society, where the organization's president, Dr. Gary Weitzman, discussed how the facility is affected by what many in the industry say is a veterinary care shortage. "We're really truly facing a crisis in veterinary medicine," Weitzman said. "It is so much harder to deliver services than it was before the pandemic." The issue has been growing for years, he said, as shrinking veterinary school class sizes have left the industry unable to meet rising demand for care. The San Diego Humane Society has had to cut back on some programs, including its low-cost spay and neuter services, to be able to care for the 40,000 animals it serves each year. The organization currently has about 90 open positions. Weitzman believes the veterinary profession needs to add the equivalent of nurse practitioners to meet demand for care.
Pet product sales were $123.6 billion in 2021, the highest ever: APPA
The pet product industry reached $123.6 billion in sales in 2021, the highest level in history and the second year in a row to set a record, the American Pet Products Association reported. This was 13.5% growth over 2020, when the industry exceeded $100 billion for the first time, and it outpaced APPA's expected growth of about 6%. Pet food accounted for the biggest share of spending at $50 billion, a 13.6% increase, with veterinary care second at $34.3 billion, an 8.9% increase. Supplies, live animals and over-the-counter medications saw the biggest sales increase at 17.8%, reaching $29.8 billion. "We expect continued growth as we look toward the remainder of 2022, although we anticipate it may be at a more moderate pace given the impact of volatile factors like inflation, supply chain issues and global relations," said Anne Ferrante, APPA senior vice president of member relations and business development.
Petco advocates for pet-friendly workplaces as employees return to the office
Petco is urging employers to make their workplaces pet-friendly as they welcome employees back to the office. According to a survey by the company, 69% of pet owners are stressed about what returning to work means for their pets; nearly half want their employers to adopt a pet-friendly workplace; and 41% say they would consider switching jobs if it meant they could bring their pet to work. "Pet-friendly programs can not only offer employers a competitive edge, they can also provide many health and wellness benefits for both people and pets," said Petco senior vice president of omnichannel experience Jenny Wolski. "At Petco, we believe that having our pets at work leads to lower stress, improved physical health and increased productivity for our partners, while keeping our pets mentally and socially engaged." The company offers a guide to help employers develop pet-friendly workplace policies.
Galaxy Vets seeks volunteers to provide telehealth services for animals affected by Ukraine war
Galaxy Vets, a new veterinary hospital system, is seeking veterinarians and veterinary technicians to volunteer to provide telehealth services to people and animals affected by the war in Ukraine. The initiative coincides with the company's launch of a nonprofit arm, called Galaxy Vets Foundation, focusing initially on raising and donating money and supplies to animals in Ukraine. "Ukraine is my motherland. We want to aid the best way we know how—helping animals," said Dr. Ivan Zak, Galaxy Vets' CEO, noting that pets and zoo animals have been left without homes and food. "Currently, there is an acute shortage of funding and resources, primarily medications, pet food and supplies," said Andrew Ciccolini, director of Galaxy Vets Foundation. "Lack of access to veterinary care and professional advice on pet health is another issue we will address by providing free multilingual telehealth services and informational resources on our website." More information is available in the announcement as well as at the foundation's website.
As CDC steps up ban, some Americans are bringing dogs from Ukraine across the U.S. border to avoid rabies checks
Refugees from Ukraine trying to cross the Mexico border into the United States have recently encountered stepped-up enforcement of a ban by the U.S. Centers for Disease Control and Prevention on dogs from countries deemed high risk for rabies. "We understand the requirements the U.S. has in place and reasons for them, but it is impossible for the refugees to satisfy them," said Victoria Pindrik, a volunteer working in Tijuana, Mexico, with the Save Ukraine Relief Fund. The CDC said it had issued a number of permits for people arriving from Ukraine with pets and that officials are working with NGOs in Mexico and the United States to ensure dogs meet entry requirements before entering or else have a safe quarantine spot if they don't meet those requirements. Some refugees have found a loophole: Mexico isn't on the CDC's rabies list, and Americans arriving from that country don't have to present a rabies vaccination certificate or special permit. Now, Americans have begun ferrying dogs belonging to Ukrainian refugees across the border, The New York Times reports.
Two tick-borne diseases spreading in upstate New York are worrying doctors
Two tick-borne diseases are rapidly spreading in upstate New York. Anaplasma, a bacterial disease, and babesia, which is caused by a parasite similar to malaria, are worrying doctors like Kris Paolino. Paolino said that when he first began working at Upstate Medical University, he treated only a few anaplasma cases in any given year. But "I must have seen at least two dozen cases myself just last year alone, and that doesn't count the cases that other providers are seeing," Paolino said. "Of all the tick-borne illnesses, babesia and anaplasma are really the two that are scary," he said. "They can get really severe and they can kill people if not picked up on early enough." The Post-Standard reports.
New SoundByte: PRN KBroVet-CA1
KBroVet-CA1 (potassium bromide chewable tablets) is the first and only drug conditionally approved by the FDA for seizure control in dogs. Its half-life is at least 21 days, meaning that if owners miss a dose, fluctuation in the concentration is unlikely to occur and a seizure is less likely, according to manufacturer PRN Pharmacal. More information is available in the SoundByte in Veterinary Advantage.
PetMed Express and Vetster's exclusive partnership will provide telehealth and medications to customers
PetMed Express has formed an exclusive partnership with Vetster in connection with Vetster's $30 million Series B funding round, in which PetMeds was an investor. Through the agreement, PetMeds becomes the exclusive e-commerce provider of pet medications for Vetster, and Vetster becomes the exclusive provider of telehealth and telemedicine services for PetMeds customers. "PetMeds pioneered the online pet medication business over 26 years ago, and this partnership with Vetster is an important step in establishing PetMeds' expanded strategy as the go-to expert in pet health," said PetMed Express CEO and President Matt Hulett.