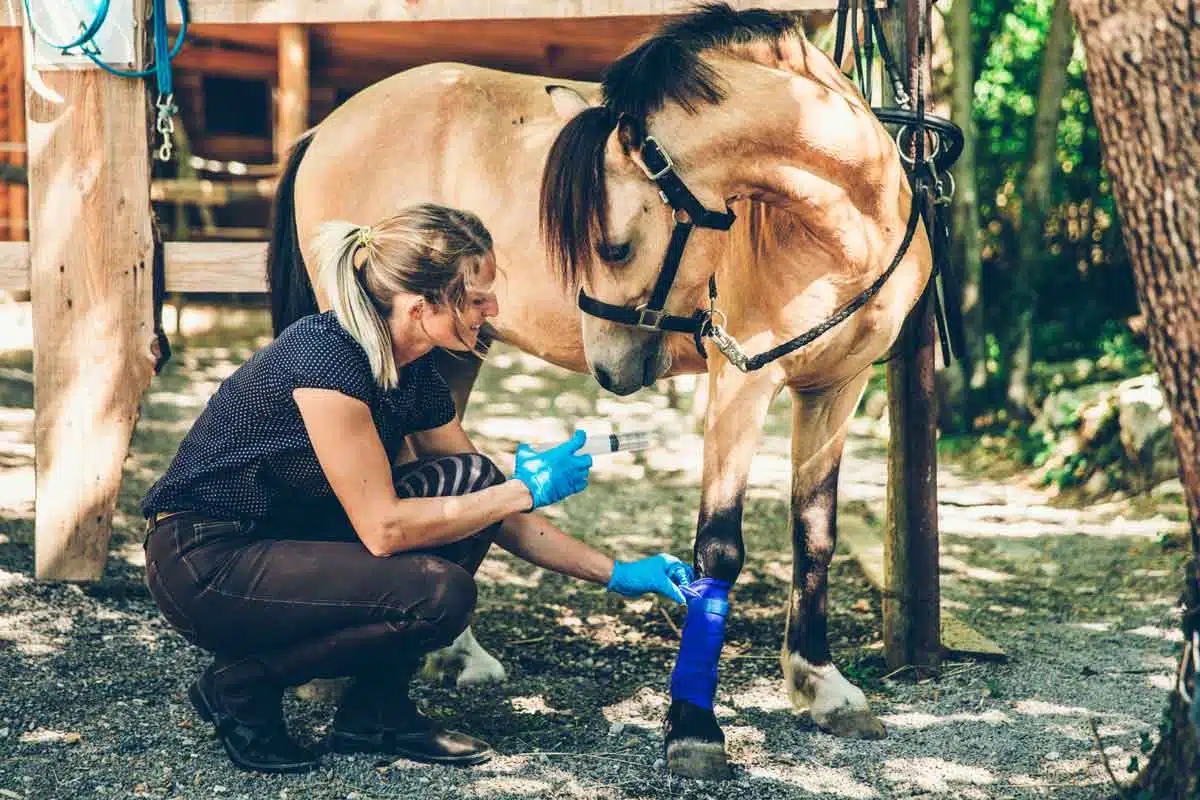 A Lifetime of Care for Horses
Equine Lifetime of Care research examines the costs of horse ownership. 
Horse owners are a dedicated bunch. Most horse owners keep their horses for life – which can be as long as 25 years, said Boo Larsen, senior vice president and general manager, Veterinary, Synchrony. "Yet, the true cost of care is consistently underestimated, and many horse owners aren't always financially prepared for care-related expenses."
Synchrony sought to uncover the true cost of care in its recent Equine Lifetime of Care research so horse owners "could be better educated, informed, and prepared for what to expect financially, so they have the tools they need to make that lifetime commitment," Larsen said. The study is based on findings from 1,231 U.S. horse owners and nearly 30 equine veterinarians and covers an exhaustive list of horse expenditures over a horse's lifetime. "Equine veterinarians play a critical role in the financial and cost of care conversation, so it was important that our insights were informed and verified by the experts in the space," Larsen said.
According to the study, the lifetime cost of caring for a horse ranges from nearly $300,000 to $924,000. Costs vary depending on the horse's role:
$575,000-$1,000,000 for competitive horses
$295,000-$400,000 for recreational horses
$215,000-$290,000 for backyard horses
On an annual basis, the all-in costs for owning a horse range from around $8,600 to $26,000 per year, not including events or operating expenses. The Equine Lifetime of Care report also indicates that horse owners typically start experiencing stress when an unexpected invoice reaches $1,500. To that end, more than eight out of 10 horse owners surveyed would apply for a credit card that specifically helps finance veterinary care, according to the survey.
In an interview with Vet-Advantage, Larsen and Mike Pownall, equine veterinarian, DVM, MBA discussed the results of the research, and how its findings could be helpful for horse owners and the veterinarians who provide care.
Vet-Advantage: Of the research results, what jumped out to you? What surprised you?
Boo Larsen: It's hard to estimate the lifetime of care costs for any animal, but preparing for the financial commitment of caring for a horse is especially difficult. In fact, the Equine Lifetime of Care results indicated horse owners nationwide vastly underestimate the lifetime cost of caring for a horse. While 83% of horse owners say they are prepared for expenses, the actual costs may reach three or even four times higher than they expect.
Horse owners often plan for the cost of food, boarding and gear, yet they can sometimes overlook critical components of veterinary care, such as colic treatment, broken bones, and eye issues – which can cost as much as $10,000. By itemizing costs in the survey, we were able to pinpoint these gaps to help horse owners better understand the full financial picture.
In addition to the underestimation of cost, Equine Lifetime of Care identified an opportunity for awareness of financing options: 65% of horse owners will use a credit card for unexpected horse expenses, yet 66% do not know what financing options their veterinarian offers.
Dr. Mike Pownall: What I appreciated about the study is that horse owners know having a horse means a financial commitment, but I don't think anyone had broken it out between show, recreational and backyard horses and now we have the dollar value between them.
The lifetime costs between the three categories were surprising. Like most people, we think of the past year we had with our horses and if they are healthy, we cross our fingers and hope the next year is as uneventful as the past year.
I am sure most horse owners never think of the lifetime costs associated with having a horse. It is no wonder that horse owners are financially challenged when their horse has an emergency. This sudden cost can be significant, especially if they require surgery or hospitalization.
Vet-Advantage: How do you think this knowledge can help improve the veterinary-client relationship?
Larsen: Horse owners have to be more financially prepared than other pet and animal owners. When it comes to emergency care, it is not an if but a when, as the veterinarians surveyed said most horses will face one or two emergency medical events per year.
We know that discussions around horse or pet health and financing care are some of the tougher conversations that equine veterinarians must have, and it's no wonder given 85% of horse owners feel anxiety from horse expenses.
In addition to sharing the data, we have created a summarized version in a digital lookbook, equinelifetimeofcare.com, to provide veterinarians with the tools and resources to help make those cost discussions a little easier.
With Equine Lifetime of Care, we hope to help horse owners clearly understand the full financial commitment and the financing solutions available to them to give them peace of mind that they are ready to manage the cost of the lifelong care their horse needs, easing the financial stress for both the veterinarian and the owner.
Dr. Pownall: I think the results of the survey can be very beneficial for the veterinary-client relationship. This survey will be an eye-opener to both when they realize how routine or preventative vet care is a small cost in the larger scheme of things. Now when clients murmur about how expensive vet care is their veterinarian can have a better idea of all the other costs facing their client. Not that prices for veterinary services are unreasonable, but they are part of many more expenses.
The main thing veterinarians can do is use this research to talk to their clients about the need to set up some sort of financial buffer or assistance in case their horses suffer a lengthy and expensive emergency. This research is a great tool to open up the conversation about the value of a financial assistance service like CareCredit. Even if the horse is insured, the immediate need for money to pay for an emergency can be covered by such a service.
At the end of the day, this will make sure clients and vets can do what is needed in an emergency when the immediate concern of how the client will pay for it is not a factor.
A detailed look at costs per year
Photo credit: istockphoto.com/CasarsaGuru