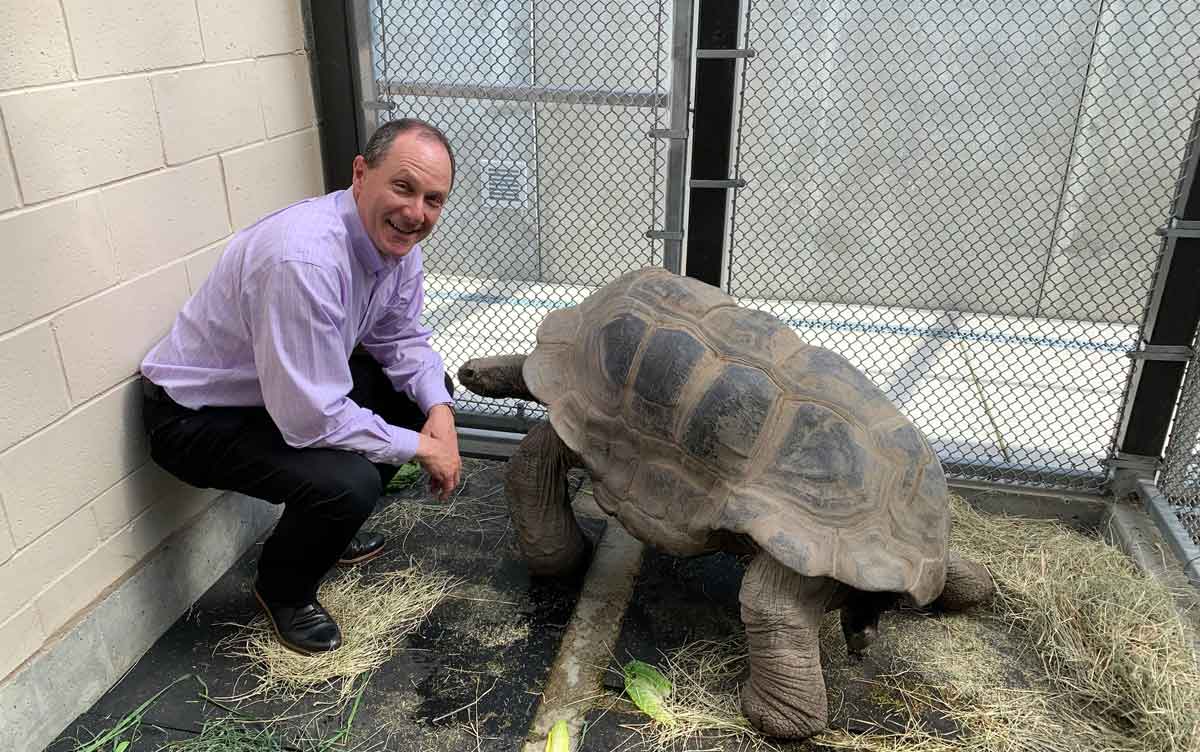 A Partner for the Long Haul – Michael Volpe
Veterinary clinics in Northern California have come to depend on long-time Covetrus Territory Account Manager Michael Volpe.
If you want to know the status of how veterinary clinics are faring in Northern California, Covetrus account manager Michael Volpe would be one of the first calls you'd want to make. Volpe has been a sales rep calling on veterinary clinics since 1985, and a lifelong resident of the San Francisco Bay Area.
In fact, animal health distribution is something of a legacy among Volpe's family. During the Great Depression, Volpe's uncle sold chemicals in Northern California to different types of medical professionals and pharmacists for a company called Central City Chemical. The owner of the business became quite ill around the time of World War II and sold the business to Volpe's uncle at a reasonable price.
Volpe's father came to work for Central City Chemical shortly after World War II. They changed their name to Central City Medical, hired some salespeople, and started focusing on veterinarians. "My uncle realized that veterinarians, even back in those days, were a lot more fun to sell to than any other medical professional," Volpe said. "So he just focused on selling to veterinarians."
The other timely event in the company's history is that in the 1940s, Hill's launched its Prescription Diets, and awarded exclusive distribution rights west of the Mississippi River. Central City Medical got those exclusive rights for its region, so if any veterinarian in Northern California wanted to order Hill's Prescription Diets, they'd have to go through the budding distributorship. "They had a tremendous advantage from any other distributor at the time," Volpe said.
Volpe graduated college in 1983 with no firm idea of what career track he wanted. His father, the distributor's controller for more than 40 years, made a suggestion. "My dad said, 'Why don't you help load the delivery trucks at night, and figure out what you want to do during the day?'" Volpe recalled. "So I spent two months working swing shift with the Teamsters."
Volpe toyed with the idea of becoming an accountant like his dad but realized that he gravitated more toward sales. "[My dad] always complained about how much money the salespeople made," Volpe joked. "And I liked the salespeople. I got to know a few of them, and I had done a little bit of sales in high school and college."
One thing led to another, and in 1985 when a territory opened up, his uncle's company offered it to a 24-year-old Volpe.
Earning their trust
Volpe said he was fortunate to have a boss early on that instilled some principles that guide him to this day. One of those was that the customer came first. If a customer called on a Saturday needing an order fulfilled, or a problem solved, Volpe would drop what he was doing to help. "It's a belief, a foundation, of when you go to work every day, ultimately you're there to serve the customer," he said. "As long as you keep in mind what's best for the customer, ultimately that's going to be best for you too. And that's always been my day-to-day mantra. I've had this life-long belief that veterinarians are the most amazing people put on the planet. I work hard, take orders, and make it a priority to be a trusted partner to their business."
In his early days as a sales rep, Volpe would make 10 calls a day. Now he's probably lucky if he sees four or five. "Back then you had a more dedicated route and you drove a lot more," he said. Rather than working and selling along a route, so much of a day for current sales reps involves providing additional services, whether it's tracking down a part for a piece of equipment, being involved on practice management issues, or answering pharmacy questions. "There's just a lot of different parts of the business that we participate in."
Central City Medical would take on a business journey common for other local distributors during Volpe's four decades in the industry, being acquired by Butler, which was then acquired by Henry Schein, and now Covetrus.
Veterinary medicine as a profession has gotten more diverse. In the mid-1980s, Volpe said about 75-80% of the veterinarians he called on were male. Now, it's about 50-50. "Female veterinarians have added so much to this profession," he said. "They've contributed in so many ways, like helping to make pain control for pets more mainstream, advances in anesthesiology, etc. I think one reason why animals are more accepted as family members than they were 30 years ago is because of female veterinarians. They've brought a warmth and a sense of compassion to this business."
While the industry has seen tremendous growth and diversified its workforce, serving customers well is one thing that has not changed for Volpe.
"When I think of Mike, a couple of things immediately come to mind: 'Class Act' and 'I want to be like Mike!" said Volpe's manager, Michelle Meredith Bowen. "While these two phrases can be seen as cliché – they are absolutely spot on in this case. Mike personifies professionalism in all of his interactions with his team and his clinics."
Bowen said this has been consistently demonstrated in the most recent months as multiple clinics have shared they would not have been able to manage building their new practice without Volpe. "He has become part of their clinic family," said Bowen. "He has been able to help new clinic owners go all-in with Covetrus, because they not only trust and respect the tools and resources he shares with them, they are confident in his experience and that he will be a partner for the long haul. One other area he has made an impact with his clinics is leveraging our Covetrus Partner Program and his vendor relationships. He helps bring together all the tools available to support and help his clinics grow. They trust him."
Whether he's been calling on them for decades or building relationships with new clients, Volpe works with his customers the way they are most comfortable with. For some, that means using automated solutions and digital communication. For others it's still through face-to-face interaction, so Volpe visits for inventory checks on a weekly basis.
Volpe said it's important for the veterinarian to believe a rep has their back, is accepting of their decisions and "you'll do just about anything to help their business." Another piece of advice Volpe has taken to heart is to walk out of a practice the same way – whether he just got a huge order, or they told him no. "I've always tried to keep that in mind as well, to be appreciative for just getting time to talk to them."
The right temperament
When he's not calling on customers, Volpe often dives into the pursuit of a hobby. In his early 50s it was triathlons. He found a local club that trained and ran triathlons as a team. After retiring from competing in triathlons due to an injury, Volpe took up hiking. But after a couple of long hikes he knew he wanted a hiking partner of the four-legged variety. He even had a specific breed in mind – a long-haired shepherd. His father, who was blind, had a long-haired shepherd serve as his guide dog for a number of years. So Volpe contacted a local German Shepherd rescue, and was paired with a long-haired shepherd he named Ziggy.
"I could tell right away that this dog had some special characteristics with his temperament," Volpe said. "He was incredibly calm, accepting, friendly – especially around kids."
Volpe had heard from other shepherd breed owners that you always had to give these dogs a job. Volpe found a great outlet through training and certifying Ziggy as a therapy dog in the local children's hospital therapy program. Soon he and Ziggy were visiting the hospital every Friday morning for a couple of hours. "It was the highlight of my week to see the impact that a dog could have, from the kids, to the nurses, to even the surgeon getting down on the floor to take selfies with him."
In one instance, Ziggy helped a little boy who was scared of doctors overcome his fears. While at the hospital, the little boy's doctor asked Volpe if he and Ziggy could help. The boy agreed to walk down the hall to the appointment if he was allowed to hold Ziggy's leash. While Volpe supervised, he, Ziggy, the boy and the doctor all walked triumphantly to the boy's appointment. "I have numerous stories like that," Volpe said. "Ziggy could get a child to start crying tears of joy in three seconds."
Unfortunately, the children's hospital halted the program amid the pandemic. But Ziggy has found another outlet for his skills. "He's kind of a celebrity in the neighborhood," said Volpe, who will walk him to a nearby school after dinner to play catch and run around. It's not long before he has a crowd of three or four kids running up to play with him.
Lately, Volpe and his wife spend their downtime in the Sierra Nevada mountains. After 35 years of toying with the idea of having a second vacation home, the Volpes finally bought a small cabin in the Stanislaus National Forest that's nearby several small lakes where they can enjoy water activities. "There's all kinds of hiking trails nearby, and lots of nature to enjoy," Volpe said.
On the move
Indeed, COVID has not stopped Volpe from being on the move. In fact, there wasn't much of a disruption in visiting some of his long-time customers, even in the early days of the pandemic.
"Probably around the middle of April 2020, I reached out and asked some of my customers if they wanted me to come by, because I knew they were open and seeing clients. They said 'Yes, please! We'd love to see you.' If you make an appointment, you can see a lot of people. But there are some practices, that even if you ask for an appointment, want to do things via Zoom."
What is often impacting the ability for these veterinary clinics to see vendors isn't COVID restrictions and whether they can let people in the building or not, it's "that they're just slammed," Volpe said. "Last year they were working on adrenaline. There was a feeling of really doing something for society. Now they're just really taxed."
Volpe said wanting to find solutions for their well-being can keep him up at night. The circumstances may have changed since his first days as a sales rep, but Volpe's commitment to his customers hasn't. "You want to be able to help in any way you can."