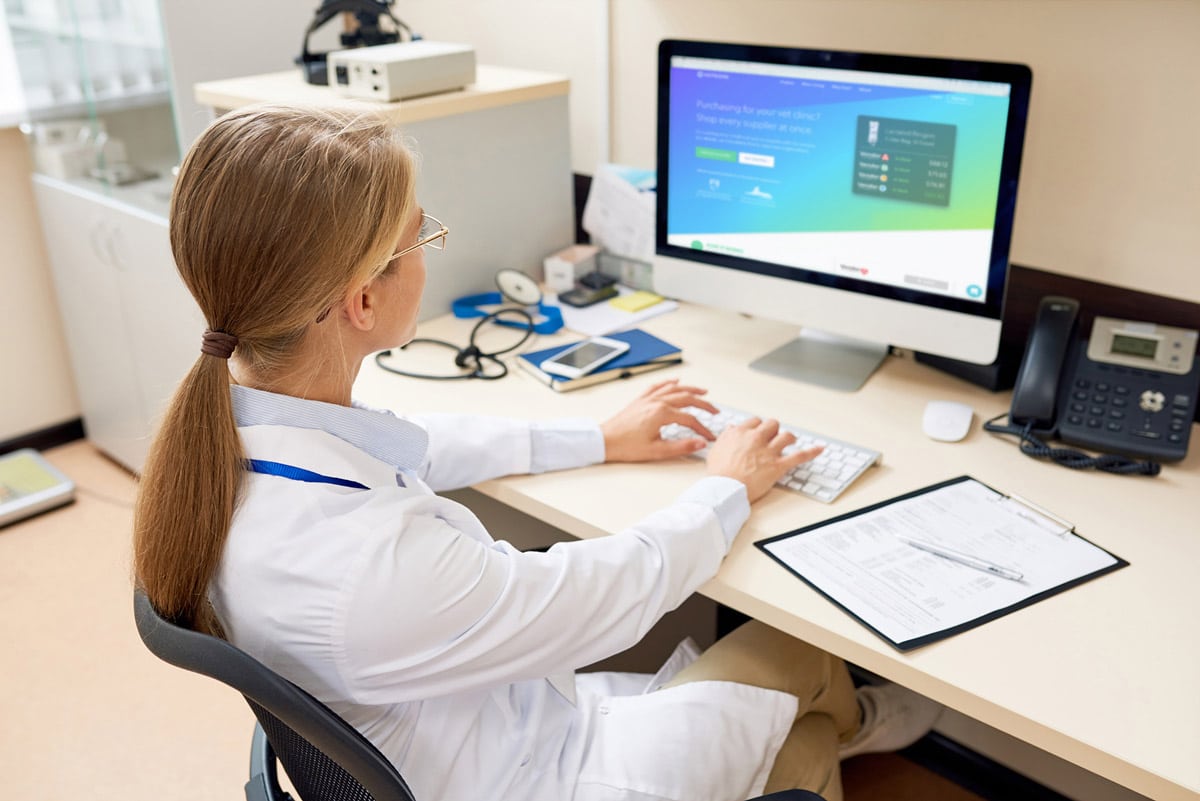 Across the Board
Vetcove aims to provide a more convenient purchasing experience for veterinary practices, and opportunities for vendors – including distributors.
Alex and Mitch Kates saw the amount of time that went into purchasing and inventory for their father's five-doctor equine practice and were frustrated by the inefficiency. The practice's inventory manager would spend a tremendous amount of her time clicking from one web browser tab to another, searching for products and building orders between distributors, manufacturers, compounding pharmacies, diagnostic labs, and office supply companies – somewhere between 30-40 vendors in all.
"In our consumer lives, we have services like Trivago, Amazon, and Mint – these great web experiences where everything is in one place," says Alex Kates, Vetcove's Chief Executive Officer.
So, Alex, who graduated first in his class at Cornell and has authored a bestselling book on digital marketing, partnered with his brother Mitch, a machine learning expert with two computer science degrees from MIT. Together, they began to work on a concept that could solve this challenge for their father's practice.
What emerged was Vetcove, a procurement platform for veterinarians to research and buy everything they need to supply their hospitals from all of their vendors. Veterinary purchasers can compare options and what's in stock across their vendor partners and place orders from one website. Vetcove claims clinics using the platform can cut ordering time by 70 percent and reduce their total cost of inventory, all while making smarter purchase decisions that improve animal health.
Vetcove started with a handful of equine practices in 2015 but has grown to support all types of veterinary practices and nonprofits across all 50 states. Kates says about 7,000 locations are using the Vetcove platform to do their purchasing and collectively spend nearly $20 million every week through the platform. "We're proud of the support we've had from manufacturers and corporate consolidators," Kates says. "We now have more than a dozen consolidators using our corporate features, ranging in size from a handful of locations to hundreds of locations. Many of the largest manufacturers have also put their faith in us to help them engage veterinary practices in ways that were previously impossible with the industry's existing technology."
"Pricing remains private"
The main reason veterinary practices use Vetcove is that it makes their lives easier, Kates says. "We provide a delightful purchasing experience for them across all of their vendors." The platform is similar to sites like Kayak and Amazon. Everything is in one place for the buyer. "You don't have to visit many separate sources to get information. Our goal is to bring all vendors, products, and rich content into a single technology-enabled community. Veterinary buyers use our platform to research products, place orders with their preferred vendors, and learn to be better practitioners from one another – all without leaving the Vetcove website."
To get started, veterinary hospitals add all of their vendor accounts, which enables them to see their own pricing (including if they're a part of a GPO, corporate group, or have negotiated a pricing level), as well as localized stock information at many vendors. Hospitals search once to see options across vendors. They can search any way they'd like, including by brand name, generic name, manufacturer ID, distributor ID, or even an ailment the product treats. "We put a lot of effort into search intelligence and recognizing colloquial terms," says Kates. "Our hospitals performed more than 300,000 product searches last week. It's crucial that we return the exact product they're looking for, even if they don't know what it's called."
Kates says a veterinary hospital must have an account with a vendor in order to actually see pricing and stock information from that vendor. "If a hospital doesn't have an account with a given vendor, we just don't show that vendor at all," he says. "They're only shopping the vendors that they already have." For instance, if a veterinary hospital has accounts with only two distributors (say, a preferred distributor and a backup), then only those two distributors will show up as sellers of a given product, even if several others also carry it.
Additionally, a hospital only ever sees their own specific pricing from each vendor. Vetcove never shares pricing across hospitals, Kates says. "One of the tenants in our Code of Ethics, which has been in place since Vetcove's founding, is that pricing remains private. We believe that's something that is between a vendor and a veterinary hospital, or between a vendor and a GPO. We're very sensitive to pricing confidentiality, so we never share pricing across our users for any reason, even in aggregated form."
"We are not giving veterinary hospitals any information they don't already have," Kates says. "They can only shop the vendors that they already have accounts with, and they're only going to see their own specific pricing."
There has been growing concern over data privacy in the industry, especially with regard to data that is extracted from veterinary practice management systems – including client records that describe ailments or prescribed products. Kates says Vetcove does not interface with veterinary practice management systems at all. "Data is not Vetcove's business model," he says. "We don't access client data, we don't sell data, and we don't share identifiable data about practices with any third parties. We believe purchase data belongs to the practices that have put their faith in us to organize it and keep it secure. That goes for pricing, and it goes for what they are buying."
Offerings
Independent veterinary practices use a free version of the Vetcove platform, which Kates says Vetcove intends to keep free forever. Vetcove also has a paid platform available for corporate consolidators. It starts at $100 per hospital location they own per month, and it gives them a whole suite of management tools above and beyond what the free version offers. The system is fully customized with the consolidator's branding and includes an advanced set of visual analytics across all of their locations. They can see how one location's behavior and purchasing habits compare to another's and can visualize data that helps them improve their procurement function.
The corporate platform was designed to help hospital groups drive compliance with preferred products and vendors. Purchasers at their locations have the ability to see which products, manufacturers, and distributors are preferred. Those preferred items and vendors appear at the top of searches, marked with a special "preferred" logo. The platform can also display effective pricing, taking into account all manufacturer discounts and even fixed or growth-based rebates. Consolidators can set guidelines for their purchasers too, making order frequency, order timing, or vendor partner compliance goals clear. "It helps build relationships with vendors by giving all of a group's purchasers, who are decentralized all over the country, the ability to know what the corporate group expects from them," says Kates.
Vetcove's corporate platform also helps correct purchasing behaviors that waste money or decrease efficiency. Unfavorable actions can be flagged for review, including very large orders or questionable purchasing choices. This gives consolidators the oversight they need to honor their promises to vendors and keep COGS to a minimum.
It's a benefit to distributors as well, he says. "A significant percentage of products are fixed price, so they are the same price everywhere, no matter what distributor a purchaser buys from. Our corporate guidance tells the purchaser 'Hey, with all else equal, you should really buy from this preferred distributor.' It helps drive compliance with the preferred distributor of a particular corporate group, which is good for all parties involved."
There are several categories of offerings for manufacturers, Kates says. One geared to smaller manufacturers is the ability to add their products to Vetcove's catalog on their own, giving them turnkey access to veterinary hospitals. "We give them a way to process payments and receive orders from hospitals, which provides better market access than their own standalone websites," he says. "This is especially useful for vendors that do not sell through distribution or are too small for distribution. It's certainly not meant to replace the wide array of services distributors provide."
For larger manufacturers, loyalty programs can be run through the Vetcove platform. Vetcove facilitates participant registrations, real-time progress tracking, automated communications, and end-of-program payouts. Participating hospitals can keep track of their current progress in these programs, and see what actions they need to take to reach their next loyalty milestone for a bigger rebate. "Before Vetcove, we've always felt that loyalty programs didn't drive behavior, and at worst, cannibalized existing sales. Manufacturers love our loyalty platform because it keeps their programs top of mind while hospitals shop and drives compliance and incremental purchases among those participating."
Another offering Kates is excited about is deals with dynamic cashback coupons. Rather than a one-size-fits-all promotion, Vetcove is able to provide targeted, short-term coupons, where hospitals can earn extra cashback when they view a manufacturer's content and buy the product from a supported vendor. "Our cashback platform is a game-changer," Kates says. "Our vendor partners can effortlessly reach eligible customers among our community of hospitals and display tailored content and cashback offers designed to drive results. Best of all, we're able to accomplish this without sharing any identifiable data about our users." Earned cashback can be redeemed for a paper check, gift cards, and more.
Complementing, not competing
Kates says he believes distribution is an important part of the veterinary medicine ecosystem. "We've always had really good distributor reps in our dad's equine practice," he says. "Year after year, they've been there when we needed them. Distributors also create a lot of efficiencies.  No one wants to unbox and break down 100 shipments each week. We've always believed that they're an incredibly important part of the ecosystem and will be for a very long time."
Kates says Vetcove doesn't currently have offerings for distributors, but he believes Vetcove has a complementary business model with distribution and is optimistic about the possibilities of working with distributors. "They're experts in logistics and have longstanding in-person relationships with veterinary hospitals," he says. "On the other hand, we have incredibly advanced eCommerce technology and the ability to create great web and mobile user experiences. We also have the eyeballs of the veterinary practices while they're doing their product research and shopping. So, if you combine what distributors do really well with what we do really well – which I believe doesn't overlap at all – there's actually a lot of interesting ideas that come out of that."
Vetcove could help distributors with certain pain points. For example, Vetcove's technology could be used to consolidate orders, incentivize loyalty, or change unfavorable behaviors. "We frequently hear how hospital behaviors cause inefficiency," Kates says. "They make very frequent small orders, and often all order at the busiest times of the week, such as Monday and Tuesday afternoons. They have also come to expect next-day shipping on everything, even if they don't need the items right away. Our technology can overcome these challenges."
Kates says Vetcove's technology developed for manufacturers and consolidators can be applied to these distributors' challenges, too. "We've already shown that our technology can drive loyalty and change behavior with other partner categories. If a hospital could be dynamically rewarded for consolidating their orders into larger, less frequent purchases, at times when warehouses aren't at capacity, I'm willing to bet our users would be excited to take advantage of that. It's a clear win-win in my book."