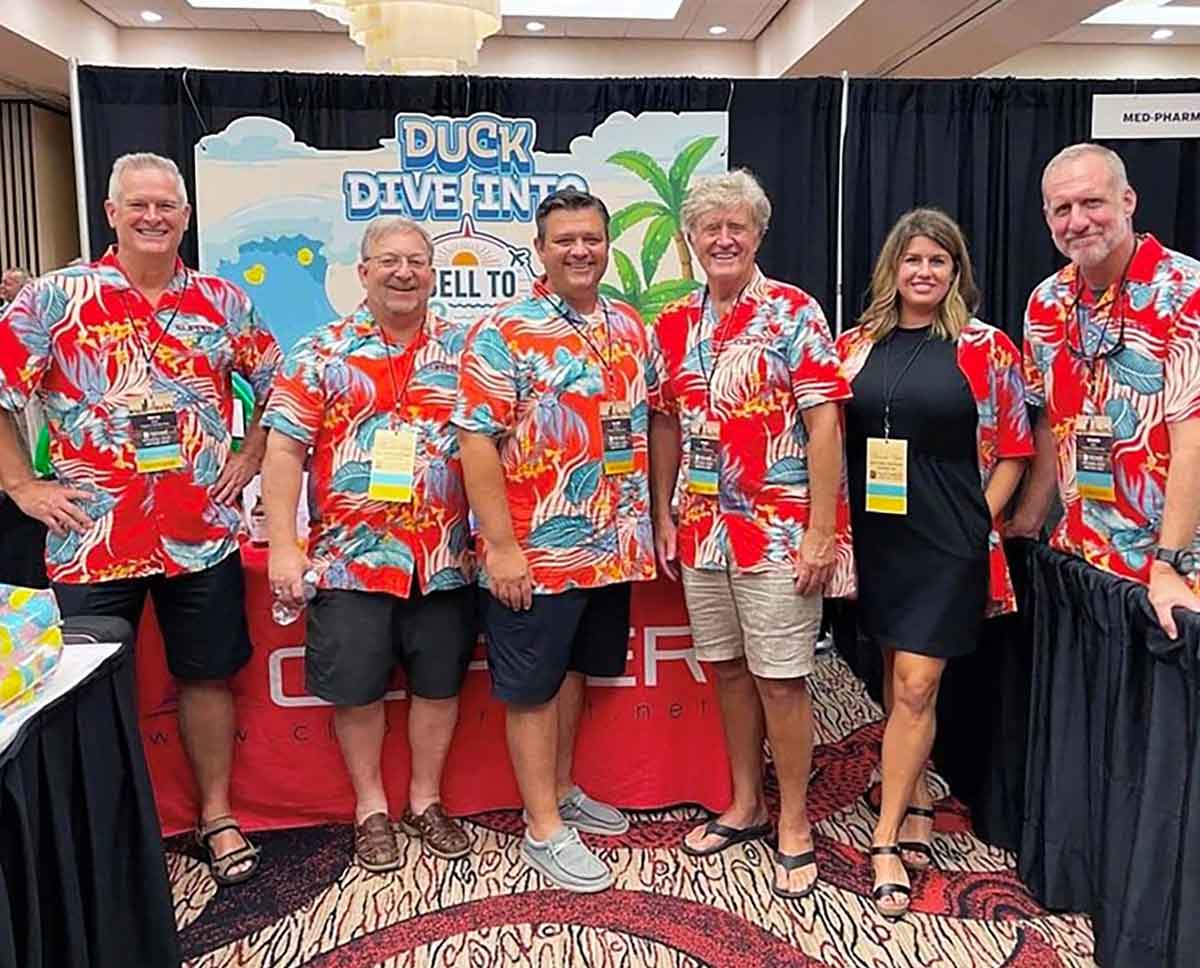 Checking All the Boxes with Becky Blomenkamp
Community
|
February 2023
Clipper Sales Consultant Becky Blomenkamp has adapted to new roles within the industry and new selling methods amid challenging marketplace conditions.
When speaking about her nearly 20-year career in animal health, Becky Blomenkamp, Midwest regional sales consultant for Clipper Distributing Company, LLC, likes to joke that she's unintentionally checking off the boxes with her roles in animal health.
"I'm that old story of the person that grew up always wanting to become a veterinarian," she said. But very early on in college, she realized she didn't want to be saddled with massive student loan debt. So, she changed her tune and earned an animal science degree peppered with agribusiness with an eye on working for a pharmaceutical company representing products to veterinary hospitals.
When she graduated in 2003, she had several interviews with a leading manufacturer in animal health. An open position was down to Blomenkamp and one other candidate, but she was ultimately passed over because the other candidate had prior sales experience. The hiring manager suggested Blomenkamp take one of two routes – either get more sales experience at companies like Xerox and Enterprise Rent-a-Car or work for a veterinary hospital. Blomenkamp applied to one of Banfield's animal hospitals shortly after that conversation. She started as a technician and quickly worked her way up the ranks. Within nine months, she was offered the chance to open a veterinary hospital with another partner doctor. Blomenkamp learned and experienced all the facets of running a veterinary hospital in her mid-20s – things like PNLs, hiring and training of staff members, and inventory management.
She stayed at the veterinary hospital she helped open for about eight years and was then offered a practice manager position at the Humane Society of Missouri. As a not-for-profit, the shelter came with a set of challenges that differed from private practices. After several years in that role, she moved back into private practice as a hospital administrator, looking at how to create revenue and streamline workflows for the business.
Blomenkamp stuck with that veterinary hospital for about a year before she was offered a position in a different segment of animal health – distribution. She worked for MWI Animal Health by calling on veterinary hospitals in the St. Louis area. "Distribution is a great job to have," she said. "It's a tough job, as everybody knows. You have 60,000 plus SKUs that you are responsible for, so you've got to know what you are talking about when partnering with veterinary hospitals and those in the animal health space."
After a few years in distribution, Blomenkamp signed on with Kindred Bio as one of the 12 original reps to launch and sell Mirataz, the first FDA-approved feline transdermal mirtazapine. "I had a great ride with Kindred Bio," she said. "I'd never done the startup thing before, so it was super interesting, and I learned a great deal. It was an amazing group of people with a high caliber of experience." With a new and exciting technology to discuss, Blomenkamp went from one veterinary hospital to the next among her seven-state territory, educating on this brand-new technology in feline medicine.
Having to adapt
And then COVID hit. Blomenkamp remembers vividly the week the world shut down because it was also marked by significant professional news. In March 2020, Kindred Biosciences Inc. agreed to sell its Mirataz feline weight-management drug to Dechra Pharmaceuticals PLC. In turn, Kindred's commercial sales would exist no more, so she and the other sales reps in that space were let go as the rest of the country was shutting down.
While she was searching for the next opportunity, she was offered a role to play emcee for a new virtual CE company called NoodleU founded by Dr. Mary Gardner and Eric Garcia. "This gave me a whole new perspective on how CE for veterinarians, technicians, and practice managers could be facilitated and achieved during a pandemic," she said. I give so much credit to Mary and Eric for jump-starting this when it was needed most. I mean, Suzy Orman was our keynote speaker for our first NoodleU weekend. It was an impressive start to a great event."
Blomenkamp considers herself lucky to have landed a role soon after with Clipper. "I hit the jackpot," she said. "I've worked for large companies, private practices, not-for-profits, and startups. Clipper has been a great fit for me. I love their mission, and I love what they support in this industry. It's a small but mighty team. I'm also happy that I have the chance to help spread information about what a master distributor is and how Clipper can deliver value and service to manufacturers in the animal health space. We work hard at communicating with each distributor's sales force to equip both the inside and outside teams with the best materials and training along the way. There's no one quite like us in animal health."
In any sales role, establishing relationships is critical, which made Blomenkamp's start in her multi-state territory a challenging one. "Normally, you meet people face to face, and you get to read body language, social cues, etc." she said. "Coming on during COVID was hard. Everything that I have done in my career on the industry side was completely turned upside down. As sales reps, we're typically extroverts that enjoy the in-person interaction. That's how we do our job and how we're effective. So to knock out all the ways that you've been capable prior in your job, we had to adapt and adjust like everybody else and develop different techniques."
It was a struggle sitting at home, as Blomenkamp admits she is not a homebody. She really enjoys the interactions between outside sales reps, veterinarians, and hospital staff. During the early days of the pandemic, she missed ride days, visiting the different veterinary hospitals, and attending veterinary conferences. "It definitely brought challenges, but I'm thankful that I was with Clipper during all this because they really did a great job of continuously pivoting and staying ahead of the game on how we could be effective."
Light bulb moments
Not enough staff and not enough veterinarians seemed to be the common theme for veterinary hospitals pre-COVID, and the pandemic only worsened the shortage. The percentage of clinics that need somebody is sky-high, Blomenkamp said. "It's every place that you go into. They could use another doctor, if not two more doctors. They need technicians and front office staff. They have ads out for those positions, but no one has answered them." The way veterinary hospitals operate has also changed dramatically over the last two years, with curbside visits, staggered shifts for team members to decrease the likelihood of illness, and increased appointment requests from pet owners.
The staffing issue may be with the industry for a while, judging by the lack of trade schools graduating tomorrow's veterinary technicians. Blomenkamp said in the St. Louis area, the number of schools that offer vet tech programs has shrunk from several to one or two. With only a handful of trained technicians graduating, the demand for qualified staff will only increase among a smaller talent pool.
All these issues create a different type of conversation for reps calling on veterinary hospitals. "I think we tread the waters carefully," she said. "We're not trying to come in and just bring them what we've got in our warehouse. We're actively working to bring them real solutions. You have to be respectful of their time. We know they're busy. We know that they've got a lot on their plate. So how can we help take a little bit off their plate with what we're offering? I've been there, I understand the struggles all too well."
Blomenkamp works hand in hand with her distributor partners to provide veterinary hospitals with a picture of how the product or service will have a tangible impact on their ability to care for pets, whether it's improved clinical outcomes or increased efficiencies within the workplace. She does this by educating and speaking about new products that are coming out or perhaps a different way of using something that the veterinary team hadn't thought of before.
"When I come home at the end of the day, and I feel like I've had a successful interaction with a customer, I ask myself, 'Do they understand my product positioning a little bit better today? Did they learn something that they did not know before? Did I bring something unique and new to the table that provides help for them that they may not have thought of before?'"
Blomenkamp asks the same type of questions in her interactions with outside distributor reps. Has she left them with the tools that they can use to talk about the products on their own? Do they feel competent enough to have conversations with the veterinarian, practice manager, or whoever it might be without her there?
"The greatest satisfaction is when you can see that light bulb go off," she said. "You know from their reaction that they can see a new way the solution can be applied."
Now that Blomenkamp has 'checked all the boxes' of many roles in animal health, she is hoping her varied background, experiences, and connections will continue to enhance Clipper's mission to "Save Animals, Improve Lives" for all members of the diverse group of animals and people she serves.