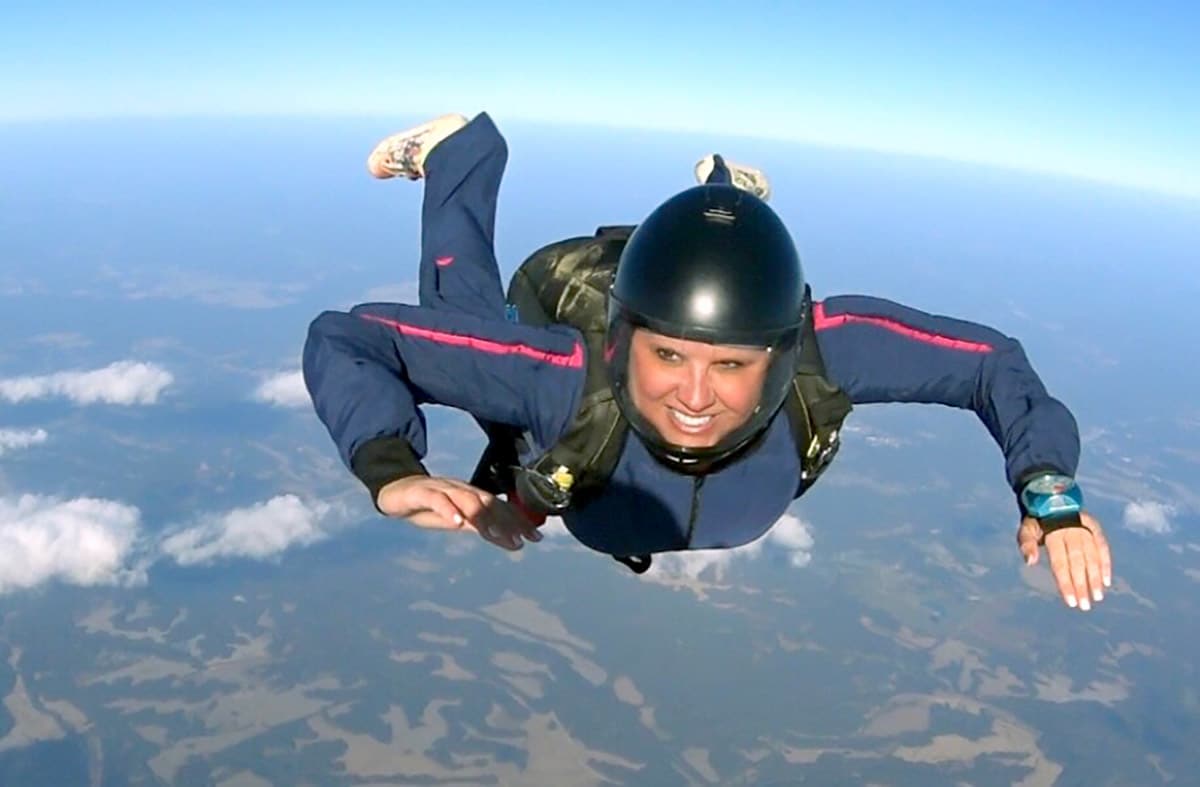 Connected to the Community – Rep Spotlight on Heather Long
Compassion, empathy, and a big heart are woven into work and play for Miller Veterinary Supply practice developer, Heather Long. 
Heather Long, a practice developer for Miller Veterinary Supply, has always had a heart for others – both the two- and four-legged kind. Whether it's comforting people during hard seasons of life, volunteering at homeless shelters, fostering rescue animals, helping veterinary clinics solve challenges or even sharing a passion as part of a skydiving community, Long said she has always gravitated toward making a deep, impactful connection with those around her.
A love of animals
Compassion started early for Long, who has been fostering, rescuing, and networking dogs her entire life. "I get it from my mom," she said. "She raised me with a love of animals. We always had a rescue or a shelter pup, and my brothers were constantly bringing home animals."
Long currently fosters through Woof River Animal Rescue, a volunteer-run, 100% foster-based 501c3 organization in Memphis, Tennessee. The organization's mission is to save as many dogs and puppies as possible from high kill shelters and the streets in the South. Each and every dog lives as part of the family in a loving foster home until the perfect forever home is found.
"I've been fostering through them for the past four years," she said. Long has four dogs of her own, "all foster fails," she said. Two of her dogs are from Woof River. She is also currently fostering another puppy.
"There are so many unwanted and abandoned animals, and not enough good homes and fosters," she said. "It's rewarding to pull a puppy from a shelter and bring them home to a warm bed and love and affection and see them blossom. The owner of Woof River is absolutely amazing. They pay for everything from the minute you get the puppy right down to the food. They always place dogs in only the best homes, and I love knowing I helped with saving a life. We can't save them all, but we can save one at a time."
Walking with individuals
For several years, Long was a Stephen Minister through Hope Church in Memphis, Tennessee. The Stephen Ministry is a one-to-one lay caring ministry that takes place in congregations that use the Stephen Series system. "Stephen Ministry congregations equip and empower lay caregivers to provide high-quality, confidential, Christ-centered care to people who are hurting," according to the organization.
She currently attends Calvary Church in Cordova, Tennessee, and has for the last four years. Long said she loved her experience as a Stephen Minister because she loves helping others. "I'm a people person, and God blessed me with a big heart and the gift of compassion/empathy (sometimes to a fault). Being a Stephen Minister taught me about boundaries and being able to help others without using all of my strength."
Long said she was able to walk with individuals going through difficult experiences, "and just be a friend, listen, pray and help them through the difficult times that all of us have to walk through at stages in life," she said. "Not the same experiences of course, but we all have dark times. I've been through several myself, so I am able to use those experiences to help others as well."
Long said she is also very passionate about the homeless. "I'm blessed to be in charge of recruiting volunteers for The Calvary Rescue Mission in downtown Memphis once or twice a month. I would do it more if I could. I truly get much more than I give."
"It's a passion"
That compassion and empathy has carried over into her career as a practice developer for Miller Veterinary Supply. She has 15-plus years of sales and veterinary practice experience, including a degree in veterinary technology from St. Petersburg College. Long's territory includes the greater Memphis area.
"I've been in the veterinary industry for a long time; it's not just a job, it's a passion," she said. "Many of the veterinarians and their staff that I call on are not only customers but good friends."
Long said she enjoys being able to partner with customers to help grow their practices and find better solutions for their patients and staff members. "I truly enjoy spending time with them. I feel I'm not just a sales rep who offers them new products and specials, but an integral part of their practice that brings value and solutions to the always arising issues. Working for Miller is perfect, as this is a culture unlike any other place I've worked before. I'm truly blessed to be with such a great company. It's definitely a bonus being able to hold unusual animals and get a good puppy kiss now and then. I never know what I will find when I call on my accounts."
Long said her education and training as a certified veterinary technician has carried over into her interactions with veterinary clinics.
"Being a CVT has had a huge impact on my discussions with clinics," she said. "I speak from experience many times. I know what it's like to be a kennel tech, receptionist, technician, and someone who does the purchasing. I have respect and understand each position, so I'm able to help on many levels and relate to each person and the situation and their needs."
Sometimes Long has even been asked to jump in and help with things like placing a difficult catheter, staff training, and more than once, "slinging puppies from a c-section."
"It's the best of both worlds, and I love being able to help out in that aspect when needed," she said. "I also love helping network and place homeless and abandoned animals, and many times foster them … or keep them."
Work-life balance
Long said she is thankful her job is very flexible and family-oriented. "I'm so blessed that I am able to work hard and play hard, attend important events for my kids and family, and still make sure my customers are well taken care of," she said. "I have an amazing inside rep – all of our inside reps are amazing – so with that and the others on my team, they make it very easy and fun. Miller Veterinary Supply is a breath of fresh air. It's awesome working with friends that I've worked with in the past and people who are excited about their jobs and partnering with their practices. They truly care and work super hard. It's not the norm for sure, but it makes it easy and fun getting up and going to work every day."
When away from work, and when not fostering dogs or volunteering, Long has another pursuit that quite literally takes her into the clouds. "I'm a skydiver."
Long jumps with West Tennessee Sky Diving in Whiteville, Tennessee. She has more than 30 jumps and recently became an official A licensed skydiver. "I could talk about this endlessly. I'm super passionate – just speaking about it brings so much joy. I haven't jumped in nearly two months due to the weather, and it's awful!
Long said she has a sky family where every member shares the same passion. "We come from all walks of life but see the commonalities, not the differences, and accept each other for who we are. It's one of the things I love most about skydiving … aside from the freedom and peace and the rush like no other.
Everybody should try it at least once," she recommended. "Less than 1% of the population will ever do it."