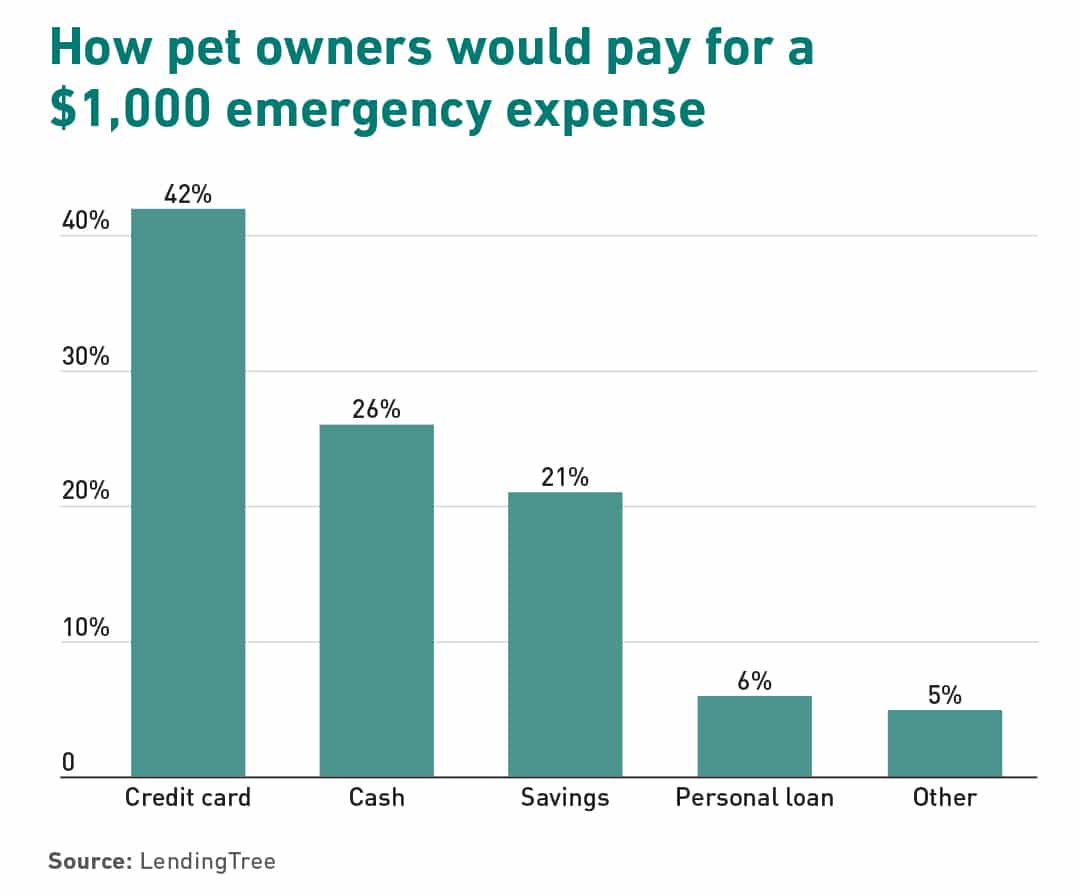 Covering the Cost of Pet Debt
A survey examines pet-related debt and spending.
Nearly half (47%) of pet owners have gone into debt for their pet, up from 36% in 2019, according to a September 2020 LendingTree survey of over 1,300 pet owners. LendingTree conducted the survey to better understand how much pet owners spend on their pets, how they cover unexpected pet-related expenses, and how that differs between cat and dog owners.
Other key findings of the survey include:
More pet owners are going into debt for their pets when compared with last year. Nearly half (47%) of pet owners in this year's survey have had pet-related debt, up from 36% in 2019. The survey results also revealed that of those currently in debt over their pets, one in five (19%) owe at least $1,000; about two-thirds (65%) of those who have been in debt for their pet regret paying for the expense that caused the debt; still, 80% of those who have had pet debt would still be willing to get another pet.
A third of pet owners said their pet-related spending has increased during the coronavirus pandemic. Twice as many pet owners said they're spending more on their pet (34%) versus spending less on their pet (17%). About half of all pet owners said that their spending hasn't changed. "The coronavirus pandemic also affected the way that pet parents take on debt for their pets," LendingTree said. "Pet owners who experienced income loss due to the COVID-19 outbreak reported more pet debt than those whose wages stayed the same."
People tend to underestimate the cost of pet ownership. Sixty-two percent were shocked by how much money it costs to own a pet, and 59% of pet owners were caught off guard by an unexpected medical expense.
Pet owners turn to credit cards to finance emergency medical expenses. Two in five (42%) pet owners would turn to their credit card should an emergency pet expense arise, one in four (26%) would use cash and one in five (21%) would tap savings, avoiding debt. LendingTree also said that two in five of the pet owners surveyed said that they have pet insurance, which can help mitigate the cost of emergency vet visits. Of those without insurance, 27% have regretted not insuring their pet.
Cat owners experience the same financial burden as dog owners. When asked how much they spent on their pets, how much pet-related debt they have, and if they were shocked by the cost of pet ownership, cat owners and dog owners had consistent answers across the board.
"Few bonds are stronger than those between people and their pets, and that doesn't go away in a pandemic," said Matt Schultz, LendingTree's chief credit analyst. "If anything, that connection might strengthen. People have more time to spend at home with their pets and might even have a little more money in their pocket to spend on them since people are likely not traveling, dining out or spending on other big-ticket items. That's a great thing unless all of that extra spending drives you into debt or takes money away from other more important priorities."
Schultz said spending on pets might slow some once the pandemic ends. "People are always going to want to spend on their pets," he said. "However, once it is OK to start going to concerts, hopping on airplanes, eating in restaurants, there just won't be as much money left to spend on your little pooch or kitty."
The best thing veterinary clinics can do to help pet owners is to be flexible. Providing multiple payment options, including those that allow you to pay in installments over time, can be a major help. "Vets also need to clearly communicate when a procedure or a treatment is optional or could potentially be put off for several months without any ill effect," he said. "That sort of choice can be a huge help to someone who is in a short-term financial crunch because they lost their job. It's also just good customer relations."
For the full results of the survey, visit lendingtree.com/personal/pet-financing/pet-debt-survey.
Avoiding pet debt
Matt Schultz, LendingTree's chief credit analyst, said pet owners will need to do the following in order to avoid debt in caring for their pet.
Factoring pets into a budget is a must. "Pets are expensive, and if you don't include them in your financial plans, things can get pretty messy in a hurry."
Revisit that budget after a few months with one's pet. "Our survey showed that people are often surprised at the cost of keeping pets, so keep track of your spending for a couple of months, then go back into your budget and see where you might need to make some changes."
Have savings designated specifically for pet costs. This can be a great idea to help prepare for any big surprises.
Pet insurance can help, too. "Just be sure to shop around to make sure you get the best deal."