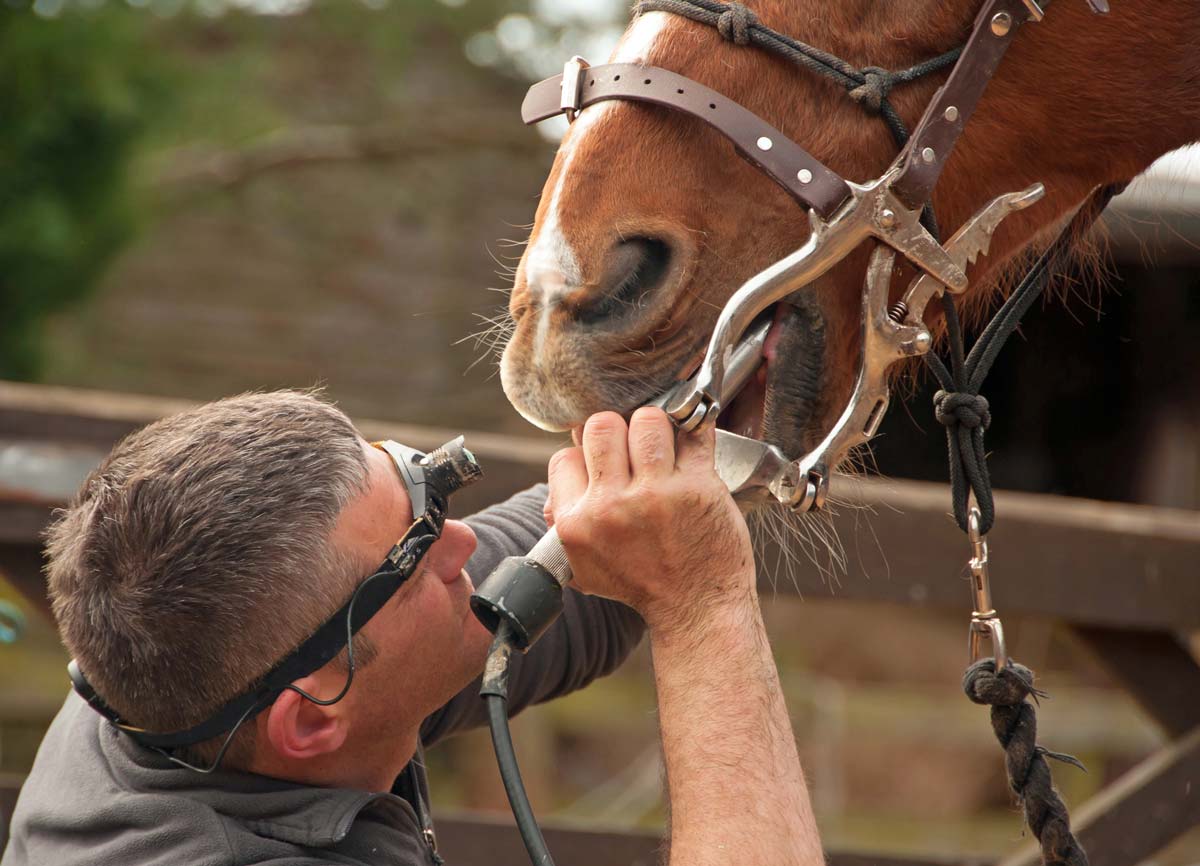 Equine Dentistry – Easy Does It
The decision to remove a horse's tooth isn't one to be made lightly. And once made, the veterinary team needs to proceed with care and caution.
Medical doctors and staff are facing an age wave, that is, a boom in an aging population, with their attendant comorbidities. Given advances in equine veterinary medicine, why should DVMs be any different?
"Today, our horses are living well into their 30s because of better nutrition and health care," said Edward Earley, DVM, Dip. AVDC/Eq, associate clinical professor of dentistry and oral surgery at Cornell University's Equine Farm Animal Hospital in Ithaca, New York.
Here's the problem: Their teeth are designed to function for 25 years, give or take.
"That's all the more reason to preserve the dentition of the older horse," he said. And that's why, today, owners and doctors are more apt to take a time-out to discuss options to extraction. Is the horse in pain? Perhaps not. Is there an adequate reserve crown? Could be. How about periodontal disease? If a fair amount of attachment (and function) is still present, waiting isn't a bad option.
The necessity to preserve equine dentition raises another area of concern – aggressive filing, which reduces the life of teeth, said, Dr. Earley. For that reason, veterinarians should be conservative and precise when performing odontoplasty.
Still, there comes a time when an extraction is the only option.
Signs
Horses with dental problems may show obvious signs, such as pain or irritation, or they may show none at all. Some simply adapt to their discomfort. For this reason, periodic dental examinations are essential. Indicators of dental problems include:
Loss of feed from mouth while eating, difficulty with chewing, or excessive salivation.
Loss of body condition.
Large or undigested feed particles (long stems or whole grain) in manure.
Head tilting or tossing, bit chewing, tongue lolling, fighting the bit, or resisting bridling.
Poor performance, such as lugging on the bridle, failing to turn or stop, even bucking.
Foul odor from mouth or nostrils, or traces of blood from the mouth.
Nasal discharge or swelling of the face, jaw, or mouth tissues.
Dental fractures leading to significant crown loss and pulp exposure, apical infection, periodontal disease, dental malformation, supernumerary teeth, and maloccluded teeth are all potential pathologies that would necessitate extraction of a cheek tooth. Patient age and health, severity of disease, tooth positioning, severity of clinical signs, and owners' financial and physical capabilities all play a role in determining if extraction is the best therapeutic option.
EOTRH
Premolars and molars aren't the only teeth that may need extraction. Canines, incisors and wolf teeth must be attended to as well.
In the early 2000s, the equine veterinary community became aware of a pathology affecting primarily incisors and canine teeth, and on occasion, molars. Equine Odontoclastic Tooth Resorption and Hypercementosis, or EOTRH, is characterized by internal and external resorption of dental structure sometimes associated with excessive production of cementum on the exterior of the tooth. As the disease progresses, the pulp, periodontal ligament, and alveolar bone become inflamed and infected leading to reduced structural support for the teeth, degradation of gingiva, increased incisor angle, fistula formation, tooth fracture, and pain.
EOTRH may cause sensitivity when the horse attempts to eat foods such as carrots or apples, said Dr. Earley. Another common flag is chewing on a speculum in the mouth during a sedated dental examination. All cases are confirmed through radiography. "What we're realizing is that it's a very slow process," he said. "But now that we readily recognize the end stage, we are looking more closely on radiographs for lesions among younger horses – something we would not have picked up in an oral exam."
Though veterinarians can and do prescribe antibiotics and anti-inflammatory drugs to improve the appearance of soft tissue over the teeth, they can't halt the resorption process or, ultimately, extraction.
Decision-making
The first step in evaluating any horse for dental pathology should be a complete oral examination. Over the past decades, advances in intraoral imaging have made the exam more fruitful. The emphasis on using a mirror to evaluate teeth intraorally was followed by suggestions for the use of an intraoral camera.
But rigid endoscopes have proved most useful. "Oral endoscopy has really opened our eyes to things we would have missed without it," said Dr. Earley.
However, even the most advanced oral exam using endoscopic techniques will not be able to determine the health of adjacent hard and soft tissue structures, the reserve crown, and the roots located within the alveolus. Some equine teeth that appear normal on examination of the clinical crown can be the cause of regional sinusitis, impressive apical pathology, and fistula formation. Dental imaging can help identify the tooth/teeth responsible for current clinical signs and provide additional information regarding the health of otherwise clinically normal teeth. When radiography is not enough, computed tomography can provide an abundant amount of information regarding three-dimensional orientation involving pathology and surrounding bone/soft tissue structures.
Extraction
Equine extraction procedures are currently summarized in three ways:
Basic oral extraction, in which elevators and forceps are used to remove the tooth. In all published studies to date, intraoral extraction of teeth has provided the highest success rate and the lowest complication rate of any extraction technique; therefore, intraoral extraction of cheek teeth in the horse is always to be considered prior to surgical extraction options.
Minimally invasive approaches include transbuccal screw extraction, partial coronectomy, tooth sectioning, commissurotomy and minimal invasive buccotomy with straight line luxation/elevation.
Surgical approach. Indications for surgical extraction are loss or severe damage to clinical crown, tooth resorption, hypercementosis, ankylosis, crown-root fractures, apical infection of young teeth, impacted teeth, open-mouth restriction, very small patient size, radicular/odontogenic cyst formation, oronasal fistula involvement, and dental malformation.
Older techniques of surgical extraction involve trephination (entering through the sinus or mandible) and retrograde repulsion. Dental repulsion calls for surgical incision over the diseased tooth roots, then punching out of the tooth from the root into the oral cavity using a metal punch and surgical mallet.
Repulsion has become outdated due to collateral damage associated with it, said Dr. Earley. If not directed appropriately, for example, it can lead to damage of the hard palate or sinus, medial cortex or mandible.
Minimally invasive extraction
Minimally invasive transbuccal extraction is a recently developed technique that uses a direct approach to the tooth with a "key-hole" cannula placed through the tissues of the cheek. The correct positioning of the cannula is paramount to success and is usually assisted with a combination of oral endoscopy and radiography. A good working knowledge of the neurovascular anatomy of the head is essential not only to ensure the cannula is placed in the best position to allow access to the alveolus, but also to prevent inadvertent neurovascular and ductal damage that may be catastrophic in some horses.
Once the cannula is placed, the tooth can be manipulated further, under endoscopic guidance, directly in the alveolus using specifically designed periodontal elevators inserted directly from the occlusal aspect of the tooth. Once the dental tissue appears adequately loose, it can be drilled and tapped. A screw extraction device is inserted in the hole and tightened, and using a specially designed hammer, gentle successive percussion on the end of the screw extractor will pull the dental tissue from the alveolus. Any small fragments can be removed using fine forceps passed through the cannula, and curettage of the alveolar bone can also be performed through the cannula.
These techniques require a relaxed patient. Therefore, adequate restraint including standing sedation and local and regional nerve blocks are needed. If done on a standing patient, these procedures require a semi-sterile working area, free of traffic and noise, suitable stocks, head support system, and an offset mouth speculum.
3D imaging is a valuable tool for the minimally invasive approach, said Dr. Earley. Poor positioning can lead to collateral damage to the bone or tooth. "The procedure is very technique-dependent and needs to be performed by people with specialty training and experience."
Most extractions today can be performed standing with good perioperative analgesia/anesthesia via intravenous sedation and regional nerve block. Three common regional nerve blocks used for dental procedures are the maxillary, mental, and inferior alveolar nerve blocks. General anesthesia is rarely necessary.
Post-extraction
Once removed, the tooth and alveolus should be carefully inspected to ensure that the tooth has been extracted in its entirety. Curetting and extraction with finer forceps allow removal of loose fragments. Oblique radiography of the apical region is useful to determine the presence of any remnants and provide a record of complete extraction. Once empty, the alveolus is usually packed to prevent food contamination in the early stages of tissue healing. The choice of material is either polysiloxane impression material or dental wax.
"We ask the referring vet to check that packing in two weeks," says Dr. Earley. "In three to four weeks, we remove the dental packing and evaluate healing with oral endoscopy and radiographs. Most straightforward extractions will have healed by then, but surgical extractions may take longer."
No doubt
Exodontia should not be performed unless it has been determined beyond a doubt which tooth or teeth are problematic and all methods of medical, periodontic and/or endodontic therapy have been exhausted to arrest the disease process and preserve the tooth. Most equine dental problems requiring extraction are associated with disease in adjacent structures (paranasal, sinuses, etc.). These problems must be properly addressed to resolve the clinical problem. The objective of exodontia should be to carefully plan and execute the extraction while protecting the alveolus and other oral tissues, thereby minimizing complications.
Sources:
Edward Earley, DVM, Dip. AVDC/Eq, associate clinical professor of dentistry and oral surgery, Equine Farm Animal Hospital, Cornell University, interview, Oct. 29, 2021
"Common Dental Procedures and Pathology," Cornell University, College of Veterinary Medicine, vet.cornell.edu/hospitals/equine-hospital/dentistry-and-oral-surgery/common-dental-procedures-and-pathology
"The Importance of Maintaining the Health of Your Horse's Mouth," American Association of Equine Practitioners, aaep.org/horsehealth/importance-maintaining-health-your-horses-mouth
"Equine Fact Sheet: Tooth Extraction," XLVets Equine, dendi.xlvets.co.uk/sites/default/files/factsheet-files/XLVets-Equine-Rebranded-090-Tooth-Extraction-Factsheet.pdf
"Modern equine cheek tooth extraction," Timothy Barnett, BSc(Hons), BVM&S, MSc, CertAVP, DipECVS, DipEVDC-Eq, MRCVS, Veterinary Practice, veterinary-practice.com/article/modern-equine-cheek-tooth-extraction
"Minimally invasive approach to cheek tooth extraction," Jack Easley, DVM, MS, DABVP (Equine) Equine Veterinary Practice, American College of Veterinary Surgeons, acvs.org/files/proceedings/2012/data/papers/150.pdf
Photo credit: istockphoto.com/Harlequin129