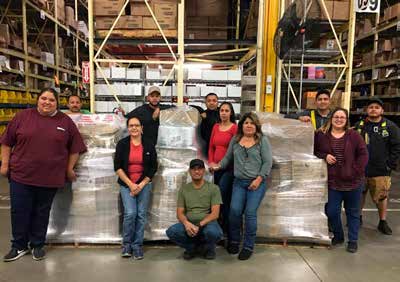 Former Vet Tech Volunteers to Help Animals Injured in California Wildfires
Community
|
Companion
|
February 2019
Editor's note: Patterson Vet Territory Manager Kellie Bartlett was interviewed for the company newsletter about her volunteer efforts. The following article is courtesy of Patterson.
As a former veterinary technician, Washington-based Patterson Vet Territory Manager Kellie Bartlett felt compelled to volunteer her services when she heard about animals injured in the devastating wildfires in California. She volunteered to spend five days at the Butte Humane Society Clinic in Chico, California, assisting the small clinic.
"They had 16 overflow burned patients and limited supplies and very limited personnel," said Kellie. "They had three or four assistants, a part-time LVT, and one DVM.
"Some days were heart-wrenching," she said. "There were a few patients who had wounds that just didn't want to heal. Worse, owners would come in thinking that this clinic had found their cat, but they couldn't definitively identify because the cats changed so much (burned faces, singed whiskers, burned fur, etc.). I'm told that only two cats who were microchipped found their homes."
Patterson provided her ticket and accommodations and donated $2,500 worth of supplies. Alaska Air donated $125 towards her ticket and waived charges for her luggage full of donations. Many of her accounts donated bags of medical supplies and blankets. Nutramax sent Feline Dasuquin Advanced and probiotics, QuickDerm donated dozens of tubes, sprays, and over 50 QuickDerm-infused gauze products. Friends and strangers donated money, homemade blankets, toys, food, pillows, even scrubs for those employees who lost everything in the fire.
"Patterson has raised the bar in my book," she said. "Having the integrity to send me and donate items/supplies to such a small, non-corporate clinic means so much to those who work there. And at the end of the day, it's the patients who are being rewarded. I am honored and humbled to be the representative to Patterson and all those who donated."