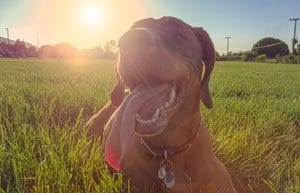 Heating Up
Companion
|
Inside Sales
|
June 2019
Summer-related products and services to discuss with your veterinary practice customers
The day I started writing this June column, we finally had our first warm day of the year. Hearing my dogs panting for the first time in a while (I couldn't bring myself to turn on the air conditioner just yet) reminded me that welcome as it is, warm weather brings a lot of challenges for pets and their owners. Knowing those issues and discussing the products that help prevent problems or provide solutions will help you and your customers enjoy a successful summer.
Parasite prevention
By now, a variety of parasites are lurking wherever families and pets enjoy the outdoors, so clinics should continue to educate their clients about the dangers of parasites to help increase compliance to prevent them. A consumer study by the Harris Poll last year showed that many pet owners still have misconceptions about the dangers of fleas and ticks, with nearly a third not giving their pets preventives on a regular basis. This knowledge gap is concerning for pets and people, since data from the CDC has found that human illnesses from tick, flea and mosquito bites more than tripled from 2004 to 2016. Your clinics can set themselves apart by reaching out to their customers with information about regional pests and disease risks during appointments, on social media and via text or email, along with their recommendations for the best preventives.
Boarding
Earlier this year, Forbes Magazine featured an article titled "Americans Spending Billions on Pet Travel and Boarding" and of course, summer is the time when many vacationers hit the road. Clinic staff who take the time to provide advice on including pets in a family vacation can build loyalty with their customers, and your practices who provide boarding services can put their clients' minds at ease by providing safe, exceptional care.
ID
Identification is essential not just for traveling pets, but for those in boarding facilities or in the care of a pet sitter. According to foundanimals.org, one in three pets become lost at some point, and 90 percent of pets without an ID are never returned to their owners. A registered microchip is the best way to ensure that a lost pet is returned, whether it's miles from home or gets loose on a walk in the neighborhood. Research shows that a dog with a chip is 2½ times more likely to be returned, and for cats, that chance jumps to 20! Summer travel season is the perfect time to discuss these statistics with your customers, make sure they have their preferred brand of microchips in stock, and go the extra mile by passing on any success stories you run across of lost pets reunited with their owners (thanks to a microchip) that they can share on their Facebook page.
Vaccines
Up-to-date vaccinations are another essential, whether a pet is traveling across the country or down the street to the dog park. Besides core vaccines, there are others to consider. Leptospirosis is a serious zoonotic disease spread mainly by contact with water or soil contaminated with the urine of infected animals. Thanks to a warmer, wetter climate, urban growth, and so many unvaccinated animals, leptospirosis has become so prevalent that dogs in most areas of the country are at risk. Many boarding facilities require a Bordetella vaccination, and in some areas, a vaccination for canine influenza may be needed as well, so be ready to discuss vaccine options with your clinics and make sure they're well-stocked for the season.
Calming products
Summer provides so many opportunities to recommend the variety of calming products you carry when talking with your customers! Thunderstorms, fireworks, boarding and travel can all bring on stress, anxiety and even digestive upsets. Take the time to review calming products like wraps and shirts; pheromone sprays, collars and diffusers; homeopathic oral drops and treats; and the types of prescription anti-anxiety medications you offer. Customers traveling with their pets for the first time will appreciate a product recommendation to prevent motion sickness, such as Cerenia.
Skin protection
One of my personal pet peeves (pun intended) every summer is going to a farmer's market or art festival on a typically hot day and seeing all the pet owners who've chosen to bring their dogs along. I'm always amazed that as much as these people apparently love their pets, they don't consider the potential dangers of walking a dog on hot pavement — from burned paw pads to overheating or dehydration. We'll hope that your clinics' customers have more common sense, but summer is still an ideal time to suggest ideas to target active pet owners who spend time outdoors with their companions. A display that includes items to prevent or treat sunburn or skin irritations, pad creams or booties to protect feet on hot or rough surfaces, and rehydration and electrolyte products to keep pets properly hydrated can provide opportunities for staff to explain and recommend these items.
Reminders
With so many summer activities, it's easy for pet owners to forget things like refilling prescriptions, scheduling follow-up appointments — even when to give monthly heartworm preventive — so compliance can drop significantly. Since most folks are rarely far from their smartphones, now is an opportune time to ask your clinics how they handle client reminders and find out if they've adapted those methods to today's consumer trends. Text alerts for refill reminders and notifications when a prescription is ready are conveniences pet owners appreciate, not to mention a potential revenue-builder for you and your customers. There are numerous apps for heartworm reminders that clinic staff can help pet owners download and set up during an appointment. If your company offers direct shipping to pet owners, make sure your practices are promoting the convenience of the service and showing their clients how to set up those recurring orders — for everything from prescriptions to food, preventives, supplements and dental products.
Warm weather and more time outside brings an increased chance of exposure to parasites, disease, and injury to companion animals. Helping your clinics take a proactive approach by stressing the importance of prevention to their customers can help pets avoid potentially dangerous — and costly — summer health issues with a bonus of increased practice revenue and client satisfaction.