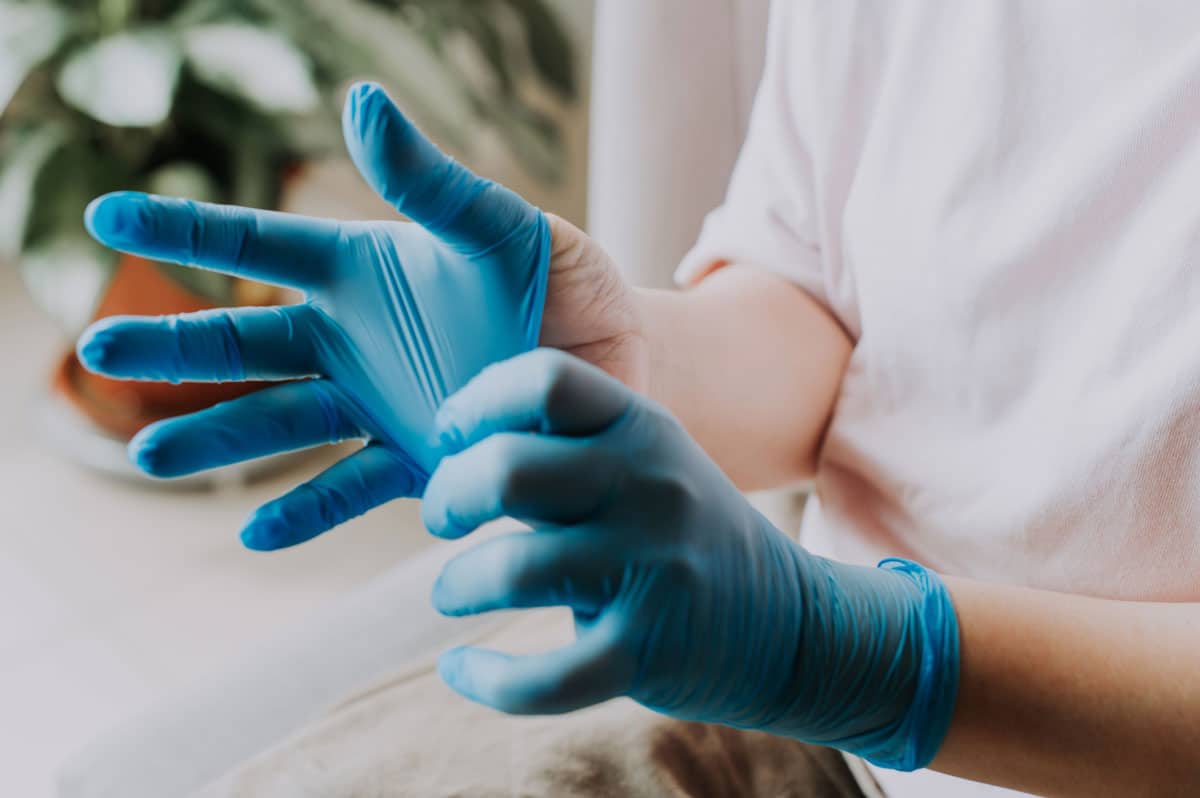 High Demand for PPE
Pressure points in the health care supply chain will continue to impact you and your customers, especially PPE. 
The entire clinic staff has always been integral to preventing, managing, and controlling disease transmission in veterinary hospitals when it comes to animal health. This fact has never been more important than in the past year and a half since the onset of the COVID-19 pandemic when the focus shifted from not only preventing disease transference between pets but protecting people as well. Vet clinics had to quickly adapt by implementing new protocols almost overnight, only to deal with shortages and price increases of the products they needed most for those protocols – disinfectants and personal protective equipment (PPE) – that persist today.
While cases of COVID-19 declined in the first few months of this year, the demand for PPE hasn't followed suit. The U.S. PPE supply situation is better than a year ago, but the need is greater. Testing and vaccination programs require huge quantities of supplies. The use of PPE in facilities like schools, daycares, and prisons, combined with businesses like groceries, bars, restaurants, and e-commerce warehouses, has added greatly to the demand. Hopefully, as more people are vaccinated, and mask restrictions begin to ease, so will some of the shortages and high prices. N95 masks went from a pre-pandemic price of about 38 cents to as high as $7 per mask, so it's no wonder that the American Medical Association reported last summer that its members spent an average of 57% more on PPE. Your customers have obviously experienced the same hit to their bottom line.
Critical products
Glove demand has increased 40% since COVID-19 vaccinations started, according to Premier, a health care group purchasing and supply chain organization. A worldwide shortage of nitrile gloves makes them one of the top supply chain challenges. The raw materials for nitrile gloves are in short supply, along with the ceramic molds used to produce them. Adding to the problem, Top Glove, the largest nitrile glove producer, shut down 28 factories last November due to COVID-19 outbreaks. According to Supply Chain Dive, there should be improvements later this year. A major U.S. producer of nitrile gloves plans to triple its production capacity by 2022 to 1.2 billion gloves per year. One objective of leveraging the Defense Production Act last February was to boost the supply of surgical gloves with a goal of U.S. factories producing 1 billion gloves per month by the end of this year.
Along with PPE, other pressure points in the health care supply chain will continue to impact you and your customers. The COVID vaccine program has increased the shortage of both syringes and sharps containers. Adding to the problem was a fire at a Texas facility last January that makes the resin used to manufacture sharps containers, which affected production at the worst possible time. One of the more recent shortages is a sterile surgical wrap, thanks to another raw materials issue. The same product used for sterilization wrap is used to make masks, gowns, and disinfecting wipes.
Domestic manufacturing of critical products has increased since the pandemic, but "from a supply chain perspective, we still have an incredible overreliance on China," according to Michael Alkire, president of Premier. This includes both products and the raw materials for health care supplies and medications. The U.S. is the world's largest importer of PPE, which made it particularly vulnerable when demand skyrocketed, and export restrictions hit the global market last spring. The U.S. imported at least half of its PPE, including medical masks, from China, where exports dropped for months due to the pandemic.
At the height of the pandemic last year, UPS and FedEx added hundreds of flights to ship medical supplies from Asia. Today most are being transported via container ships, typically taking 90 to 120 days to reach the U.S. The mammoth cargo ship stuck in the Suez Canal for nearly a week last March held up $9 billion per day in global trade. While it was freed much quicker than originally anticipated, the impact will likely be felt until summer and is just one more wake-up call for how quickly global trade and the supply chain can be disrupted.
Chemical manufacturers have struggled with raw materials shortages and shipping delays, which extended the time to deliver finished products from the normal five or six weeks to 12 to 16 weeks. Disinfectants and sanitizers that were nearly impossible to source for months are finally making their way back to store shelves and distributor warehouses.
Helping your customers source the cleaning agents they need can be difficult when you need to find a comparable for an out-of-stock product. Not every agent is effective against all microorganisms, and some need to be used at differing concentrations and contact times to be effective. Keep an updated list of your current in-stock products with label information for quick reference. The Environmental Protection Agency (EPA) has a mobile app where you can easily search for more than 400 disinfectant products.
At the same time that restrictions are being lifted, and clinics are transitioning from curbside service back to in-person appointments, the Centers for Disease Control (CDC) confirmed that constantly disinfecting surfaces beyond standard daily cleaning in a workplace isn't necessary when it comes to preventing the spread of COVID-19. A CDC paper released in April stated that the risk of contracting the virus from touching a contaminated surface is generally less than 1 in 10,000. This should lead to fewer shortages and lower prices for disinfectant wipes, sprays, and cleaners. Veterinary staff will need to follow cleaning protocols in exam rooms between patients as they've always done but won't need to take the time to wipe down or spray waiting rooms and public areas multiple times a day!
We've lived in an era of 'just-in-time' manufacturing and have been able to provide our customers with the convenience of JIT orders. That all changed in 2020, and the effects will continue at least through the end of this year. Helping your clients with their inventory needs will remain a challenge, but continuing to stay informed and keeping them up to date on the status of critical products will be a valuable asset to your veterinary teams.
Photo credit: istockphoto.com/PK-Photos