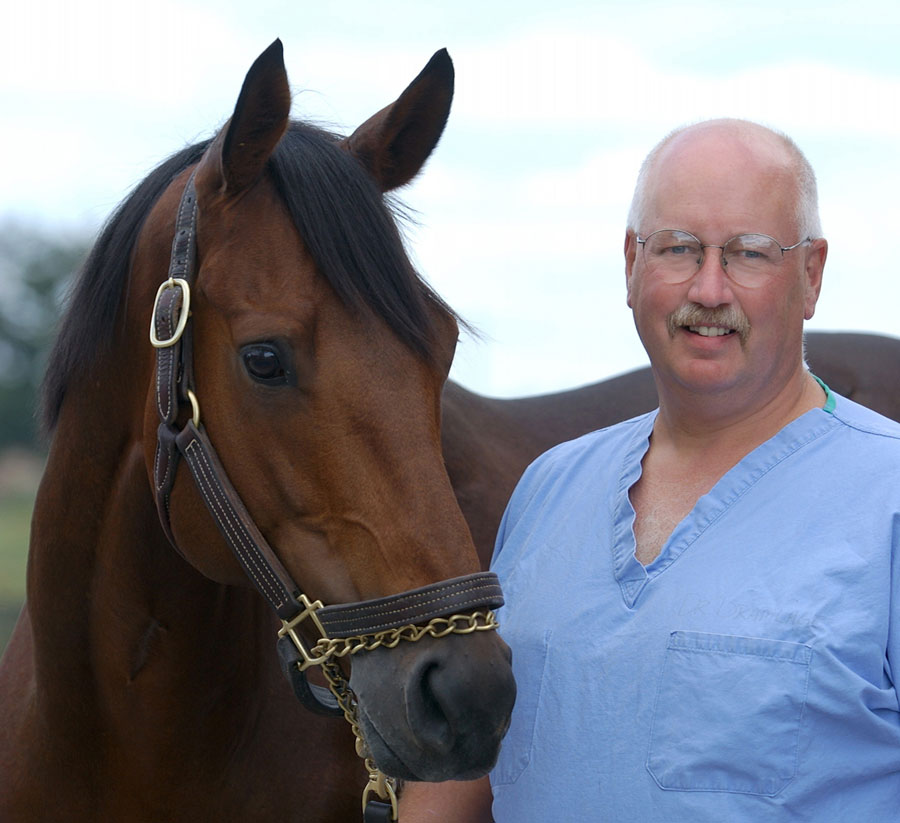 Intrigued by Thoroughbreds
Equine orthopedic pioneer Larry Bramlage won't stop looking for what's new.
What makes a good mentor? Larry Bramlage, DVM, MS, DACVS, partner at Rood & Riddle Equine Hospital in Lexington, Kentucky, believes a great mentor is someone who asks critical questions but never stands in the way when his or her mentees want to try something new and different. He believes the late Albert Gabel, DVM, MS, DACVS, a 33-year faculty member at The Ohio State University's College of Veterinary Medicine, was such a mentor. Dr. Gabel is just one reason why Dr. Bramlage has been doing new and different things in veterinary medicine for the past 45 years.
In December, Dr. Bramlage was presented the 2021 Sage Kester "Beyond the Call" Award for his contributions to equine veterinary medicine and the community by the American Association of Equine Practitioners. He was cited for advancing the diagnostics and treatment options for horses – particularly Thoroughbreds – with orthopedic disease and injury. He was credited with sharing his knowledge and expertise through numerous peer-reviewed publications, providing continuing education for veterinary surgeons and other practitioners, and training and mentoring students, interns and residents.
In addition to his contributions to the industry, Dr. Bramlage is an advocate for the needs of neglected and abused children through his support of CASA of Lexington, which serves as an advocate for abused and neglected children in family courts, and he has served on many committees within his church and helped establish its stewardship mission.
Just one look
Dr. Bramlage was born and raised in Frankfort, Kansas, about 130 miles northwest of Kansas City, Missouri. His father, Bernard, ran a sale barn, which was common in rural areas at the time. Bernard Bramlage also boarded cattle for preconditioning for the feedlot. "I vaccinated more cattle before I went to veterinary school than after," his son said today. Dr. Bramlage's mother, Gerri, was a homemaker.
There were horses on the farm, including his grandfather's pensioner, which the kids rode frequently, but Dr. Bramlage never formally rode or showed horses. Initially, he didn't have any real interest in watching races either, but he couldn't resist going to the backside of tracks to watch horses in training. "I thought it was the greatest thing I'd ever seen," he said. "A fit Thoroughbred still really intrigues me. I knew I wanted to work on them, but at the time, I had no idea I would ever be able to do that."
He graduated from Kansas State University College of Veterinary Medicine in 1975, completed an internship at Colorado State University and residency in equine surgery at Ohio State, and in 1978 joined the Ohio State faculty as an assistant (and later, associate) professor, staying there 11 years teaching orthopedic surgery and lameness classes.
In addition to his duties at Ohio State, Dr. Bramlage started consulting on surgery in 1980 and maintained a consulting practice until he left academia and moved to Lexington in 1989 to focus on orthopedic surgery at Rood & Riddle.
New surgical techniques
Since graduating from Kansas State in 1975, his interest in the equine athlete has driven Dr. Bramlage to continue to explore new areas in orthopedic surgery. He received the 1997 Tierklink Hochmoor Prize for his pioneering work concerning internal fixation of fractures and the 2010 American College of Veterinary Surgeons Foundation Legends Award for his development of the fetlock arthrodesis procedure for horses.
Dr. Bramlage developed procedures for plating of bones in horses through his association and participation with AO VET, a global network of surgeons, scientists, and other professionals who specialize in veterinary surgery of the musculoskeletal system. The organization was formerly known as the Association for Study of Internal Fixation or ASIF.
In the 1970s, surgery was the last resort for a racehorse, he recalls. Arthroscopy didn't exist, anesthesia was poorly understood, and orthopedic surgery was still in its juvenile stages.
"Trainers and owners wouldn't elect surgery unless the horse was no longer able to perform. Up until about 1982, we would have to make incisions in the joints to remove a chip fracture. The idea of stopping for surgery was not a first-line defense. Now, we can deal with what we consider routine injuries less invasively, and surgery has become the first line of defense. Trainers and owners and veterinarians have all learned that the key to preserving a horse's career is to treat these issues early and keep that joint normal, which is what we do now."
In the mid-70s, general anesthesia was intimidating because veterinary professionals didn't have the understanding, the drugs, or the equipment they have today, he said. "We don't think twice about anesthetizing a horse now, because the incidence of complications is so small." That wasn't true a half-century ago.
Furthermore, orthopedic surgery – specifically plating – was in its juvenile stages in the 70s, not just in horses but people too. "It was very slow to catch on for the treatment of fractures," said Dr. Bramlage. Internal fixation got its start in Europe, while people in the U.S. were still recovering in traction. As for horses, those whose fractures were amenable to cast fixation received that treatment, but the quality of healing rarely returned them to athletic soundness. "The capabilities and expectations are different today. There is a broad repertoire of routine fractures for which we use internal fixation with screws and plates, and we expect the horse to come back to the race."
The transition to internal fixation in horses was not without a learning curve. The earliest attempts on horses involved applying the same techniques that were being used on humans, Dr. Bramlage recalls. "We started making significant progress when we began developing techniques aimed to treat fractures specifically in horses," he said. "Horses are so much bigger than people, and we have such a need to get them to weight-bearing as soon as possible. So we began approaching internal fixation with the idea that horses needed special surgical procedures." For example, instead of one plate, equine surgeons began using two. And the discovery of where to place those plates and how to insert them to suit the needs of the horse underwent some evolution too, he said.
Internal fixation marked a bold transition for equine surgeons, but even in its earliest days, Bramlage didn't find the procedure intimidating. "If we weren't successful, we were no worse off than we were before. And once we had certain successes, we established that confidence and opened the doors for internal fixation."
During his time chairing and teaching the AO courses for internal fixation (screws and plates), he helped grow the course from a two-day subset of the Basic Veterinary ASIF Course to two three-and-a-half-day courses (Basic Equine and Advanced Equine) for equine surgeons. Virtually every equine surgeon in the country has taken these two courses, he said.
In 2010, Dr. Bramlage received the American College of Veterinary Surgeons Foundation Legends Award for his development of another pioneering procedure – fetlock arthrodesis – in 1979. "The technique that made the procedure work was an outgrowth of our internal fixation investigations, where we changed the mantra from simply applying human and small animal techniques to the horse, to developing surgical techniques designed specifically for the size of and the anatomy of the horse," he said. A fairly routine procedure today, before Dr. Bramlage's technique, fetlock arthrodesis "was a long shot, it rarely worked."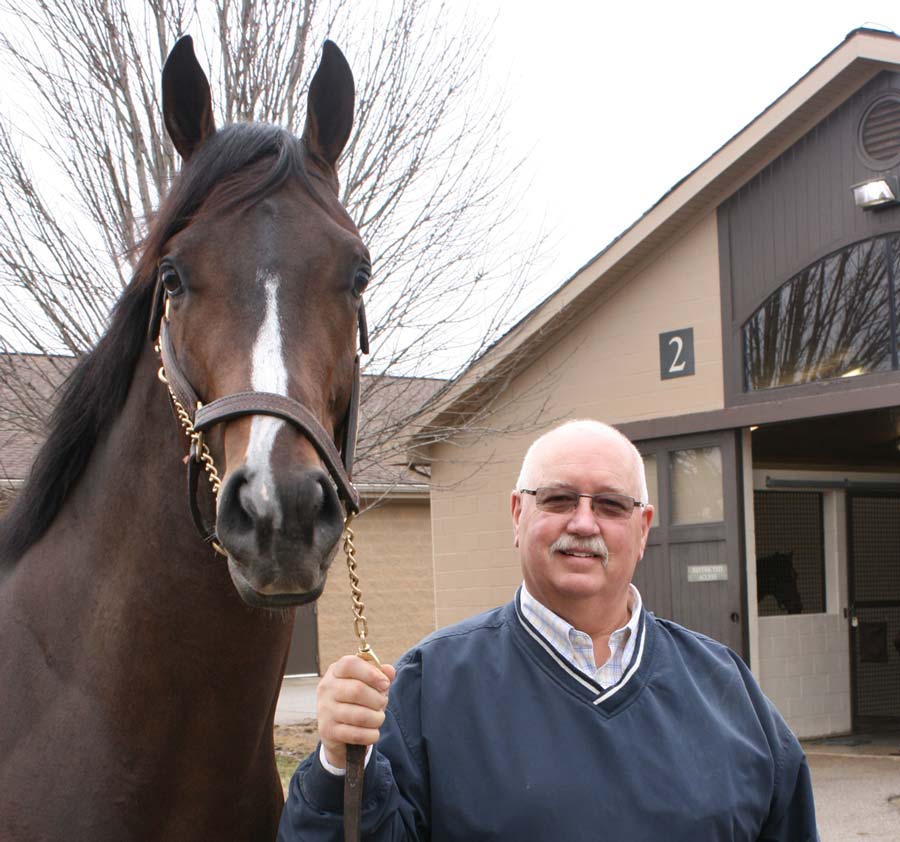 The sport
Today Dr. Bramlage remains committed to the health of Thoroughbreds and the sport of Thoroughbred racing. He was elected to membership in The Jockey Club in 2002 and currently serves on its governing body of stewards and its Thoroughbred Safety Committee. He serves on the board of the Grayson-Jockey Club Research Foundation, which provides funding to universities for equine research designed to support the health and safety of horses of all breeds.
In 2014, the AAEP presented its Distinguished Service Award to him and fellow orthopedic surgeon Dr. C. Wayne McIlwraith for their contributions over 23 years to the development and growth of the AAEP's "On-Call" program, which provides veterinary expertise in support of televised horseracing broadcasts.
There's no doubt the sport needs some refreshing, he said. But economic forces are working against it, as the value of race-tracks' acreage is attractive to developers in growing urban areas.
At press time, Churchill Downs, the owner of Arlington International Racecourse in Arlington Heights, Illinois – which hosted its first Thoroughbred race in 1927 – was in negotiations to sell the 326-acre site to the Chicago Bears football team, who were exploring a move out of Soldier Field. That sale, if completed, would come just a year or so after the same company, Churchill Downs, sold over 115 acres of the former Calder Race Course in Miami (opened in 1971) to a real estate company; and a little more than 15 years since the company completed the sale of the Hollywood Park racetrack and surrounding acreage in Inglewood, California, to a land development firm. Hollywood Park was opened in 1938, and in its place today stands SoFi Stadium, home of the Los Angeles Rams and Los Angeles Chargers.
"Arlington Park was one of the truly great venues in racing and sports, but political struggles and parochial profit-taking prevented it from becoming what it could and should have become," he said.
Racing has survived two world wars and several depressions, and it will continue to thrive in years to come … with some changes.
"U.S racing is in the process of remaking itself from its rural roots to the intellectual wagering platform that it has become in the urban areas of Japan and Hong Kong. In those countries, racing has transformed into a mental game of handicapping. Hong Kong is the single largest racing venue in the world.
"Sports betting of all kinds is growing, but racing has not grown with it. Still, the handle [the amount of money bet on horses] in the U.S. goes up every year, even as the number of racing venues is declining.
"I am a member of the Jockey Club Board of Stewards," he said. "The Jockey Club is the prime advocate for the sport and is working diligently to revise the U.S. approach to racing, which is controlled state to state, to a more nationwide perspective, which will greatly improve regulation and promotion of the sport." Dr. Bramlage hopes to be part of that continuing effort.