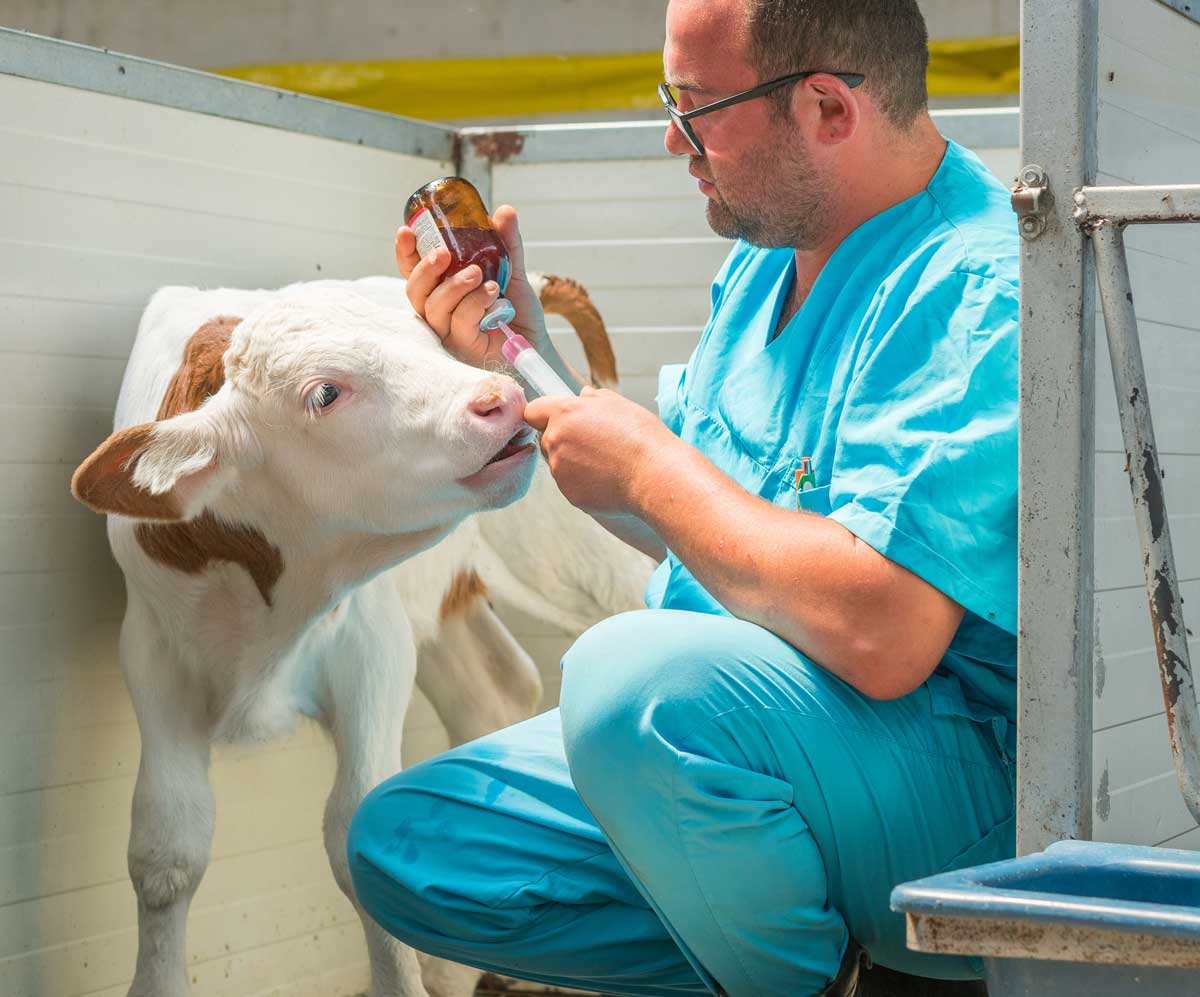 Judicious Use of Antimicrobials
A boots-on-the-ground look at how producers use antimicrobials responsibly.
Manufacturers and government officials have often advised producers to use antimicrobials "judiciously," but what does that mean for producers pulling and treating their cattle every day? Treating sick cattle means the potential profit margin has narrowed – whether from lost milk production or lowered average daily gain as a result of illness.
"We want to have a preventive approach," says Heidi Fischer, co-owner and calf operations manager at Fischer-Clark Dairy Farm, Inc., in Hatley, Wisconsin. "Everything from our vaccine protocols to our housing to how we care for animals on a day-to-day basis – all of those things reduce our dependence on antibiotics."
The Fischer-Clark Dairy Farm was recently recognized by Boehringer Ingelheim for its judicious use of antimicrobials. The farm's strategy emphasizes working with their local veterinarian to continuously update prevention and treatment protocols.
Everything from replacement heifers to beef cattle is raised on the farm, which means there are a wide variety of protocols to address everything from lactating cows to calves. In the cowherd, animals are fitted with activity collars that show drops in rumination time before physical signs of illness may even appear. If a cow is suspected of being sick, the animal's temperature is taken and the process of identifying the specific disease begins.
Veterinarian-defined treatment protocols are posted throughout the farm, but the process doesn't start with antibiotics. Fischer says probiotics and hydration are the farm's first line of defense.
"It doesn't remove the animal from the milking stream and reduces our treatment cost," Fischer says. "We've found that keeping that gut health in good shape and keeping rumination going can do a lot of work for us."
Fischer says the next step is to culture the sick animal before determining treatment. The farm reviews culture results with their veterinarian as well. Depending on the severity of illness, the animal may recover without treatment at all.
"Part of our theory is that we're proactive with our vaccination program. We give all our shots in a timely fashion and know the immune system is ready to fight off infections on its own," Fischer explains. "A lot of cows do heal on their own. There are always going to be chronic cases that you continue to treat with our next step, antibiotics."
Judicious Use in Dairies
The carefully designed protocols at the Fischer-Clark Dairy Farm are a real-life example of judicious use, which is one of the reasons why the farm was recognized in the Producers for Progress program, notes Linda Tikofsky, DVM, senior associate director of dairy professional veterinary services at Boehringer Ingelheim.
The dairy's specific protocols are unique to their operation, but the larger practice of using medications responsibly is widespread across the cattle industry. Nearly all dairy producers understand the concept of "judicious" use and practice it every day, Tikofsky says.
"Most producers have a good understanding of the disease processes and having a diagnosis, so we know what we're treating," she explains. "There's a lot of information about what are the most effective antibiotics. The first step is understanding the pathogen and the microbe we're dealing with and making sure to choose a product that is effective for that organism. It makes economic sense as well."
A relationship with a local veterinarian is the first step toward judicious antimicrobial use. A valid veterinarian-client-patient relationship (VCPR) helps producers become more proactive and less reactive.
"It's a partnership for the success of your dairy so they can write protocols and also quarterly or semi-annually sit down with the producer and review their antibiotic usage to help really decide if what they are doing is effective," she says.
Protocols can help take the emotion out of the treatment process and help producers understand when to stop treatment.
"Sometimes we have a problem knowing when to stop treatment," Tikofsky explains. "The inclination is to treat until everything is normal and treat an animal until the symptoms are gone. When we've given an antibiotic tube into a quarter, for example, we're not looking to sterilize the quarter. We have to stop when we've had an impact on bacterial replication so the cow's immune system can finish the job."
Chuteside with Beef Producers
Beef producers attending Beef Quality Assurance (BQA) training are likely familiar with judicious use, but a veterinarian-to-producer conversation about treatment protocols is likely more direct than in classrooms, says Shawn Blood, DVM, beef strategic technical services team, Zoetis.
"When we are one-on-one chuteside, we likely just talk about using the right products in the right animal at the right time," Blood says.
That's the fundamental meaning behind the term "judicious use." Yet, cattle producers are not in constant close contact with individual animals. Traditionally, pen riders will visually observe animals for clinical signs, which can lead to both human error and catching cattle at a later stage in the disease process. To address these concerns, cattle producers are increasingly looking at tools to help.
"We've gotten better at case definition and trying to identify the specific animal earlier in the disease process," he says. "We always have to help the employees we work with becoming better at visually diagnosing the animal. Technologies, as well as other tools and resources, are there to help."
The most constant disease threat for cattle producers is bovine respiratory disease (BRD), and early signs include lethargy and lack of appetite. If feedlot and backgrounder operations identify potentially sick animals earlier, there is a better chance for first treatment success.
"Especially in feedlots, our labor pool is shrinking, and we have to adopt technologies, training and use outside expertise that can be force multipliers for our pen riders," Blood explains.
After a sick animal is identified, selecting the right drug to effectively treat the disease is the next challenge. Beef producers have long struggled with determining the underlying cause of BRD, which can arise from either bacterial or viral infections.
"The bovine has the smallest and most limited lung design of any domestic species," Blood says. "Early intervention is most important because the animal doesn't have much capacity in the lungs. If you let the disease process continue too long, it can cause too much damage. Then you want to select an antibiotic with the highest chance of first treatment success. That first choice can actually reduce the number of treatments in the animal."
Finally, all cattle producers are tasked with validating treatment successes with good records, including the number of treatments administered, the product and the outcome. Again, technology has improved record-keeping and producers' ability to review those records. It's a critical component to observing withdrawal times and ensuring cattle producers retain the confidence of consumers.
Prevention is the Best Treatment
The best way to use antibiotics judiciously is to prevent the need for treatment in the first place by using timely vaccination protocols and implementing good animal handling techniques. It's a step the Fischer-Clark Dairy Farm wants more consumers to know about.
"I wish every consumer would know the time and effort and care we put into each animal," Fischer explains. "I'd want them to know we are diligent and careful and honest with our antibiotic use. The last thing we want is for a sick cow to get treated and taken out of the milking line, but we know she needs extra care and attention. We're always going the extra mile to make sure she's well cared for and has the attention she needs."
Key points
Antibiotic use in cattle herds is driven by two things: to care for the health of the animals and to ensure the safety and quality of the food being produced.
Historically, safety and quality of the product was defined by the absence of antibiotic residues from the product (milk and meat).
In the past decade, the public (and regulators) are increasingly concerned about the development of bacterial resistance to antibiotics.
The principles of judicious use of antibiotics are encompassed in the following: Use an antibiotic only when indicated; choose a cost-effective agent that provides appropriate antimicrobial coverage for the diagnosis; and prescribe the optimal dose and duration for the antimicrobial, which maximizes clinical therapeutic effect while minimizing both drug-related toxicity and the development of antimicrobial resistance.
Information courtesy of Washington State University Veterinary Medicine Extension.
Photo credit: istockphoto.com/mustafagull