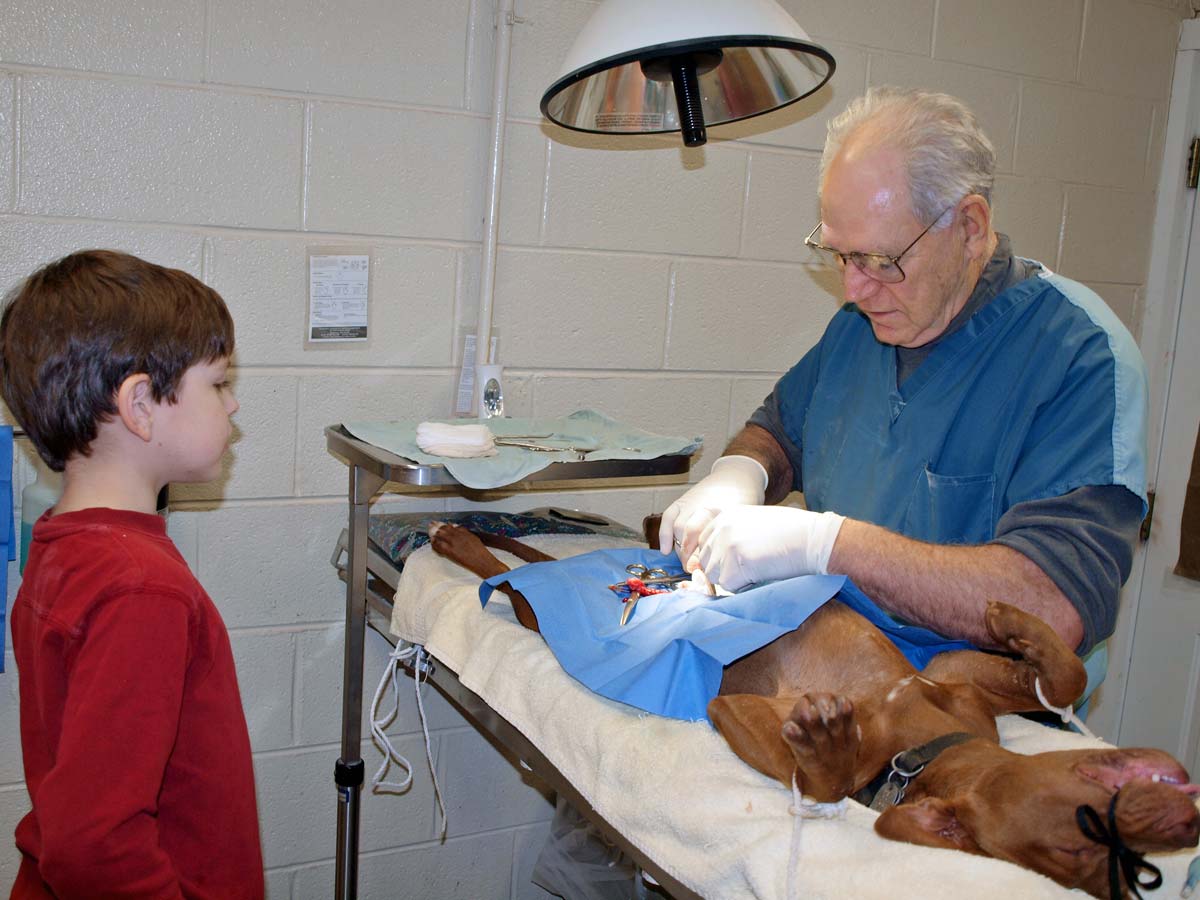 The Legacy of Dr. John Hayes
Dr. John Hayes had an old-school work ethic and passion for investing in others that helped shape the careers and lives of countless veterinary professionals.
When Ben Coe, newly hired Butler territory manager in 1978, called on one of the largest practices in his territory, he knew after his first visit that he had his work cut out for him. The clinic was run by a no-nonsense, hardworking veterinarian by the name of Dr. John Hayes.
"I couldn't get in at first," Coe said. But the young territory manager would continue to call on the clinic. Each time, Hayes would talk to Coe, "and just through persistence, he started throwing me a little bit of business."
Eventually, Hayes suggested Coe go to work for A.J. Buck, which did business with most of the area veterinarians. A formative conversation ensued. Coe told Hayes he was happy where he was. Hayes replied, "Well, what if you got a management position?"
Long story short, "he got me my first position in management," Coe said. "After that he became my account, and I stayed at his house almost every time I went south. I watched his kids grow up and went on large animal calls with him in the middle of the night. I never got much sleep when I went down there."
But Coe had a lifelong friend and mentor in Hayes – someone who Coe would take on fishing trips to Lake Ontario or the Chesapeake Bay, work alongside on calls to clients, and phone with large animal questions or for life and career advice. Hayes, who passed away this spring at the age of 81 after battling lung cancer, was unique in how he approached veterinary medicine. "He cared about his clients," Coe said. "He saw it as a people business as much as it was an animal business. He never sent clients to an emergency clinic. He would see them if they wanted to be seen in the middle of the night. He saw it as a calling. It made him a great veterinarian."
Running a successful practice
Hayes' professional career spanned from the 1960s to 2020. After serving in the Air Force Veterinary Corps and as a staff veterinarian for Corsica Veterinary Clinic in Centreville, Maryland, Hayes opened his first mixed practice, Squire Veterinary Clinic, in Upper Marlboro, Maryland, in 1966. It quickly grew to be the largest solo practice in Maryland for the next nine years.
In the early 1980s, Hayes opened a large animal clinic as an arm of the larger practice. Among other things, the facility provided routine and orthopedic surgery and foaling services. In 1985, The Washingtonian magazine named Squire Veterinary Clinic as the No. 1 clinic in the Washington D.C. metropolitan area for affordability and quality.
Hayes made it a point to mentor any young person who asked – whether they were already in veterinary school or were just interested in learning more about the profession.
Scott Andersen, DVM, started working for Hayes at the age of 12. For Andersen, there wasn't an innate desire to become a veterinarian. It was just a summer job. However, the job took hold. "From that point I never left."
Andersen continued working for Hayes as a veterinary technician through high school and his pre-vet studies. Hayes even held Andersen's job open amid two years when Andersen was wheelchair-bound due to a congenital hip problem. Eventually, Andersen came back to work for Hayes at Squire Veterinary Clinic after completing veterinary school and, in 1985, purchased the practice from Hayes.
Andersen said he saw a lot of success at his practice based on the philosophies that he had learned from Hayes. "It's old school, hard-working, dedicated, 24/7 availability to your clients," he said. "He taught me to be approachable to students, and to keep yourself out of the limelight. Be honest. If you're going to make mistakes, show them to everybody. People will trust you. Realistically, now at the age of 63, having been in practice for 38 years, I've come to understand that running a successful practice requires just a few things. If you're willing to learn as you go along with people, and they want to learn with you, you can build a reputation just like John's."
Andersen, who would eventually sell Squire Veterinary Clinic and start another successful practice, said Hayes often referred to him as the No. 1 protégé. Andersen essentially became the "fifth child" of the family. "When the kids were young I used to drive them home from the practice in my '65 Mustang. I worked on the farm and stayed on the farm with them, baling hay, cutting tobacco, etc. I helped with the non-glamorous, hard-working chores that would mold a person into understanding that success equals hard work, hard work equals dedication, and dedication equals a love affair for what you do. That requires that your understanding of it is that it's not a job – it's a way of life. Once you adopt that in veterinary medicine, it becomes extremely enjoyable."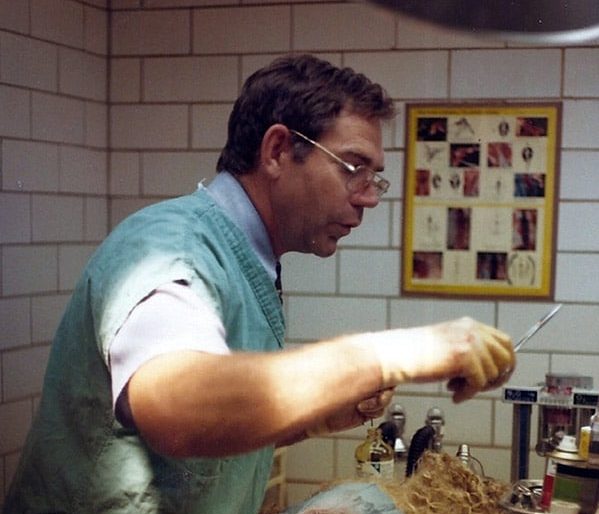 Investing in people
Lenka Babuska, DVM, started working for Hayes as an undergrad at the University of Maryland. "I needed large animal experience, and a friend suggested I speak to Dr. John," she said. "He had such a passion for veterinary medicine, for helping animals, and especially helping people who wanted to help animals."
Hayes took Babuska under his wing and immersed her in his practice. "The energy, passion, tireless 24-hour enthusiasm that man had was either infectious or it put people off," she said. "I jumped right in and it worked out beautifully for us."
Hayes held regular office hours during the day and in the evenings for his small animal clients, but had no appointments. It was first come, first serve. "Nowadays that would be unheard of," Babuska said. "We worked until the waiting room was empty. I helped during the week after school with small animal appointments."
On Saturdays, Babuska went out on large animal calls with him. "He was very practical," she said. "He always preached to look for the obvious first. If you've got a lame horse, don't be looking for X-rays and tendon things. It was common sense, use-your-head veterinary medicine. Keep the red herring in the back of your mind but always look for the obvious first."
Hayes loved to chat and connect with people. He cared about his clients and patients. "If somebody couldn't pay and a pet was in need, he would absolutely take care of them," Babuska said. "He would just tell them 'Pay me later when you can.' People would bring him vegetables and chickens and whatever else when they couldn't pay. But he was always there for them, no matter what. That was his passion. He wanted to help people and animals. He always said people need animals and you have to make it affordable for them to have them."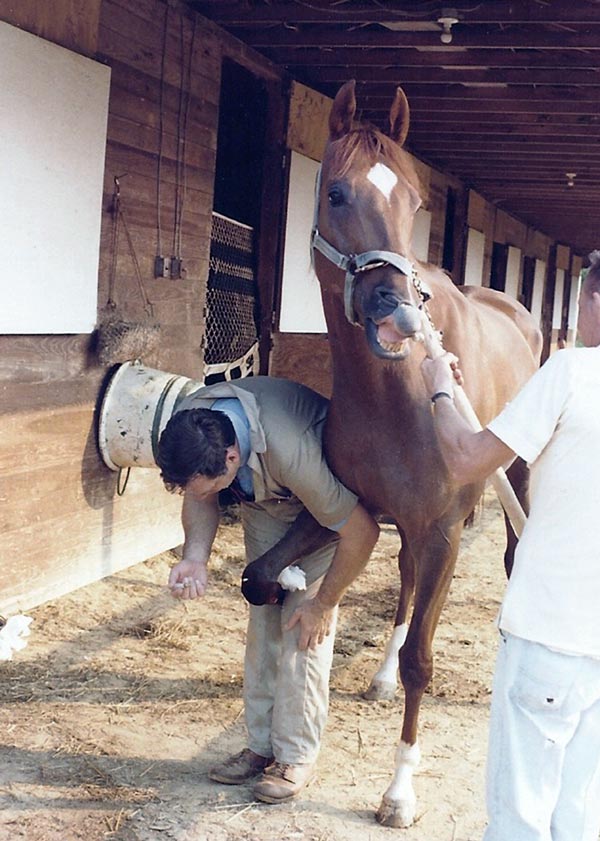 Pro bono work
After selling Squire Veterinary Clinic to Andersen, Hayes opened another mixed-animal practice, Ruckersville Veterinary Clinic, in Ruckersville, Virginia, in 1988. The clinic filled a large need for both small animal and livestock veterinary services, until 2006, when he sold the practice. He then served for free as chairman and veterinarian for the Madison-Greene Humane Society (MGHS), performing spay/neuters and providing medical treatment for rescued animals and those owned by low-income pet-owners.
"Dr. Hayes has worked more tirelessly, selflessly, and passionately in providing pro bono work for humane societies and low-income pet-owners than any veterinarian I've ever known," Henry A. Virts, DVM, wrote in his nomination of Hayes for The University of Georgia's College of Veterinary Medicine Distinguished Alumnus Award (Hayes received the award in 2013). Hayes had worked for Virts and his partner, Dr. Clarence Little, at Tidewater Veterinary Clinic in the early 1960s. "In fact, I don't know of anyone who comes even remotely close. During the early days of his practice, Dr. Hayes was performing so many free and low-cost operations for animal groups and low-income residents that when the idea was floated to open a low-cost spay/neuter clinic, it was quickly nixed, because as one local veterinarian pointed out, the county already had one at Dr. Hayes' Squire Veterinary Clinic."
When the local animal shelter was sued for its abysmal conditions, lack of medical care, and inhumane euthanasia techniques, Hayes offered to be on call to triage and treat injured or sick animals on a 24/7 basis – for free, Virts wrote. "He also volunteered to go to the shelter weekly to perform the necessary euthanasias and to help set up effective disease prevention and containment strategies. In time, his pro bono work was extended to every known animal welfare group in southern Maryland – at the same time that he was running a busy practice and raising four children."
Hayes was active with professional organizations throughout his career. He organized the Prince George's County Veterinary Medical Association in 1967 and served as the organization's president until 1975. Around the same time, he took over the Membership Committee of the D.C. Academy of Veterinary Medicine, growing the organization from 100 to 600 members.
He also served as secretary/treasurer of the Maryland Veterinary Medical Association for 14 years and, during that time, managed to increase the organization's net worth by the amount of one year's operating budget – without ever raising dues. In 2009, Hayes was named the Virginia Distinguished Veterinarian of the Year by the Virginia Veterinary Medical Association.
Hayes' mentoring work and support for the profession also never stopped; one mentee whom he had guided while working during his "retirement" at MGHS came by to see him the day before he died so she could tell him about her recent graduation from veterinary school. As sick as he was, Hayes still managed to give her a few more nuggets of practical advice.
Unlike most practitioners, Virts wrote, Dr. Hayes was always willing to give pre-vet and veterinary students daily opportunities to gain hands-on experience in diagnosing and treating patients. For example, one third-year veterinary mentee that he took on was able to assist with or actually perform 12 different surgeries on just her first day working with him – more than she had been involved with during her entire academic career.
As a result, Virts stated, "all of those who trained with Dr. Hayes, whether informally or formally, realized quantum leaps in their technical skills and practical knowledge."

Carrying on
Hayes continued to care for patients and perform surgeries while undergoing chemo and radiation treatments this spring, and that was no surprise to those who knew him. "Dr. Hayes has never been the type of person that would stop," said Babuska. "He would say 'I still have things to do. This will make it more challenging, but there is still work to be done.' It was all about helping others."
Babuska said veterinary medicine has changed over the years since she first went to work for Hayes. "Veterinary medicine is now all about money crunching," she said. "Especially in the corporate field, it's about how much money can you make doing enough stool samples or other tests. What percent of income this, that, or the other can make."
However, Babuska said she's found success by carrying on the philosophies on veterinary medicine and passion for clients that Hayes taught her. "We've never crunched numbers at our office. We feel that if you do right by your patients and clients, if you can explain what you're doing and why, they will trust you and the money will come. Use common sense. He taught me that it's about caring for the clients – for the owners of pets – and the pets."
Photos courtesy of Heather Hayes.