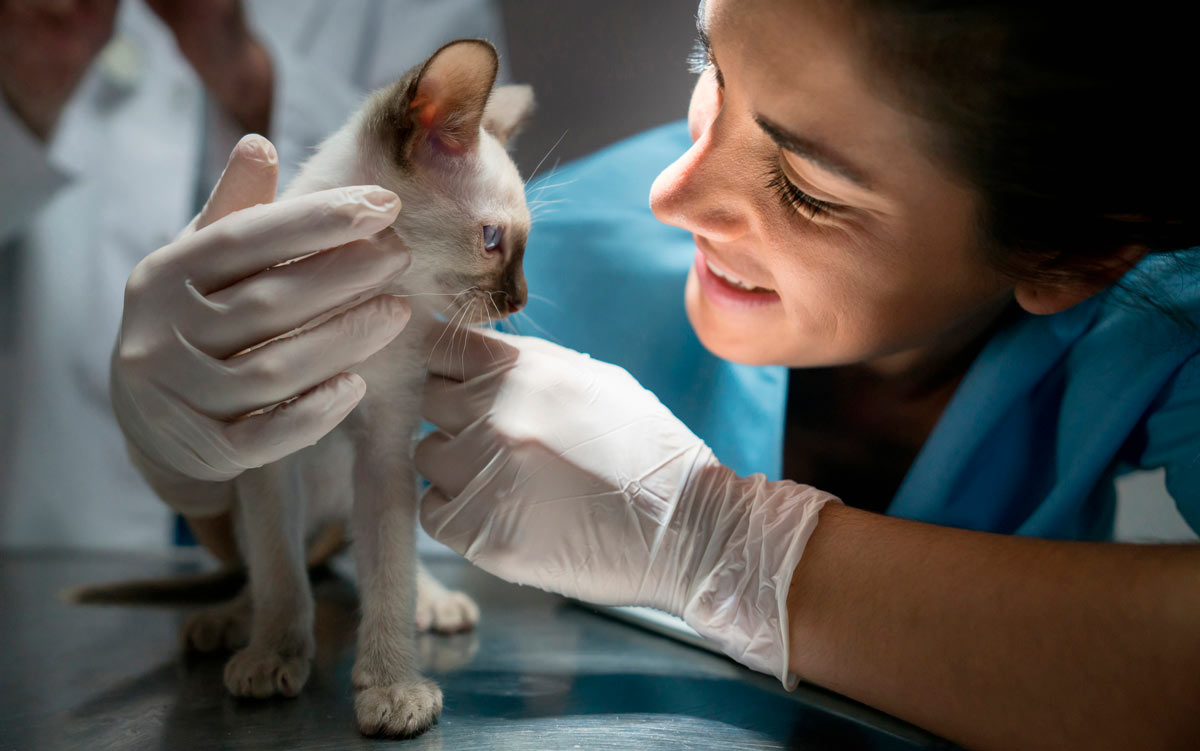 Maintaining Momentum for Feline Preventive Care
Many feline-focused veterinary practices have seen an uptick in client visits. How can they maintain the newfound emphasis on preventive care for cats?
Elizabeth Colleran, DVM, thought her veterinary hospital would be in trouble. She tried to prepare as best she could for the pandemic shutdowns, quarantines and shelter-in-place orders by securing a PPP loan, and mapping out a plan to keep her employees employed even if they had to keep their doors shut. So she was pleasantly surprised when the opposite happened. "We could not have been busier," said Dr. Colleran, MS, DABVP, feline medical director of California-based Chico Hospital for Cats.
Colleran has always had a busy feline-focused practice. Before the pandemic, Chico Hospital for Cats would see somewhere between 30 to 50 new clients every month. But by the middle of the pandemic, the hospital was seeing 90 to 110 new clients a month. The Cat Hospital is booked out a couple weeks in advance on regular appointments and booked out in advance on surgeries too. "It's absolutely unheard of for feline care," she said. And this was even before her hospital was fully reopened.
Reasons for the uptick
What led to the increased traffic? Colleran attributes the uptick in patient volume to several factors. First, people were staying home and not quite as distracted, so they noticed more potential medical conditions in their cats earlier. Cats are "quite inscrutable" in terms of how they manifest pain and other symptoms, and so busy people often miss the subtle signs of illness in cats, with good reason, Colleran said. But with the shutdown and more time at home, they picked up on more subtle signs that something may be wrong. "We were able to treat cats at an earlier stage with these conditions than we often do." Pet owners were catching things like:
GI issues, like food intolerance, inflammatory bowel disease, excess weight
Problems manifested by changes in elimination behavior
Social issues between unrelated cats in the household
Osteoarthritis
Dental disease
The second factor was cat adoptions. "New cat adoptions soared."
The third factor involved stress created by the disruptions in regular day-to-day living. Cats don't like changes to their routine, and they don't socialize the same way people do. They are what Colleran calls low impact socializers, while people are infrequent, in-depth socializers. "Think about yourself," she said. "You have a really good friend that you see every few weeks or so. You go out to dinner, or maybe a ballgame or something. You spend the afternoon together. That's how we socialize."
Cats socialize in a different way, she said. They come and go. They like to check on their people frequently, but don't want to get hugged every time they check in. "So I think that we're seeing more stress-related illness in cats just because these and other unexpected human behaviors are different than their normal behavior repertoire."
Finally, Colleran's practice started getting more requests for wellness checks. "Cat caregivers can be negligent about wellness and general health care for their cats, because cats are so inscrutable," she said. "And of course, a lot more cats are living indoors now so people don't think they need any health care. But recently, in the last six months, we've been doing a lot more wellness care, which is wonderful, because we're catching conditions really early that people might have missed otherwise."
Shifting the frame of reference
Jane Brunt, DVM, executive director of the CATalyst Council, Inc., said the pandemic provided a unique opportunity for cat parents to observe their cats more that was evidenced by the increased number of visits for illnesses of all kinds, even while preventive care became lower priority. In the future, maybe some of those people now know what to look for, because they've experienced what's "normal" for their cat, and can tell when something's changed. "I'm hopeful that the extended time at home with their cats has enhanced the human-feline bond, and that level of concern and care will continue as we get back to 'normal,'" she said.
Brunt said veterinary teams can keep preventive care a priority for clients by taking the approach of saying "your cat needs," or "it's important to, because…" which is different from "we recommend…"  By shifting the frame of reference, "we can help jumpstart behavior change of reticent cat owners," she said.
Colleran said she's hopeful the last year-plus has created momentum in feline care to where new habits may be forming among cat owners who will seek out regular health care for their pets more frequently.
"We never, ever stopped emphasizing preventive care," she said. When Colleran worked as a clinician on the floor, she spent a lot of time in the parking lot talking to people about their cat's care. "That relationship is what gives us permission to do the best possible medicine," she said. "They trust me, they believe I have their cat's best interests at heart. If I understand their family requirements, then I get to do better medicine than if I don't have that relationship."
1 Photo credit: istockphoto.com/andresr
2 Photo credit: istockphoto.com/andresr
Health watch
Jane Brunt, DVM, executive director of the CATalyst Council, Inc., said she would divide the top four feline health concerns into two basic buckets:
Young adult cats
No. 1: Oral health. This is Brunt's No. 1 health concern for cats. Veterinarians see a lot of periodontal disease in cats, and it often starts by one year of age. Brunt said these conversations actually happen: "Oh, your cat's gums are a little red, and you can try brushing their teeth and giving them dental treats and we'll check them next year…" or "Oh, your cat's teeth have a little tarter on them, give them dental treats and maybe a dental diet; they don't need a dental though…" and "Oh, there are some of those lesions at the gumline; you said they don't have any trouble eating, so just keep an eye on it…"
No. 2: Weight gain. "By the time the first adult vaccines are due, they're
1 ½ years old or more and most cats' feeding patterns are set," Brunt said. "And the owner has been trained by the cat for the past year to give more of those dental treats."
Mature and senior cats
No. 3: Chronic kidney disease. Thankfully, with routine wellness profiles, chronic kidney disease can be detected earlier than ever, especially if the veterinarian is astute and begins watching trends in annual bloodwork and urine concentration and protein when they're healthy adults. Today there are more diets and treatments for different stages than ever before. "Helping veterinary teams learn to stage CKD and identify hypertension and proteinuria will help more cats, help keep their staff engaged, provide excellent client service, and even help their practices grow."
No. 4: Osteoarthritis. It's there, cats have it, and 90% of cats over 11 years old have radiographic signs. "I'll go on record dismissing the statement that 'cats hide their illnesses (i.e., pain),' and credit Dr. Tony Buffington for the insight that most people just don't know what to look for," said Brunt. "That's OA pain in a nutshell. Most everyone knows that cats are not small dogs, and they certainly aren't miniature Labrador Retrievers. Thankfully, there are resources for what OA pain looks like when cats move, and how, and now pain scoring tools are available."
Photo credit: istockphoto.com/eli_asenova
Improving your cat game
The American Associated of Feline Practitioners (AAFP) supports veterinary professionals by offering science-based educational programs and resources to further their feline-specific knowledge. Elizabeth Colleran said she's excited about the Cat Friendly Certificate Program, which is offered for individuals at veterinary practices, whether it be the veterinarian, technician, or support staff member. "It's given the people who are interested in improving their cat game, the agency to actually go ahead and do it," said Colleran, who is chair on the AAFP's Cat Friendly Certificate Program task force.
The Cat Friendly Certificate Program consists of three uniquely designed certificates for each person in the practice:
Cat Friendly Veterinarian (CFV)
Cat Friendly Veterinary Professional (CFVP)
Cat Friendly Advocate (CFVA)
Each program contains a series of modules exploring aspects in feline behavior, the veterinary experience, and health care. The benefits of the program allow veterinary professionals to enhance their ability to fulfill client and patient needs, build confidence in working with cats, demonstrate a personal commitment to feline health, help develop talent, and offer transferable tools and knowledge. The program is approved to provide veterinary professionals continuing education hours in order to meet yearly compliance obligations.
Since its launch in October 2020, over 2,330 individuals have registered for the Cat Friendly Certificate Program, with over 1,600 having earned their certificate so far, according to the AAFP.
Chico Hospital for Cats: How it started
By Elizabeth Colleran, DVM, MS, DABVP, feline medical director of California-based Chico Hospital for Cats
While working towards a Masters of Science in Animals and Public Policy at Tufts, I worked part-time for a wonderful Irish veterinarian who had nine children and owned 13 veterinary establishments. For the first time since completing an internal medicine internship, I worked for someone who encouraged me to practice the best possible medicine. My previous employer had made me think that I had chosen the wrong profession, restricting my ability – especially to take excellent care of cats.
When I returned to Chico, I knew that I had to create a new experience for cats and their owners. With the help of the Small Business Development Corporation (part of SBA), I wrote a business plan that was accepted by a local bank. By March 1998, we were open. Every aspect of our clinic is designed with the nature of the cat in mind. Keeping quieter, slower, and calmer than bustling practices keeps kitties and clients comfortable. The stress of any doctor visit is universal. Our goal is to minimize it for everyone. We have tricks up our sleeves such as Feliway wipes that can be used to wipe the interior of a cat's carrier to help them stay calmer. We teach clients how to make the car and carrier tolerable. We use UV light, air filtration, fresh air and Feliway diffusers everywhere there is a feline patient or boarder to have that "Happy Cat" smell throughout the clinic.
Having a lobby that does not smell like d-o-g-s helps too. Chico Hospital for Cats looks and smells just like home. There are no strong chemical smells or bright, sterile hospital lights to frighten our patients. No barking or loud voices.
Our exam rooms are cozy too! We will not pull cats out of carriers, they come out on their own or carriers are disassembled. Our doctors will give feline patients time to acclimate to the room while they talk with the caregiver about their cat's history. We use an ear thermometer and other techniques to make it easier to cope with their natural fear. Our doctors examine cats in places more comfortable for them – the bottom of the carrier, a lap, on the floor or in contact with the caregiver.
If feline patients need lab work done, we will keep cats and caregivers together so they can be a part of the process if they are not too squeamish. At Chico Hospital for Cats, we don't scruff our patients; we gently use the cuddle hold or even use our version of a "purrito" (cat burrito).
Some cats do need a special cocktail to relax, we will admit that. Cats are quick learners and one unpleasant veterinary visit may mean that they just can't cope and they do need to be sedated for our doctors and staff to do a complete physical examination or proper diagnostics. It is for their safety and because they deserve a thorough comprehensive physical exam and appropriate diagnostics. Our doctors have been thoroughly trained and experienced in all matters "cat." Their expertise and knowledge are the cornerstone of a healthy future for every beloved feline.