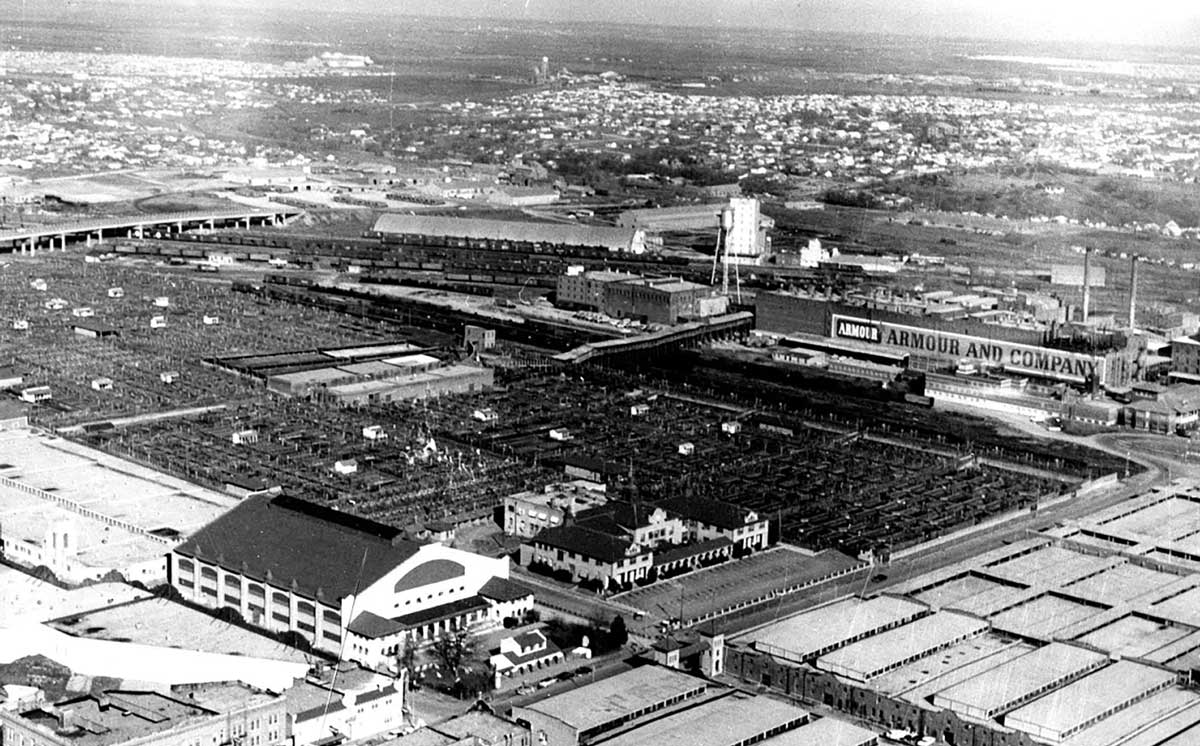 Miller Veterinary Supply is Standing the Test of Time
Miller Veterinary Supply celebrates 100 years of providing exceptional customer service to veterinarians.

In 1920, did you know:
The Treaty of Versailles took effect, marking an official end to World War I.
The League of Nations was established.
The 19th Amendment, which gave women the right to vote, was ratified.
And 1920, it turns out, was also a year of note in veterinary distribution. It's the year Miller Veterinary Supply Co., Inc., got its start. The wholesale distributor is celebrating its 100th anniversary this year.
Veterinary Advantage spoke with several members of the Miller Veterinary Supply team about its past, present, and future.
Photos: The Flatiron Building where Jack Miller's first office was located. He would open his mail, pack his outgoing orders and take the packages back to the post office before going home. And Jack Miller about the time he started Miller Veterinary Supply in 1920.
Beginnings
The company's founder, Jack Miller was born in 1899 in Bowlegs, Indian Territory (now Oklahoma). He got a job as a secretary to the meat inspector veterinarians at the Fort Worth Stockyards. As the story goes, one veterinarian, seeing Miller's drive to succeed, told Miller that he was having trouble getting medications, sera, and immunizations and other supplies for his part-time practice, as were other veterinarians in the area. Miller left the USDA and found a job as a landman with the Gulf Pipeline Company, and started MVS as a part-time business in 1920. In 1936, Miller built the veterinary supply business up to where he needed to devote full time to it, so he left his day job. By 1947 he had bought his first warehouse.
Through the years, the company has navigated several market and organizational changes and challenges. For instance, in the 1950s, Texas suffered a terrible drought. MVS understood the impact the drought had on veterinarians in the state and gave extended credit to its customers who were hard-hit, said Jack Smith, currently a consultant to the Miller Board. In the 1980s, the MVS warehouse was destroyed by fire. The company managed to continue its service to customers, and moved to its current address, at 201 South Adams Street.
Photos: The Burk Burnett Building where Gulf Pipeline Company was located while he worked there. Fort Worth, Texas location from 1980 to present.
MVS has maintained its position in the industry by sticking with the basics, said Smith. "We have always chosen to stay loyal to our customers, our employees and our vendors," he said. "While there are a number of new things that are a part of doing business for some companies, if the customer is negatively affected, we haven't rushed to copy them."
The company has always worked to anticipate the veterinarians' needs, having those products available and shipped quickly, Smith said. The organization offered products to new veterinarians who have no credit history so that they could start their practices. They have also offered extended billing during times of emergency, such as droughts, fires, and hurricanes.
"MVS stays true to our one mission, making veterinarians successful," said David Gnad, DVM, MVS president. "We maintain an unwavering dedication to the veterinarian and the veterinary profession. For the past century, MVS has remained a family business, listening to our veterinarians and doing our best to understand their needs. We appreciate the sacrifices our veterinarians make as well as the dedication and commitment they have to create and maintain a successful practice."
A unique market position
In today's marketplace, everything MVS does is aimed at improving the practice of its veterinarians, "which is why we listen to their needs and provide solutions," said Dr. Gnad. "We believe the veterinarians deserve a distributor that cares about them, the people in their practice, their patients, customers, and their communities. Everything we do is to improve the veterinarians' practice and their quality of life. Our focus is to offer more than just a product or a piece of equipment; we hope to provide solutions as part of our veterinarians' business strategy."
When looking at key trends affecting today's veterinary practice, Gnad said two stand out: practice consolidation and demands on veterinarians.
Practice consolidation is happening at a rapid rate. "If our veterinarians are considering selling their practice, we work closely with them to help with the transition," he said. "This may be in the form of addressing Key Performance Indicators (KPIs) within their practice to maximize (EBITDA) Earnings Before Interest, Tax, Depreciation, and Amortization to helping them understand the different options for buyers. While our niche is mostly the independent veterinary practice, we work with many consolidators to continue to provide competitive service."
Demands on veterinarians. "As a veterinarian, I understand the demands on my colleagues," said  Gnad. "The volume of medical information that they must keep up on, managing a business and trying to balance a professional and private life can be extremely challenging. MVS provides great value to our veterinarians by providing a level of consultation that streamlines and makes many buying decisions easier. Many of our practice builders (OSRs) spend time with our customers reviewing business benchmarks and hopefully providing business insights that can help them with their practices. Our goal is to be a trusted advisor to the veterinarian; helping in any way we can to improve their business and quality of life."
Looking forward
As it turns the page to another century of doing business, Gnad said MVS is well-positioned to meet its customers' needs. In 2018, MVS expanded its operations in the Northeast with a warehouse in Fairview, New Jersey, and the Southeast with a warehouse in Braselton, Georgia. In 2020, the company is poised to continue its expansion into Florida with the opening of a warehouse in Ocala, Florida.
"We are very excited about the future of MVS and the future of veterinary medicine," Gnad continued. "We've been very fortunate to be able to build a team that has a common commitment to provide this level of service. An insatiable commitment to serving the veterinarian on a daily basis is not for everyone, but it is for Miller. Our relationship with our customers is more than merely transactional; we consider it a partnership. A partnership that we greatly value."
Images courtesy of Miller Veterinary Supply archives
Miller Veterinary Supply Leaders
David Gnad
President/CEO
Clay Cass
Executive Vice President
Paul Gillaspey
CFO
Jack Smith
Consultant to the Miller Board
What is best for the veterinarian?
Three Miller Veterinary Supply practice developers offered their insights on what's unique about working for a 100-year-old company, as well as what their customers need from them in order to succeed in today's competitive landscape.
Veterinary Advantage: What makes Miller Veterinary Supply a unique place to work?
Blair Dubois: Miller is a unique place to work because we are customer-centric and genuinely focus on our relationships with our customers and the big picture – what's best for the customer is truly what's best for Miller. We value our partnership and relationship with our customers above all. Because we are small and family-owned, we're all family and our customers are an invaluable part of our family.
Headen Embry: We have very few layers, so everyone from the warehouse workers, to the ISRs, OSRs, etc., all have input in how we can better the customer experience. Everything we do at Miller and every decision that is made is based on one question – What is best for the veterinarian?
Nicole Duvall: The uniqueness really stems from the fact that each individual practice developer (sales rep) is provided the autonomy and platform to ultimately do what is best for the customer. The culture that is being created within Miller directly translates to our customers.
Each employee is equally as important as another. Everyone has a voice and their opinions are not only heard but valued. Being able to provide solutions and problem-solve as a company is a huge differential when trying to compete in an ever-changing industry.
We recognize the need to be better. We recognize the gap in customer service and what it means to have our team move in the same direction, with the same goals in mind, and how to accomplish those goals better than we did the day before. Our team is uniquely comprised of experienced professionals that have been in the veterinary industry for quite a while, and are joining forces to build something that our customers have been needing for a long time.
Veterinary Advantage: What are your customers' biggest pain points right now?
Embry: The biggest pain point for veterinarians today is competing with the big box stores, corporations, and online pharmacies. The solution is for the individual clinic to provide a better experience for the customer. We see hundreds of clinics every month and serve as valuable consultants to these practices to provide ideas and solutions for growing profitability and competing in this ever-changing marketplace. We don't hire just sales reps at Miller; we hire practice developers.
Dubois: One of our customers' biggest pain points in today's market is combating lost revenue to OTC channels. With that lost revenue, veterinarians today must really focus on the services they provide their clients to set themselves apart and provide the best quality of care. Miller is well-positioned to help our customers with this challenge by providing them a consultative approach to managing their practice, as well as the best equipment in the industry to help provide the best quality service to the pet patient with modalities such as quality digital images, ultrasound, dentistry, and therapeutic laser therapy.
Duvall: The veterinary industry has changed dramatically in the last 10-20 years. We recognize that a lot of our customers are surrounded by various corporate buying groups within their area, and the need to help them compete as independently owned veterinary practices is how we fit in.
We believe that fair and honest pricing will allow these independently-owned practices to not only survive but thrive amongst a market that is consolidating at a rapid rate. Veterinarians enjoy the option of being able to partner with a supplier that doesn't attach themselves to any hidden agenda.
First and foremost, we want our business strategy to be as transparent to our customers as possible. We have the ability to make quick decisions for the customer. We don't require 14 layers of management approval in order to do what is right when it's necessary. The synergy within Miller allows us to pivot, and pivot quickly, in order to meet the changing needs of the customer.
We are positioned to meet the ever-changing demands of the industry because we've built a culture that allows us to do so. This optimism and cultural shift aren't lost on our customers. Everyone inherently wants to do business with corporations that are providing a positive impact and change to an industry. Consumers are more educated and aware than ever before, and we want to be at the forefront of meeting those needs and addressing the pain upfront and with as much transparency as possible.
Miller Veterinary Supply Timeline
1920: Jack Miller starts Miller Veterinary Supply as a part-time business while working full time for Gulf Oil.
1936: Jack Miller builds the veterinary supply business up to where he needs to devote full time to it, so he leaves his day job.
1945: Wilma Miller, Jack Miller's daughter, marries Bennie Smith.
1947: Jack Miller buys the first warehouse that he owned; Bennie Smith graduates college and starts working at Miller Veterinary Supply.
Mid-1950s: Texas suffers a terrible drought, during which Jack Miller gives extended credit to his customers who were hard-hit.
1974: Jack Smith and 1976 Nancy Smith Conn begin working at MVS.
1980: The MVS warehouse is destroyed by fire, and the company moves to the current address, 201 South Adams Street.
1990: Jack Miller passes away at age 89.
1996: Bennie Smith passes away at age 76.
1999: Cindy Ward is hired as a bookkeeper and eventually becomes general manager.
2013: Wilma Smith passes away at age 89; Grandchildren Jack, Nancy & Brenda take ownership of MVS.
2018: MVS expands into the Northeastern United States with a warehouse in Fairview,
New Jersey.
2018: MVS continues to expand through the Southeastern United States with a warehouse in Braselton, Georgia.
2020: MVS continues expansion into Florida by opening a warehouse in Ocala, Florida.