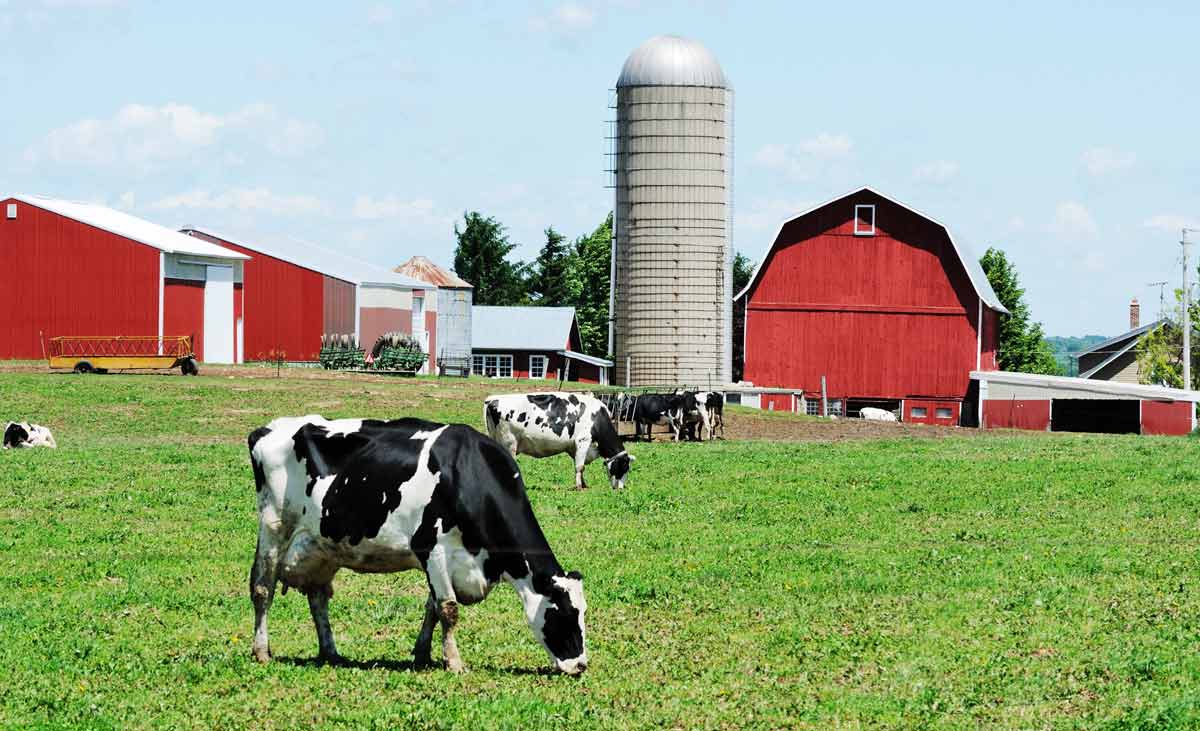 Opportunities in Dairy Sustainability
A Q&A with Karen Scanlon, executive vice president of environmental stewardship for Dairy Management Inc., about dairy sustainability.
Sustainability can carry different definitions from the dairy farm to the grocery aisle. The following exchange with Karen Scanlon, executive vice president of environmental stewardship for Dairy Management Inc. (DMI), sheds some light on the opportunities and challenges for the industry. DMI manages National Dairy Council and the American Dairy Association, and founded the U.S. Dairy Export Council and the Innovation Center for U.S. Dairy.
Vet-Advantage: Is there one accepted definition of sustainability? 
Karen Scanlon: A farm's sustainability can be reflected by its operation's longevity; family farms that have remained in operation for over 200 years are certainly sustainable – these are operations that have weathered so many changes in technology and markets and have proven themselves to be resilient through it all.
A term that is an increasingly valuable assessment of environmental sustainability as it aligns a farmer's inherent economic interests with environmental impacts is environmental impact intensity. An impact intensity is an environmental impact associated per unit production.
Dairy production in North America has the lowest GHG emissions intensity in the world. According to the Food and Agricultural Organization, North America (where the U.S. is the primary dairy producer) was the only region in the world to increase milk production while also reducing absolute emissions.
Because we will continue to need food, it is increasingly important to consider an operation not based on total impact but instead on efficiency. Economic and environmental sustainability are more closely related than most people realize.
Vet-Advantage: How does your organization define sustainability? 
Scanlon: Although all food production comes with an environmental footprint, responsible food production works to minimize that footprint. In 2008, U.S. dairy was the first in the food agricultural sector to conduct a full life cycle assessment at a national level, which showed it contributes just 2% of all U.S. greenhouse gas emissions. Thanks to increasingly modern and innovative dairy farming practices, the environmental impact of producing a gallon of milk in 2017 shrunk significantly, requiring 30% less water, 21% less land and a 19% smaller carbon footprint than it did in 2007.
The dairy community is committed to making even more progress on sustainability. The 2050 environmental stewardship goals support a vision that dairy is an environmental solution, addressing the areas where U.S. dairy collectively can have the greatest impact. Specifically, the goals are:
Achieve GHG neutrality
Optimize water use while maximizing recycling
Improve water quality by optimizing utilization of manure and nutrients
U.S. dairy is on a journey and remains committed to ongoing progress, to leaving a positive environmental footprint and to doing its part to nourish the planet for future generations.
Vet-Advantage: What are the opportunities for dairy producers?
Scanlon: Every producer has the opportunity to achieve sustainability actions by helping to conserve natural resources and bring benefit to the environment. Many producers are already taking action on sustainability because it makes sense for business and brings benefit to communities.
Some of these practices include:
Using cover crops and reduced tillage that improve soil health
Buffer strips that protect water quality
Optimized feed rations and use of feed additives to reduce enteric methane emissions
LED lighting
Plate coolers and renewable energy generation to improve energy efficiency
Diverting waste of other food byproducts to use as feed
As technology and society change, dairy farmers adapt, evolve and embrace technologies to meet the needs of our evolving communities and consumers. This presents an opportunity to boldly chart the course for an economically, socially, and environmentally sustainable future for U.S. dairy – a future in which dairy is an environmental solution.
Vet-Advantage: How is DMI helping producers? 
Scanlon: To support farmers in achieving sustainability, the U.S. Dairy Net Zero Initiative (NZI) was established and provides a roadmap for this journey. NZI provides support and opportunities to enable farms of all sizes, geographies and management practices to reduce their environmental impact.
This support will look different for different farms, based on individual needs and desires. NZI breaks down barriers to empower all farms to reduce their environmental impact and become more sustainable – in an economically viable way that positions them to thrive for generations to come.
Vet-Advantage: How can livestock producers make steps towards being sustainable?
Scanlon: Environmental sustainability contains many facets. We think of a livestock operation in terms of how they manage their feed, their animals, their manure and their energy. Within each of these categories, there are a lot of different improvements producers can make to reduce their environmental footprint.
Feed production can be improved by putting in place practices that support soil health such as reduced tillage, cover crops and nutrient management; soils with high biological activity and organic matter have more nutrient and water holding capacity, which both improve productivity and reduces runoff and leaching of nutrients and pathogens into local water bodies. Barns can be made more energy efficient through the installation of LED lights, soft start motors, high-efficiency fans, variable speed pumps, and soft start motors.
Vet-Advantage: How does a healthy herd influence sustainability?
Scanlon: What is often overlooked is the tremendous opportunity producers, in coordination with their veterinarians and nutritionists, must improve a farm's economic and environmental sustainability by improving herd health and performance.
Here are a few ways that ensuring a healthy herd can help realize environmental gains that are profitable for the milk you produce:
Minimizing transition cow diseases such as subclinical ketosis along with other transition diseases that often accompany ketosis, including mastitis, metritis, displaced abomasum, and clinical ketosis
Reducing total lameness and specific causes of lameness
Improving the pregnancy rate in lactating cows and heifers
Reducing heat stress
Photo credit: istockphoto.com/steverts
Photo caption: Karen Scanlon