Paul Sunderhaus is On Track
For MWI's Paul Sunderhaus, his profession is a perfect fit.
Paul Sunderhaus admits he may have spent a bit more time focusing on horses than on his business courses while attending Wright State University in Dayton, Ohio. But he really couldn't help it. "I have an extreme passion for Standardbred horse racing," he says. His grandfather, Don Hay, was a Standardbred trainer, and Sunderhaus was bit by the bug at 5 years old. "I spent every hour I could learning from my grandfather at the fairgrounds in Celina [Ohio]." While attending Wright State, he spent early mornings working for a local trainer.
The hard work paid off in the form of a 25-year career in an industry he absolutely loves. Sunderhaus is an equine specialist for MWI Animal Health, calling on equine veterinarians – most of whom are racetrack practitioners – primarily in Ohio, Kentucky, Indiana, and Pennsylvania.
After graduating from Wright State, Sunderhaus worked as an assistant Standardbred trainer in Florida in the winters and New Jersey in the summers, working with some of the top horses in the country. He worked primarily with young horses, guiding them through the breaking process, and introducing them to the harness, the bridle, and the cart.
After doing that for two years, he started his own stable in Lexington, Kentucky. "I had some success, and ended up with 12 horses," he recalls. But financial difficulties on the part of his largest owner forced him to disband the stable. His veterinarian, Dr. John Cummins, told Sunderhaus of a sales opportunity with Millburn Equine (now Patterson Veterinary). "It was the only distributor to have an equine-only sales team, and it was a great fit for me," he says. "I was 25, and [Millburn National Sales Manager] Ed Strickland put a lot of faith in me." He worked for Millburn for 10 years before joining MWI in 2008. As an equine specialist for MWI, he covers the same territory he had with Millburn with the addition of Kentucky.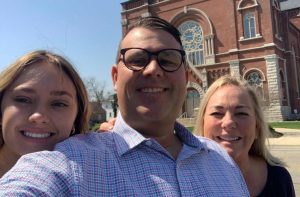 "My responsibilities are doing my best to keep the folks who have been very loyal to me throughout my career satisfied daily," he says. "The majority of my account base is the racetrack practitioner. I am very fortunate to have an occupation where every day I get to do something I truly enjoy, which is being around a racetrack and horses."
He finds equine veterinarians to be extremely down-to-earth and hard-working. "It is a physical, emotional, and demanding career, as their clients want results quickly. And I am always amazed at how they emotionally handle giving one client the best of news in the morning, and another client the worst of news later in the afternoon. They are a compassionate and resilient group of individuals.
"It has been well documented that our industry is challenged by a lack of young veterinarians wanting to come into the equine field full-time," he continues. "The horse business takes a tremendous amount of time and dedication, and other species allow young veterinarians a more flexible schedule. I believe some equine practitioners who could retire feel compelled to remain loyal to their clients, as they are essentially not replaceable. It indeed concerns as an industry.
"I have been so fortunate to have clients that have become lifelong friends and provided a tremendous career for my family and me," including his wife of 19 years, Cathy, and their daughter, Lily (as well as Reagan, a chocolate lab, and Beau, a black lab).
Sunderhaus remains involved with Standardbred racing as a hobby. He and four clients have been purchasing yearlings for the past several years intending to put a solid foundation under them and sell them as 3-year-olds.