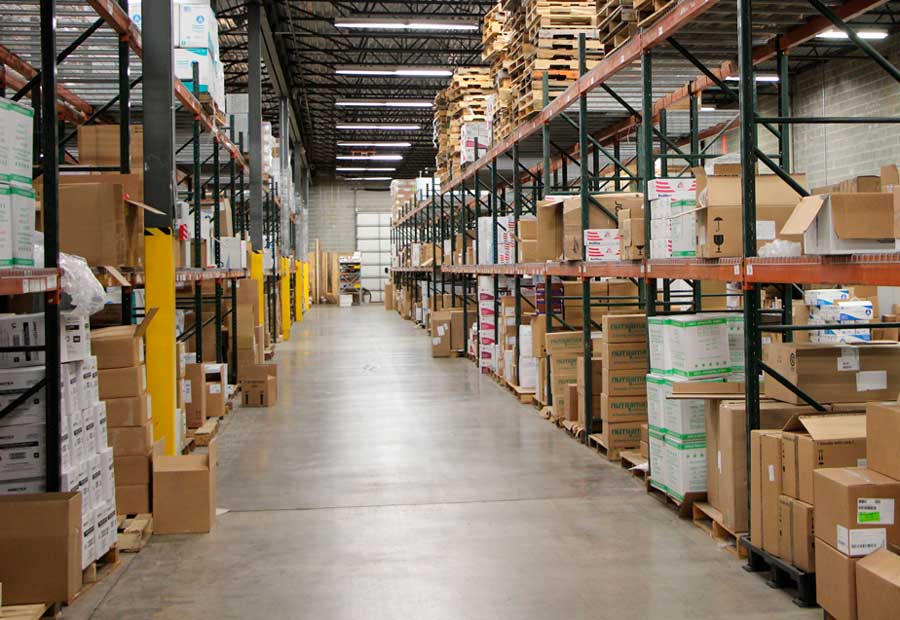 Penn Veterinary Supply: Independent and Nimble
From a single line to more than 125 employees, Penn Veterinary Supply has continued to grow over 40 years while maintaining its DNA as a regional, independent distributor.
Having been a technician at a small, independent veterinary practice, Lita Miller knew firsthand the day-to-day challenges that veterinarians faced. So in 1984 when she interviewed for an inside sales position at Penn Veterinary Supply, Inc., she had a pretty good handle on whether the young distributor could speak the language of the customers it served.
"Right away, I thought, 'Here was a company that was in tune with veterinary clinics,'" Miller said. "They very much wanted to partner with veterinarians and practices. It wasn't just about selling product. It was about, 'How can we be a good business partner with you?' At that time, to me, the approach was enlightening. I hadn't heard that before."
The message was crafted by Rich Sexton, who in 1981 started Penn Vet with a single product line because he thought the industry could use a better way to supply veterinarians with products and services. Forty years later, the message has not only resonated with veterinary clinics, it has helped grow Penn Vet into an independent, regional distributor, servicing customers throughout the east coast and online.
Moving forward
Miller said Sexton not only taught his philosophy to the people who worked for Penn Vet, but he empowered them to feel a sense of ownership in their mission. "His employees were partners in moving the company forward," said Miller, who landed the inside sales role in 1985 and has been with the company ever since. She is now Penn Vet's president. "He included them in that way. So coming into a company where you had an opportunity to grow as much as you wanted to, as the company itself grew, it was obviously a great time. The company was young, so there was nothing but growth. It was just a really a good fit."
Penn Vet had limited product lines in the early years, so reps had to be very good at selling what was offered, Miller said. The approach involved talking to customers about Penn Vet's philosophy and what the upstart distributor was looking to accomplish – to provide excellent service for the clinics – and showing them how the distributor could do that. In the mid-1980s, there were about 6-8 inside sales team members, with 10-12 field reps serving customers in the Mid-Atlantic region. Over the next four decades, Penn Vet Supply would expand in numbers and geographical coverage. Today the distributor has 60 individuals for its inside and field sales force and more than 150 employees overall, an e-commerce website, three branch locations and territory managers throughout the east coast including Pennsylvania, Michigan, Ohio, and down to Florida.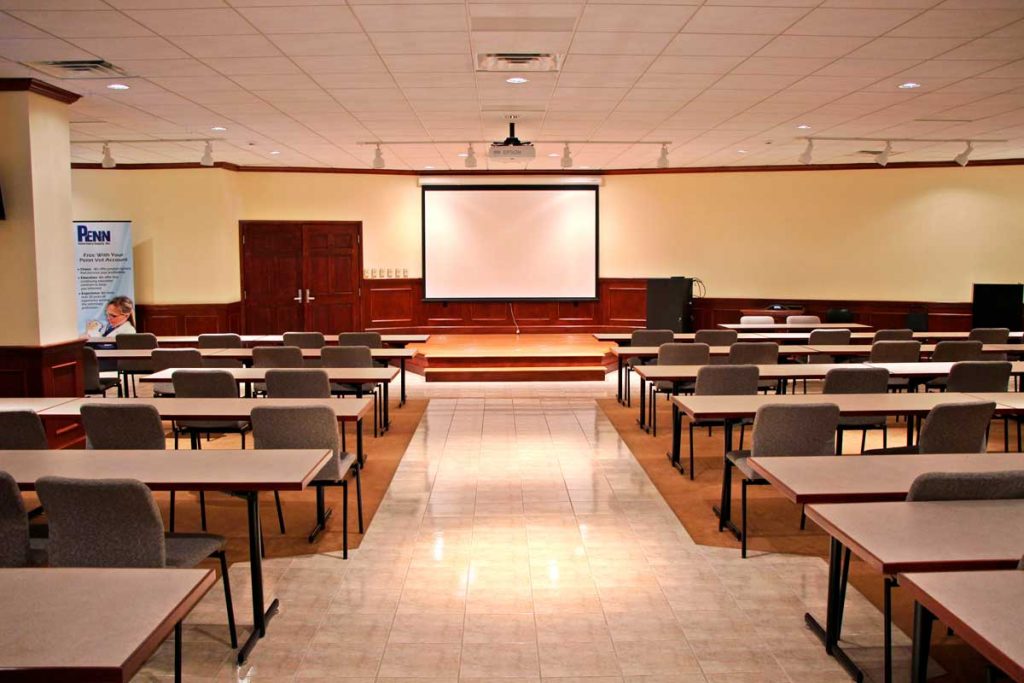 Common ground
In a marketplace that's seen a tremendous amount of consolidation, Miller said Penn Vet's independence is important for several reasons. First, "it allows us to be very creative, and very versatile," she said. "It allows us to remain nimble in the marketplace. All our decision-makers continue to be under one roof. If there's a challenge or issue, something that we need to solve for our customer, everyone is here so that can be a quick process. We can get with our customer and take care of their needs."
Penn Vet's independence also puts the company in the same business realm as the independent veterinary practices it serves. "When we're working with independently owned veterinary practices, they're family owned, single owner or partnerships with 2-3 veterinarians, so many of their challenges are very similar in business context to the challenges we face," Miller said. "It keeps us on common ground. It helps us to relate to their challenges and better understand the ways in which we can help them remain vital and competitive in the marketplace."
Defining moments
In the 1980s and 1990s, gaining more product lines allowed Penn Vet to grow and attract more customers. The introduction of revolutionary products like Heartgard also had an impact. "Those products changed the market," Miller said. "They certainly had an effect on distribution, because they drove market share." As Penn Vet grew in the marketplace, vendors could see that it was gaining market share, that its reps worked hard for their customer, and that they also worked hard for the vendor partners, Miller said. "And I think for many vendor partners, as the market became more competitive, it became harder and harder to gain market share. They were really looking for distributor partners who did the hard work and represented that product line as if it was their own."
Penn Vet lost its founder in August of 2011 when Sexton passed away. Miller said Sexton was quite a presence at the company, both physically and inspirationally. "He left a void in that sense, although the business had been strong, and continued to flourish."
While it's human nature to have a degree of uncertainty after losing a pillar of the organization, Miller said team members were determined to carry the mission, vision and energy Sexton had instilled forward. Fortunately, Penn Vet had a lot of tenured employees at the time of Sexton's passing. The company still does. About 50% of Penn Vet's employee base has been with the company in the 10- to 20-year range, Miller said. "At the time of Rich's passing, we had a lot of tenured people who had been with the company and had learned from Rich for years and years. The core of the company knew the business philosophy because we had been raised in it. We didn't have to think about it, it just was part of us."
In the years leading up to the time of his passing, Sexton had been working on passing the reins. The leadership that would move the company forward was already established in their roles. Sexton's family was also very supportive and reinforced to employees that the company would remain family-owned and independent. "Our business philosophy didn't change and our purpose didn't change," Miller said. "If anything, they both strengthened, because we wanted to carry on what Rich built – not just what he physically built, but the business model and the passion for the service to the industry."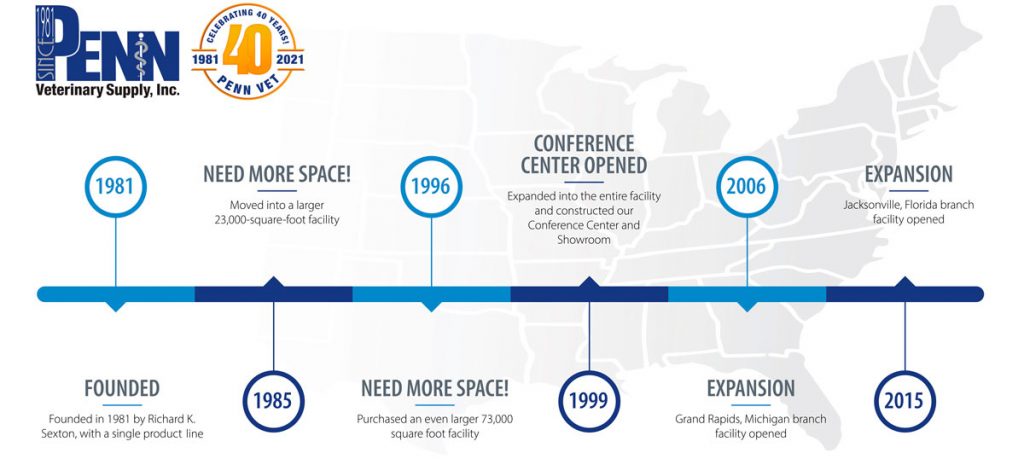 Adapting to any situation
That business model was put to the test in 2020 amid the pandemic. "We found out whether we were as strong as we thought we were," Miller said. "The good news was we were. We learned that we all partnered very well remotely, even as we did in the office, without skipping a beat. And as much as a challenge as it was, we could adapt to that situation and make changes quickly, and not have service to our customers falter in any way."
In today's marketplace, Miller said there is a drive for some vendors to bypass the veterinarian and go directly to the pet owner. To big corporate businesses, it may seem like the easiest and most direct route to move product and gain market share. "But I think that that's where you have a divergence of what they're trying to make the market, and what the market truly is," she said. "The veterinarians are who brought you to the party. And veterinary recommendations still play a very important role with the pet owner. Yes, there is a need for a return for investors and profitability. Certainly, we all continue to be challenged by profitability. But I think there's still a very strong market and need in this industry to support veterinarians who continue to serve their local communities and thrive being both doctors and independent business owners."
Veterinarians are adapting in this new marketplace. While some companies want to go direct to consumers, Miller said there will be an equal drive to adapt with the veterinary practices and find ways to be just as competitive and meaningful to clients. Consumer habits have already shifted as a result of the millennial generation's purchasing power, and those trends will only accelerate with members of the next generation becoming pet owners. "And they will come with well-informed questions," she said. "When clients are coming with well-informed questions, you need more than a website to address that. You need people. So I think that's why it will be more and more about relationships."
Miller said Penn Vet is positioned nicely in the marketplace right now. "Clearly, we're one of the last holdouts that's independently owned and regional. But we're seeing tremendous growth. We have found that the message we've always brought to the industry is well-received, and during the pandemic it became much more meaningful to our customers. We know we are on the right path. We are excited about the projects we currently have in development and are eager to bring to the marketplace, as well as our growth plans. We know our path at times is less traveled, but we are committed to continuing Rich's legacy as we progress into the next 40 years."