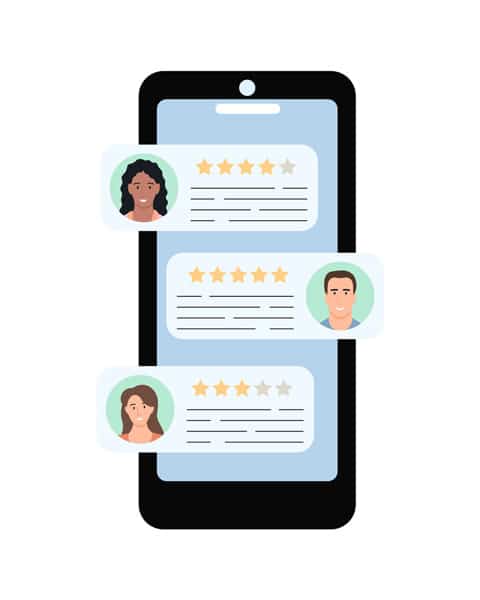 The Unexpected Power of a Good Testimonial
Sales Excellence
|
April 2023
Prospects want to know what others think of you and your solution.
Think of a recent vacation you've planned. If you are like most, you headed straight to Tripadvisor and researched possible destinations and places to stay. And you no doubt, were heavily swayed by the customer reviews and the number of stars posted. To prep for that trip, you slid over to Amazon Prime to get a new bathing suit and fancy new pair of sandals. But let's be honest. There is no way you hit that Buy Now button without first reading what the other 4,342 people who bought those trendy products said about them.
The reality is we trust the opinion of the customer over the opinion of the seller. And guess what? Your customers feel the same way. But if the only opinion they ever get is from somebody who is paid to say it (you), then you risk delaying or preventing a ton of orders. In short, prospects want to know what others think of you and your solution more than they want to know what you think. So, the question is, "What are you giving or showing them that will convince them that what you are saying is really true?" If you said, "Not much," don't sweat it. But it's time to fix it!
A testimonial letter or video is a tool that can increase the number of sales you make and decrease the time it takes to get the order.
What is a testimonial letter?
A testimonial letter is a summary, note, or letter with positive customer comments that become a regular part of your sales process.
What is a testimonial video?
That phone in your pocket is perhaps your greatest testimonial weapon. Right now, I want you to think of one of your current customers who purchased a product they really liked from you. Imagine how cool it would be to have a 30-second video clip on your phone that shows your happy customer saying why they liked that product, how they used it, and the impact of making it part of their practice.
Or if you do Zoom or Teams meetings, request to ask them a few questions detailing their experience. And then ask permission to record and use it with other interested clients.
How many do I need?
To power up your sales presentation, you need to be armed with at least five written or video testimonials from customers who are happy they have you as a business partner. But don't stop at five. There is no downside to having a folder full of different types of decision-makers addressing the benefits they find most valuable. Or if you are going the video route (and you should!), simply create a Testimonial Folder on your phone to easily access them.
How do I get them?
Customers are not going to be chasing you down the halls of their business, throwing unsolicited testimonial letters at you. They will also not be telling you to open AirPlay on your iPhone so they can transfer the video they made last night of them singing praises about you and your product. Which means the only way to get them is to ask.
Why would they offer one?
The short answer is that you asked! But you can only ask if your product has done what you promised and your follow-up service is even better than the product you sold. It will be your five-star service that has earned you the right to ask for help.
How do I ask?
"Mr. Customer, I always like to check in to make sure you are satisfied with our solution and the service we are providing." Assuming you get good feedback, follow with, "I was wondering if you would be willing to help me. I frequently have potential clients ask me for referrals or third-party opinions about my company, my product, and me. Would you mind if I put some of those positive comments you just shared with me into a short note, and if you agree, allow me to share them with interested customers? Or, if it would be even easier, can I pop my camera on and ask you a few questions about how we have helped you?"
Now I know you might be saying, "What? There is no way I am going to do that. That would seem so weird asking them to do that!" Well, guess what? Some "weird" people (e.g., Elon Musk) make tons of money because they will try things that others won't.
Isn't that too pushy?
No, it's not. Excellent service is rewarded. Asking for a testimonial letter/video should be easier than asking for the order because you have already established a trusting relationship.
How do I make asking a habit?
It is not expected that you get a testimonial from every happy customer. But as with sales goals, you do need to set a testimonial letter/video objective. For example, for every five new customers you get, you need to get at least one new testimonial. By making asking a habit, you will have a binder, phone, or computer full of comments that can be used in many sales situations.
Where do I use them?
The positive comments of a testimonial can be used to support a key feature or benefit while delivering your presentation. For example, let's say you were discussing a timesaving feature of your product. You then open your testimonial folder (or video) and quickly show three customer letters (or one video) about how your solution saved them a ton of time. They will be more interested in those "reviews" than they will be in that fancy brochure you are holding.
Now, here's the good news. Most salespeople reading this article still won't have even one testimonial letter or one video six months from now, which means you have a real opportunity to separate yourself from the pack. And when customers sit down in their office to review your proposal and the proposal of your competitor, one pile of information will have a brochure and pricing, and your pile will have a brochure, pricing, and a bunch of great trust-building comments that add credibility to your story. And those comments will not only land you the order, but only a few short weeks later, you will have yet another happy customer to grab a testimonial letter/video from!
President of Kansas City-based PRECISE Selling, Brian Sullivan, CSP, delivers seminars and internet training programs on sales, customer service, leadership, and presentation skills to companies of all sizes. To make your next sales meeting one that results in more sales and higher margins, contact him at [email protected]
Photo credit: istockphoto.com/Liliia Abzalova