Reading the Signs of Healthy Veterinary Practices
The five signs of a healthy veterinary practice – and three warning signs.
Running a veterinary practice takes fortitude, determination, and data. Practice owners and managers pour countless hours of hard work into their businesses, but how do they know if they're really running a successful operation?
That's where key performance indicators and key financial indicators come in. A common adage is that business leaders must measure it to manage it, and that's certainly the case for veterinary practices. With hundreds of metrics to choose from, it's easy to fall into analysis paralysis.
To avoid data overload, let's look at five signs of healthy veterinary practices and three bonus warning signs.
Five signs of a healthy veterinary practice
No. 1: Visits are trending up
One important metric to monitor is the number of visits, with a visit being defined as an individual invoice. Healthy practices strive for consistent growth in visits each year because visits are intrinsically tied to revenue growth.
Data from the Vetsource Premium Veterinary Industry Tracker shows that average visits were up in 2021 for many practices, but visits have been consistently down around -4% throughout 2022. Data also shows that average revenue is up nearly 5% in 2022, with price increases contributing to that significantly. Considering current economic volatility and the fact that pet owners can only stomach so many price increases before sticker shock sets in, practices are wise to focus on increasing visits as a means of driving revenue growth.
No. 2: Net change in active patients is positive
Active patients are defined as those with a transaction associated with them in the practice in the last 18 months. Net change in active patients compares a practice's current active patients with previous months or years.
Essentially, a healthy practice aims for a positive net change in active patients because that means more patients are being cared for each month. Revenue alone will not accurately tell the whole story of patient care.
No. 3: Compliance rate is consistently high
Compliance metrics gauge whether clients follow a practice's preventative care recommendations and show how successful doctors are at converting non-compliant patients.
Healthy practices demonstrate high compliance and conversion rates thanks to strong preventative care protocols and follow-through.
No. 4: Revenue growth is diverse by category
It's essential for practices to understand where their dollars are coming from, which areas are growing, and at what rate in order to ensure that their revenue streams are balanced and diverse.
Healthy practices do not rely solely on revenue from professional services alone. They identify opportunities for growth and build out other areas, such as increasing diagnostics and product sales through their pharmacy and home delivery.
(See chart below)
No. 5: Employee satisfaction ratings and referrals are high
Considering the current hiring shortage and that turnover can cost practices significant time and money, maintaining happy and engaged employees is more critical than ever. Two ways to gauge employee satisfaction are surveying staff members and monitoring the number of employee referrals received.
The idea here is that happy employees, and those who recommend their employer to their network, are less likely to leave and more likely to contribute to a well-functioning practice. Healthy practices strive for low staff attrition, which is defined as the number of employees who have left the practice divided by the average number of employees over a period of time.
There are undoubtedly many other metrics and factors that contribute to a healthy veterinary practice, but let's shift gears and look at three warning signs that may signal trouble.
3 warning signs for practices
No. 1: Lapsing patients are on the rise
Lapsing patients are defined as those who have gone 14-18 months since their last medical service at the practice. A rise in lapsing patients points to a shrinking patient base and perhaps even a lack of adequate client engagement and retention marketing tactics such as reminders, emails, texts, and app notifications.
According to data from the Vetsource Premium Veterinary Industry Tracker, lapsing patients are on the rise industry-wide: 2022 year-to-date lapsing patients per practice are up 46% compared to 2019 and up 28% compared to 2021.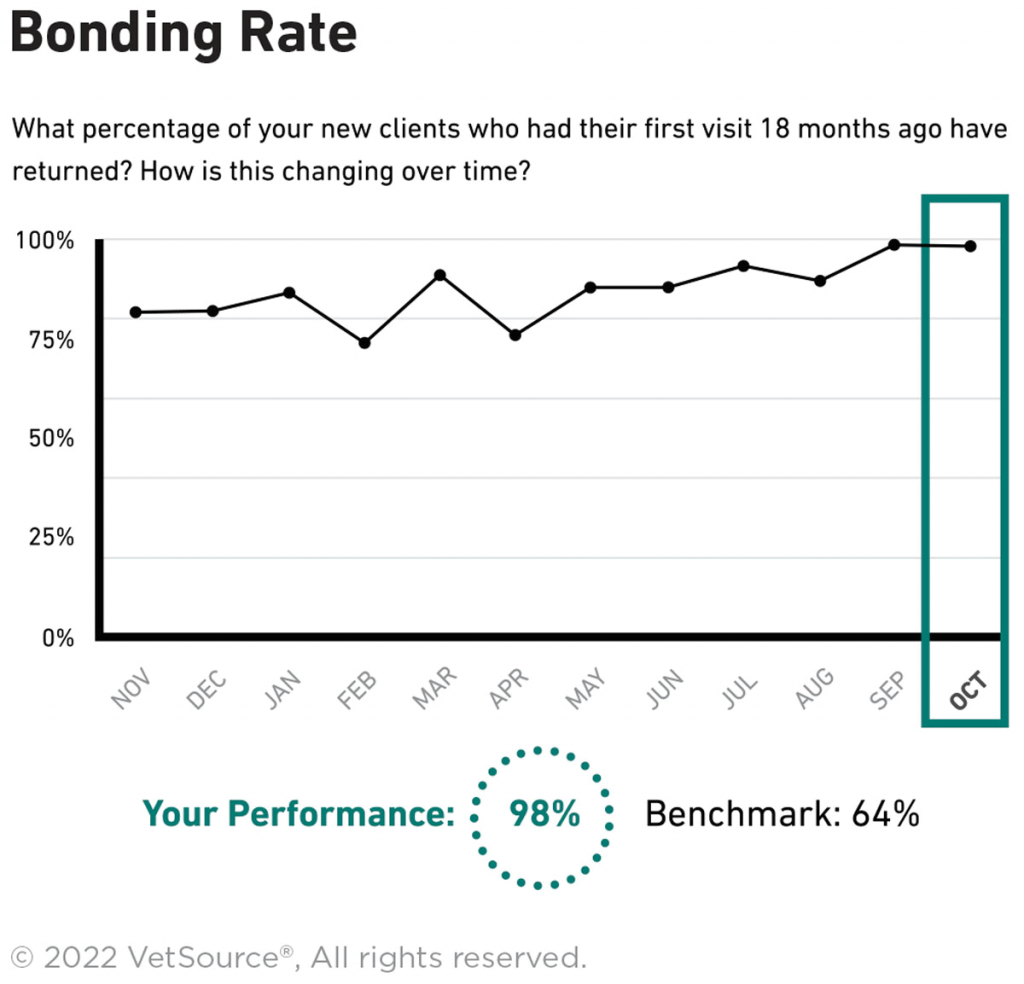 No. 2: Bonding rate is low
Bonding rate is defined as the percentage of new clients who return to a practice after having their first visit 18 months ago. According to the Vetsource Practice Overview Report, as of October 2022, the industry benchmark for veterinary bonding rate is 64%.
A consistently low or down-trending bonding rate suggests that while a practice may excel at attracting new clients, they struggle to keep them. Practices running short-term promotions may not be attracting the right long-term clients. A shift in practice protocols, hours, and staffing may also impact the client experience and bonding rate. Considering the common business rule of thumb that it costs 5x more to attract new customers than to retain existing ones, there are certainly cost savings associated with increasing a practice's bonding rate.
No. 3: Revenue per unique patient visit is declining 
Revenue per unique patient visit is defined as the average dollar amount a practice collects from a pet owner for each unique pet who visits a practice, typically per month. A decline in average revenue per unique patient visit means the practice is bringing in less revenue on average for each patient they see.
When we see an increase in visits, but a decrease in revenue per visit, that typically means the practice is working harder for less money. This is often due to staff members becoming too busy to spend time on client education and potentially even missing charges.
Data is key for evaluating practice performance
When practices are busy and short-staffed, it can be tempting to forego reporting, but that's precisely when it is needed most. To save time, veterinary practices should consider partnering with an outside company within the veterinary industry to automate reporting. The five signs (and three bonus signs) listed here are a great jumping-off point for gauging practice success.
Kate Zirkle is Data & Insights Product Marketing Manager for Vetsource, a leading provider of innovative pharmacy, technology and business services to the pet health industry. A marketing professional and data expert with more than 15 years in the pet and animal wellness industry, Kate manages the company's Data & Insights solution (formerly VetSuccess) that provides performance reports, dashboards, and data services to veterinary practices, as well as robust analytics and quantitative veterinary insights to industry partners. These intuitive and interactive solutions allow customers to gain a deeper understanding of business performance, uncover actionable insights and make confident decisions that improve day-to-day operations. Kate is also the Founder of American Diary Project and holds a B.S. from Kent State University.
Photo credit: istockphoto.com/Vasyl Dolmatov