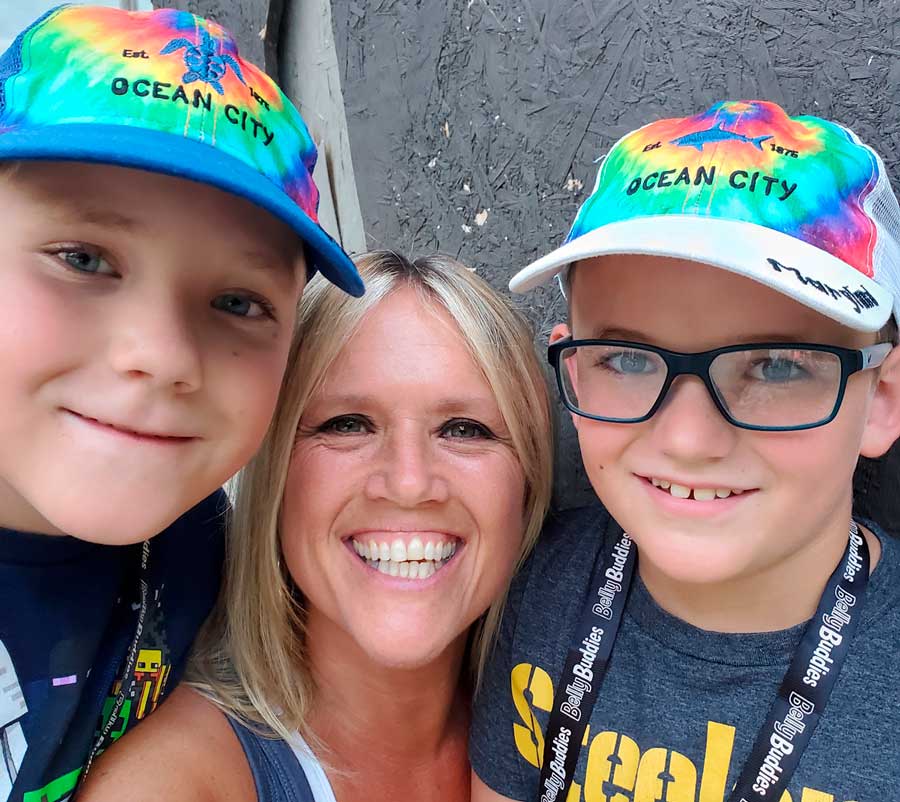 Remembering Deanna Miller: A Friend and Colleague
Penn Vet mourns the loss of a beloved teammate.
With great sadness for those left behind, we lost our friend and colleague, Deanna Miller, on Saturday, April 23, 2022, in a sudden mountain biking accident.
Deanna was born on April 24, 1968, and lived the life she loved in Kennerdell, Pennsylvania. She was a 1986 graduate of Cranberry High School, Jameson School of Nursing, and Penn State University. She was most accomplished and became highly regarded in her profession in the veterinary industry.
Deanna's personality was larger than life. She seized opportunities to be spontaneous, to explore, to have fun, to spread happiness, and to live life to the fullest. Deanna owned a boat and was an excellent navigator of the Allegheny River. She thrived outdoors and loved hiking, biking, swimming, and fishing. Part of a duo "The Ryver Nymphs," Deanna was an incredibly gifted singer, songwriter, and musician. The love she had for her dogs and animals overall was evident, which made her a committed and fierce advocate for her veterinary customers.
A Senior Territory Manager at Penn Veterinary Supply, Deanna's professional career in the veterinary industry began in 2006, having just celebrated her 16-year anniversary with the company on April 3, 2022. Very quickly upon her hire in 2006, the unique qualities that defined Deanna were apparent. Her ability to uplift and inspire made her a mentor to many at Penn Vet. Her natural, caring demeanor provided the support that so many of her customers needed. And her willingness to go above and beyond, for everyone she met, was what set her apart.
Many fellow teammates, and most especially her manager, Scott Wood, remark on her impeccable and instinctive encouragement and advice. "I had the opportunity to be Deanna's manager for 8 years with Penn Vet Supply," said Wood, Regional Manager, Penn Veterinary Supply. "Like many established representatives with new managers, I had to earn her trust and confidence. Deanna was great at encouraging fellow sales representatives and was always willing to offer advice and inspiration. She even kept in contact with many of her coworkers as they moved on to other companies or careers. It was a pleasure to work with Deanna, and I am confident she is looking down on all of us and wishing the best for everyone she knew."
Amanda Fillipponi, Territory Manager, Vetoquinol, USA, said Deanna wanted nothing but people in her life to be happy. "Family, customers, friends; she genuinely cared," said Fillipponi. "When I felt down or defeated, personally or with work, she would say: "See yourself, with what you want. See that repeatedly and it will come true. See the positive in your life." I needed this and will remember this more then she will ever know."
Those that got the chance to know Deanna, or even casually meet her, would find her positivity, cheer, and bright spirit contagious. "One small positive thought can change your whole day," Deanna once told her friend and co-worker Janelle Brubaker, Account Manager and Team Leader, Penn Veterinary Supply. "As a colleague and friend for 16 years, talking with Deanna was always the positive in my day," Brubaker said. "Deanna's very thorough, honest, kind, sense of humor and stories always sent me away with a smile on my face. I would often talk to her while she was in line for an ice cream cone, as that was lunch for the day. It is a great privilege to have worked with her, and I'm very thankful for all the conversations and time she gave to me in her short life.  I will miss her every day."
Kristin Bolvin, Territory Manager, Merck Animal Health said she had the honor of working with Deanna for 15 years. "She was not only a colleague but a true friend," Bolvin said. "Deanna was passionate in everything she did and well respected in the veterinary community. I will miss her positive attitude and her sense of humor that would always put a smile on your face. She will be dearly missed."
A caretaker to others
In addition to her enthusiastic energy, Deanna was a caretaker by nature, with the gift of listening, paying particular attention to details, and never forgetting what she learned. Her customers, teammates, and business partners remember this trait, but perhaps no one more than her dear friend Laura Williams, Director of Sales, and Marketing at Penn Veterinary Supply.
"So many things that could be said about our Deanna," Williams said. "She listened intently and didn't miss a single detail during a conversation. Deanna was one of a kind. Her caring nature and desire to support those around her was evident in every aspect of her life. Her innate ability to know the exact time you needed a pick-me-up, whether by phone, email, card, special package, song, or visit has touched so many of us. There's peace in knowing that even though she's gone, this gift of hers will continue to be felt from above."
An especially talented singer and guitar player, Deanna's music touched so many. "The Ryver Nymphs" music was yet another outlet for her bright spirit to shine! Often performing on weekends for large crowds of happy, smiling faces, Deanna's passion for music was part of her life every day. Her desire to never miss an opportunity to entertain meant her guitar traveled with her and most of Penn Vet's company events included acoustic performances by Deanna.
"Deanna had a smile and personality that lit up every room she entered," said Jennifer Hollis, Territory Manager, Penn Veterinary Supply. "Bringing her guitar on most sales meeting trips, Deanna would frequently entertain us with her music at the end of our workday. She gave me solid advice over the fifteen plus years we worked together."
Deanna was a true free spirit with a kind heart and the brightest smile, said Laura Mottola, Credit Manager, Penn Veterinary Supply. "She was filled with Peace, Love and Music. In our hearts she will always be. Until we meet again."
"I recall many Penn Vet get-togethers when our team met at a bar or hotel lobby, and Deanna would disappear from the group and come back with her guitar and find a seat and start playing and singing," said Stephen Messinger, Equipment Manager, Penn Veterinary Supply. "I always thought to myself; I would have loved to have had the confidence to do that. I always admired this about Deanna. Watching her sing and play her guitar and the enjoyment she got from it always made me happy. I will miss her tremendously. She was one of the best people I have ever met in and out of this industry."
Genuine kindness and generosity were only a couple of Deanna's wonderful traits. To those who knew her well and even those who only knew her in passing, Deanna made a difference and has left memories that will last a lifetime. Her ability to bring cheer to every situation, her big, beautiful smile, and her desire to do good personally and professionally will never be forgotten.
Valerie Wallace-Holubyckyj, RVT, Territory Manager, Penn Veterinary Supply, said Deanna was one of her colleagues that she always looked forward to seeing at Penn Vet events. "Her million-dollar smile would illuminate a room! Deanna's sense of humor turned any topic of conversation into pure entertainment. Deanna was genuine with her kindness and always looked out for her friends. I will always appreciate her positive outlook and zest for life. Heaven has gained a beautiful, shining star."