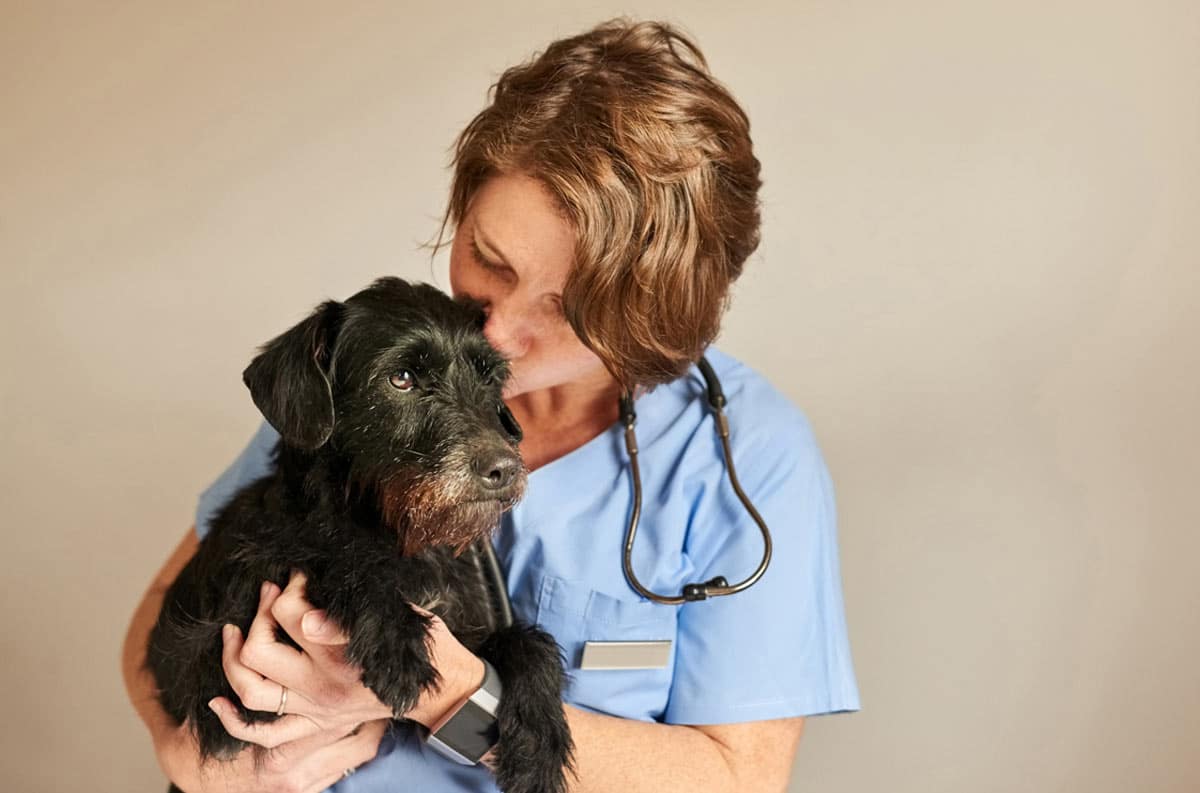 Supporting the Senior Pet
Best practices for veterinary teams to address senior patients' diverse and unique needs.
Senior dogs and cats make up a "significant" percentage of the pet population, according to researchers for the American Animal Hospital Association's Senior Care Guidelines task force. Dr. Mary Gardner, one of the experts on AAHA's Senior Care Guidelines task force, in collaboration with VetSuccess, looked at over 14 million active veterinary patients in the United States and found that seniors represented 44% of the pet population.
"That's a really astounding number that drives home the importance of having a comprehensive senior care plan in veterinary practice," said Ingrid Taylor, DVM, guidelines editorial director, AAHA. "We've also anecdotally heard from veterinarians who say that senior pet appointments make up a good portion of their daily schedule."
By prioritizing senior-friendly care and taking a holistic approach to the senior patient, AAHA believes that the veterinary team nurtures the precious human-animal bond and ultimately helps to keep aging pets with their families.
AAHA announced earlier this year that it has created the "2023 AAHA Senior Care Guidelines for Dogs and Cats" to support veterinary teams in their care for each unique senior patient. "With the 2023 Senior Care Guidelines, we wanted to be sure to support the veterinary team in addressing the diverse and unique needs of senior pets," Dr. Taylor said.
The 2023 Senior Care Guidelines have expanded on and updated the 2011 Guidelines by incorporating current evidence-directed recommendations for the best care of senior patients. The new Guidelines have added sections on how veterinary practices can become champions for senior pets by emphasizing multifaceted, personalized care, ongoing communication with clients, and preservation of the human-animal bond throughout a pet's golden years.
The importance of a multifaceted approach
Dr. Taylor said senior pets have needs that extend beyond biannual bloodwork and exams (though those are also very important), and optimal care for these special companions includes:
Diagnostics
Medical and interventional therapies
Pain management
Nutrition
Dentistry
Anesthesia
Modifying the environmental setting
Managing behavioral problems
Recognizing and managing comorbidities
"We never want to see senior dogs and cats end up in shelters," she said. "By taking this multifaceted approach, the veterinary team can do a lot to help keep pets with their families."
In some cases, this may mean addressing a dog's cognitive dysfunction and/or pain that makes him pace all night long and keep his family up before bringing him in for a dental cleaning. "Because of variations in breed, size, lifespan, and species, senior plans cannot be one-size-fits-all, and all senior pets deserve a personalized, comprehensive approach to their care."
The pre-planned senior care visit
Senior pet owners often have as many questions about the aging process and what to expect during their pet's golden years as new owners of puppies and kittens have. Planning ahead for appointments ensures that the veterinary team has budgeted enough time in their incredibly busy schedules to address family members' questions and the pet's needs, Dr. Taylor said. The 2023 Senior Care Guidelines recommend scheduling extra time so no one feels rushed during the appointment and there's plenty of time to discuss expectations, disease progression, and other issues like behavior and environmental modification to increase the pet's quality of life.
Planning ahead for senior patients also includes making the veterinary practice environment welcoming to them. This may mean offering assistance to and from the vehicle, installing ramps and rugs with good traction, and providing examination rooms and treatment areas with plenty of padding and soft bedding. Veterinary practices can also attract and retain senior patients by letting clients know about all of the changes they've made to create a senior-friendly environment. These changes can be showcased on the practice website. The Guidelines recommend that around 30% of website content be geared toward senior patients and their families.
"It's important that pet owners understand that aging itself is not a disease," Dr. Taylor said. "With a better understanding of the aging process, what to expect, and what warning signs to watch for, family members can embrace this process and both pets and people can truly enjoy the animal's golden years. But in order to accomplish that, the veterinary team must be prepared to educate pet owners on aging and how to accommodate the special needs of older pets."
It is also necessary for owners to realize that sick and healthy senior pets require different types of care, and that all seniors will likely require some changes to their environment, schedule, health monitoring, etc., as they get older. Recognition and management of pain, for example, is a crucial topic to be revisited often with family members, since many older pets may suffer frequently from osteoarthritis and other sources of pain. Dental care is another important topic to discuss with owners to ensure their senior pets remain healthy and comfortable, and is associated with a higher quality of life for the dog or cat, Dr. Taylor said.
The "2023 AAHA Senior Care Guidelines for Dogs and Cats" are supported by Boehringer Ingelheim Animal Health, CareCredit, IDEXX, and Zoetis. The recommendations, client handouts and resources for the entire veterinary team are available at aaha.org/senior-care.
Senior Care Kits
Dr. Taylor said a great way for veterinary practices to help senior pets and their families is by creating Senior Care Kits that owners can take home, similar to puppy and kitten kits but geared to the unique requirements of seniors. Many of the items are resources distributor reps can provide to the customers.
"These kits can provide a wealth of information, including customized healthcare and product recommendations, disease information, how to recognize acute and chronic pain, cognitive function questionnaires, and specific nutritional and environmental changes for the senior pet," she said.
A full description of how to create a Senior Care Kit, as well as strategies for designing a senior-friendly practice, are available in the Guidelines at aaha.org/senior-care.
"There are also some fun resources that take team members through the main takeaways from the Guidelines," she said. "We also have more resources coming, including toolkits that delve deeper into the Guidelines, so keep an eye on our website for those."
Photo credit: istockphoto.com/AJ_Watt
Photo credit: Aleksandr Zotov