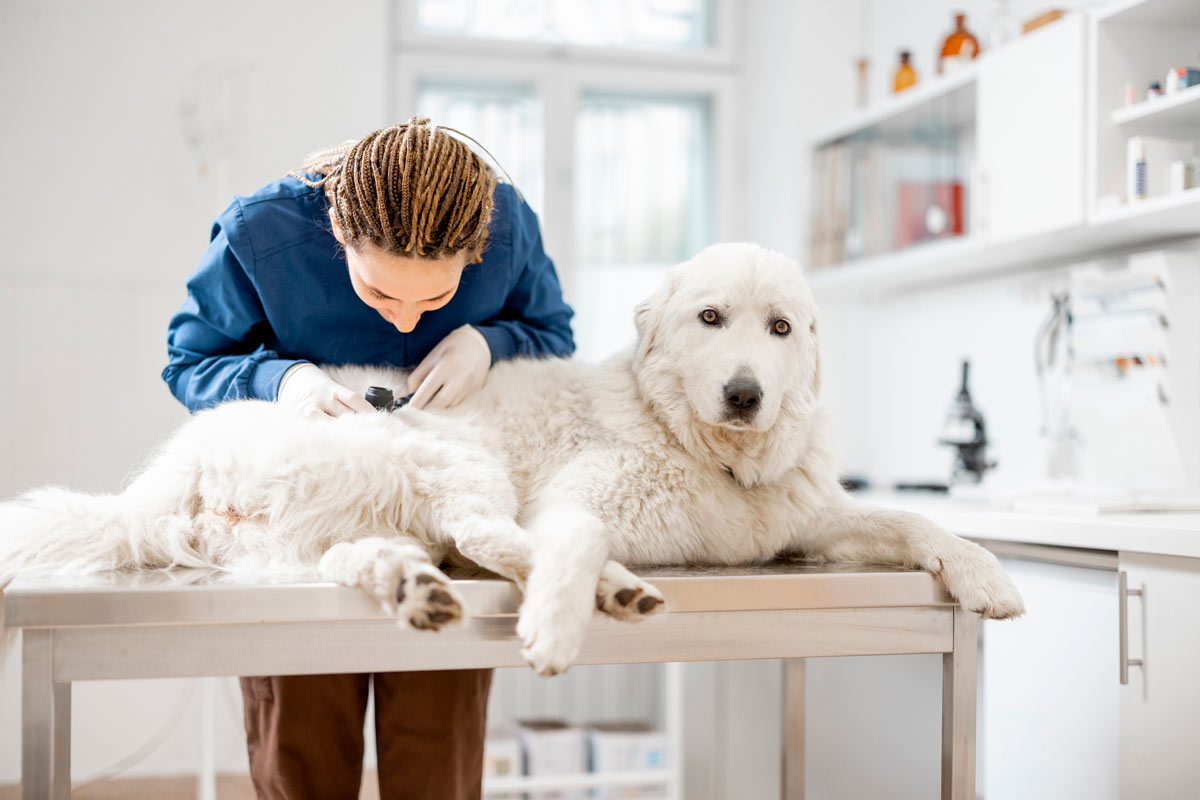 Take the Fear Out of Pet Dermatology
Trends
|
August 2021
Veterinarians need to get the patient into the clinic, perform diagnostic tests in a nonthreatening manner, set client expectations and schedule follow-ups. 
Editor's note: The following article ran in a previous issue of Today's Veterinary Business, a sister publication of Veterinary Advantage and part of NAVC.
When I was in veterinary school, dermatology was one of my least favorite subjects. We didn't have a lot of great options for an itchy dog except allergy shots and steroids. Many of my cases ended with frustrated pet owners because of the numerous medication side effects they saw at home. During my early days as a veterinarian, I had a similar experience.
Today, however, we've seen incredible advances in reducing the itch in allergic canines and giving them a much better quality of life. Not only has dermatology become medically rewarding, but it's also a tremendous opportunity for practices to grow a profit center by pursuing appropriate diagnostics and therapies in ways that reduce fear, anxiety and stress in our patients.
According to a Zoetis study, more than 20 million U.S. households have at least one dog suffering from pruritus and in 2019 more than 7.5 million dogs were diagnosed with it. In addition, the top four reasons that pet owners bring their dog in for a veterinary visit are allergies, ear infections, lumps or bumps, and skin infections. Most of these conditions can create hair loss, redness, discomfort and itch, the sign most commonly responsible for a client phone call or appointment.
All this sounds very promising for veterinary practices looking for ways to grow and expand their medicine and their business. Skin scrapes, skin and ear cytologies, and other tests often are performed multiple times a year, but if a practice inadvertently creates fear, anxiety or stress in a patient during these visits, not only will the animal become more challenging to work with, but the client can become upset and avoid future testing. The result is a vicious downward spiral in which the patient doesn't receive necessary veterinary care. Emergency clinics often are inundated with dermatology patients who have not been seen by a primary small animal practitioner or whose follow-ups were skipped.

No quick fixes
How can veterinarians do better? The first step starts with the client phone call. Veterinarians can teach client service representatives to stop giving out the "phone fix." This happens when a client calls about an itchy dog and asks for advice, and then the team member, instead of acknowledging the patient's needs and scheduling an appointment, dismisses the urgency of the situation and offers a typically unsuccessful try-this-at-home strategy. While many team members think that clients want free, over-the-counter answers for resolving an itch, this couldn't be further from the truth. In most cases, the dog remains itchy, the problem worsens, the client becomes dissatisfied and might leave the practice, and the clinic feels the financial impact.
An example is the common advice about giving an antihistamine to reduce an itch. We know that only 1 in 4 dogs shows some relief from an itch (often due to sleepiness) after receiving an antihistamine. That means that at least 3 out of 4 itchy dogs prescribed an antihistamine will fail treatment and derive no benefit. Instead of recommending this minimally effective strategy, veterinarians should encourage their team to reinforce the client's concern and schedule an appointment for an exam and dermatology workup.
Consider bundled care plans
When the patient comes in for an exam, veterinarians must have an established protocol and team messaging about the importance of resolving an allergic itch to support the animal's quality of life. When the team universally believes that an itchy dog is an uncomfortable dog and then strongly recommends appropriate testing and current treatment options, like the newer technology behind Janus kinase inhibitors and monoclonal antibodies, the client sees the clarity and feels justified in investing in the appointment. Additionally, the messaging helps ensure complete dermatologic workups on pruritic patients if the client approves.
I encourage veterinary practices to offer a dermatology bundle. Combining all needed in-hospital diagnostic tests into a single package makes it easier for clients to pay one test fee and reminds younger associates what a full diagnostic dermatology panel looks like.
While the tests are essential in the development of a successful treatment plan, what's equally important is to protect the patient's emotional health. This begins with trying to keep the patient in the same exam room and limiting the movement of team members. The team should have dermatology kits already assembled and containing everything necessary for diagnostic testing: flea comb, No. 10 blade, spatula, mineral oil, slides, cover slip and clear tape.

Sampling and communicating
Dermatologists recommend starting with the least invasive test first (cytology) and leaving the most invasive one (skin scrape) for last, especially when sensitive areas like the face are involved. In sensitive areas, the team can substitute hair plucking or tape impressions for skin scrapes to minimize discomfort. In addition, try to leave a dog's ear canal relaxed when obtaining cytology and avoid scraping the side of the canal.
Finally, veterinary teams should develop a checklist for each exam room. Make a team member responsible for the room's setup and ensuring that tools like pheromone diffusers, treats and even slow-feeder lick mats are available to help distract the patient during the sample collection.
After diagnostics are done, the client is updated and treatments are prescribed, the next recheck or exam needs to be forward-booked. Many experts in practice management feel that "checkout is the bridge to the next check-in." Specifically, the veterinarian should emphasize to the client that the hospital is committed to the patient's long-term comfort and that the pet owner is a key team member.
Establishing expectations is also important. The client needs to be made aware that flare-ups in itchy, allergic dogs are highly possible weeks or months down the road. Also, the veterinary team should record into the medical record which emotional tools work best, such as treat preferences, putting the patient on the floor or table, and best handling practices.
I encourage veterinarians to evaluate their dermatology messaging, especially around reducing the itch. Eliminate the phone fix, become efficient at dermatologic diagnostics, protect the patient's emotional health and schedule the next appointment before the patient leaves.
A team approach will create a more comfortable patient and happier pet owner, leading to better client retention and loyalty, return visits, and referrals.
About the author
Natalie Marks, DVM, CVJ 
Today's Veterinary Business Fearless columnist Dr. Natalie Marks is co-owner of Blum Animal Hospital in Chicago. She is Fear Free certified.
1 Photo credit: istockphoto.com/RossHelen
2 Photo credit: Staff members coached on the client call are vital toward effective care.
3 Photo credit: istockphoto.com/Todorean Gabriel