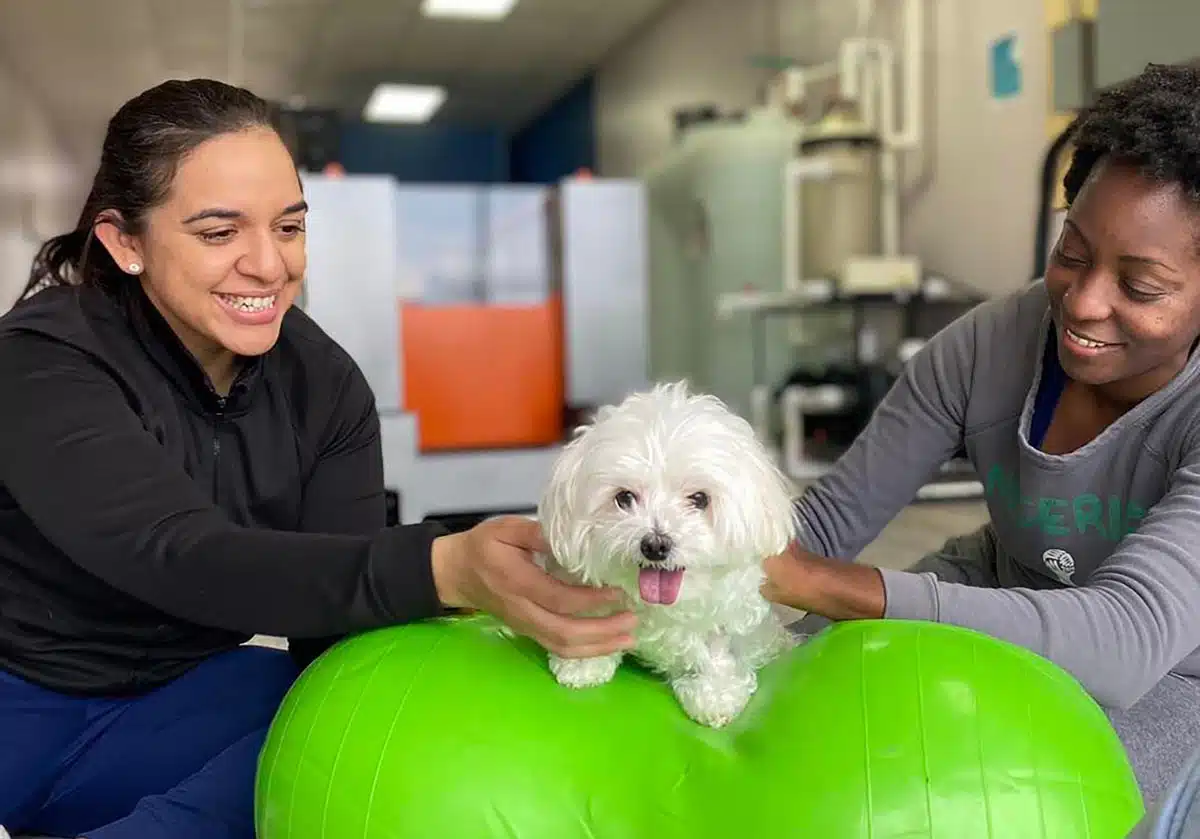 The Rehab Journey
Owners are becoming more interested in rehab services to improve mobility or manage chronic conditions in their pets. How can veterinary clinics who don't have these services go from interest to implementation, and ultimately, success?
Word has gotten around Austin, Texas, about the rehabilitation services being offered at Allandale Veterinary Clinics. Allandale, which provides traditional veterinary medicine, opened up a separate clinic that specializes in crafting custom rehabilitation plans that are tailored to meet the unique needs of each individual patient.
"Whether they are recovering from surgery, managing chronic conditions, or seeking to improve mobility and overall well-being, we are here to support them every step of the way," said Hindatu Mohammed, DVM, CCRP, at Austin, Texas-based Allandale Veterinary Clinic.
The response from clients regarding Allandale's rehabilitation services has been overwhelmingly positive and filled with excitement, said Dr. Mohammed. Word-of-mouth recommendations have played a significant role in attracting new clients to the practice. Many clients have come based on rave reviews shared by friends, colleagues, or even other pet owners in the community who have experienced the transformative benefits of the rehab services firsthand, said Dr. Mohammed. "We take great pride in building strong relationships with our clients. We ensure that they are actively involved in their pets' rehab journey through client education and collaboration. Our clients appreciate the personalized attention we provide and feel empowered to contribute to their pets' well-being."
A well-rounded approach
Like Allandale, Arizona Animal Wellness Center in Gilbert, Arizona, has benefited from offering veterinary rehabilitation services to patients and their families to improve the quality of life of the pets in need. Pamela Ford, DVM, CCRT, Diane Paster, DVM, CCRT and Ashley Fox, CVT, CCRNA, BS, are the center's three veterinary rehabilitation specialists providing this service to the community with a combined experience in rehabilitation therapy of more than 18 years.
"We are able to provide a well-rounded approach to our patients' physical health care through acupuncture, laser treatments, therapeutic ultrasound, hydrotherapy (underwater treadmill), and hands-on therapy such as gait training and strengthening exercises," said Dr. Paster and Fox. "We have also developed a home exercise program so owners can continue therapy at home between sessions to get the most favorable outcome for our patients."
The most profound clinic benefits seen have been in the level of pain reduction and quality of life improvement in older, arthritic dogs, the doctors said. Restoration of ambulation in many neurological paralyzed patients has also been impressive. Post-operatively, their orthopedic surgical patients have been able to regain strength, motor function and coordination much faster than those who have not been involved in the rehabilitation process. The practitioners can achieve a better range of motion and increased muscle mass in a shorter time frame following surgery with an individualized rehabilitation program created by the surgeon and the rehabilitation team.
"We have also seen an improvement in the human-animal bond through an increased connection between the pets and their parents," Dr. Paster and Fox said. "Pet parents are an integral part of the positive outcome for the rehabilitation process through their presence at both our in-clinic appointments and the therapies they perform at home. The partnership we share with pet parents improves patient outcomes and creates a positive client experience."
Clients seem to like the idea of their pets receiving physical therapy just like they would for themselves. Most clients are also enthusiastic about doing a home exercise program with their dogs, and clients are excited to see their pets return to their previous (and in some cases improved) mental and physical health, the doctors said.
Where to start?
Enthusiasm for rehabilitation services like those provided at these two clinics has been evident in veterinary medicine for a while. Beth Frank, DVM, who earned her Canine Rehabilitation Therapist Certification (CCRT) and is certified in veterinary medical acupuncture (cVMA) said she's seen plenty of initial excitement from veterinarians and technicians who've completed courses on rehabilitation.
Where they can get tripped up is applying what they've learned. With so many modalities, practitioners often struggle to know which is the most appropriate in each case, or the financial investment to purchase is daunting. "They often feel like if they can't have all the modalities (hydrotherapy, laser, shockwave, etc.), then they can't do rehabilitation effectively. For modalities like underwater treadmills, therapeutic laser and ultrasound, they also may hesitate at the financial investments needed," said Dr. Frank, who is now a technical services veterinarian for Vetoquinol USA.
To simplify the process, Vetoquinol USA launched its Vetoquinol Rehabilitation Business Solution (VeRBS) in 2022. The program offers a two-day, on-site course with lectures, hands-on labs, and business planning services for up to 10 clinic staff members. Dr. Frank leads the training sessions by walking veterinary teams through seven different modules. During the in-person course, participants receive an overview of rehabilitation of the forelimb, hindlimb, geriatric patient, neurologic patient, and feline patient. The program provides 14 hours of continuing education credits per participant with a maximum of 10 staff members.
VeRBS is intended to help jump-start practices offering rehabilitation services. Full certification programs offer between 100 to 160 hours of continuing education. Motivated teams can pursue complete certification and continue their training.
VeRBS education is hands-on and brings training to the practice's location – rather than teams traveling to training. Near the end of the two days together, Dr. Frank teaches two labs: one on the basics of therapeutic exercises and another using a case study of a patient at the veterinary clinic. Sometimes a clinic will use that time for a really challenging post-operative patient. In other instances, the case study will involve a patient they've already been doing rehab on and would like a little more advice. "It's really an open forum for whatever they need guidance on," Dr. Frank said.
Dr. Frank wants the veterinary team to walk away confident, passionate about rehabilitation so they will feel comfortable talking about the benefits and confident in basic skills.
There are many benefits of a confident veterinary team trained in rehabilitation services. First, it provides goodwill, especially with geriatric patients. "A lot of people will do whatever they can for their older pets, so this is an excellent service to give a good quality life for them."
Rehabilitation services are good for surgical and non-surgical orthopedic cases. On the human side, patients with knee or hip surgeries are often doing range of motion activities almost right after waking up. This is a concept that's starting to gain momentum in veterinary medicine. There are also clients who simply don't want to go with invasive procedures, so this is another, often more affordable, option.
Once the on-site training is complete, there is a remote session where Heidi Rooney, MBA, solutions development manager for Vetoquinol USA, holds a virtual training to discuss how the clinic can make their rehabilitation services profitable and get buy-in from the core team. Indeed, rehabilitation services are most lucrative for veterinary clinics when they incorporate a full team approach. "We stress that programs should be veterinary supervised and technician lead," Rooney said. This leads to efficiency and getting the most engagement from a team – giving those people a newfound purpose that maybe they didn't have before. They're no longer dog holders; they are the champions and the owners of animals from start to finish in the rehab program. "That is something beyond medicine that we have seen improving in practices is the team camaraderie and newfound love for their path before their careers," Rooney said. "We want to reinspire their passion to take care of animals."
Yes, veterinary clinics must be great at the technical piece, but if they don't have the business knowledge and the marketing support to go with it, there will be no pipeline of new patients. That's why the Vetoquinol team emphasizes that the VeRBS program is a 360-degree look at rehabilitation. The veterinary clinics who are just starting a program will need help on the technical side, business and marketing. For veterinary clinics that have a program and staff already dedicated to rehabilitation services, Rooney can help with improving efficiencies, finding a broader audience to market to, and giving the veterinary clinics different techniques to gain referral business.
"If you're not gaining new customers and clients, your service will not survive," Rooney said.
Positive results
Arizona Animal Wellness Center signed on to the VeRBS program because of a desire to continue to grow their rehabilitation service by educating the entire team about the benefits of therapy – not just for the pet, but for the pet's family too.
"It has built confidence in our team members to be able to begin conversations with pet parents about how rehabilitation is an integral part of their pet's health and can improve the quality of life for the pets we care for and love," Dr. Paster and Fox said.
Allendale was selected as a pilot clinic for the VeRBS program. The clinic received training and feedback to
help tailor the program for future groups. "It has been incredible to be able to offer this valuable service to our clients and the clients of the clinics that refer to us," said Dr. Mohammed.
Allandale's dedicated team provides a wide range of services designed to promote healing and improve mobility. These services include:
Underwater Treadmill: "Our underwater treadmill allows for low-impact exercise, providing buoyancy and reducing stress on joints. It's a highly effective way to improve strength, endurance, and range of motion."
Laser Therapy: "Utilizing the power of therapeutic lasers, we offer non-invasive and painless treatments that stimulate tissue repair, reduce inflammation, and alleviate pain. Laser therapy enhances the healing process and accelerates recovery."
Shockwave Therapy: "This innovative modality employs acoustic waves to promote healing, increase blood circulation, and alleviate chronic pain. It's particularly beneficial for conditions like osteoarthritis, tendon injuries, and muscle strains."
Floor Exercises: "We incorporate targeted floor exercises to improve balance, coordination, and muscle strength. These exercises are tailored to the specific needs of each patient, supporting their rehabilitation journey."
Home Exercises: "We empower pet owners by providing them with personalized home exercise programs. These exercises are simple yet effective, allowing patients to continue their progress outside of our center and enhance their recovery at home."
Allandale's veterinary team has witnessed remarkable clinical benefits because of their rehabilitation services. The clinical benefits they have observed include improved mobility and function, pain relief and management, faster recovery from surgery or injury, and weight loss.
"We recognize the importance of a comprehensive approach to rehabilitation, which extends beyond in-clinic sessions," said Dr. Mohammed. "We empower our clients with knowledge and provide them with essential tools to continue the progress at home. Client education is a vital component of our services, ensuring that pet owners understand the importance of ongoing care and participate actively in their furry companions' rehabilitation journey".