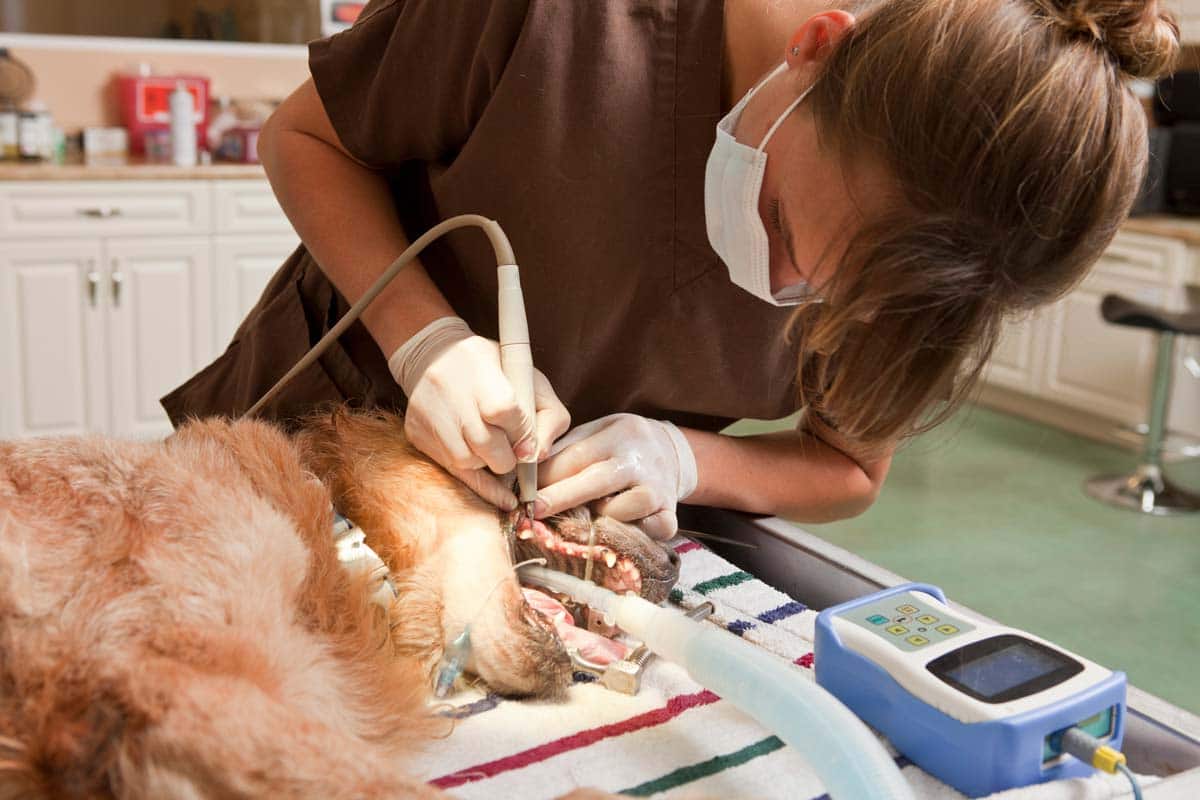 Veterinary Dentistry on the Cusp
New equipment, new training, new graduates point to a growing focus on veterinary dentistry.
General veterinarians are doing more routine dental cases than ever. More important, they are doing them better, said Brook Niemiec, DVM, FAVD, DAVDC, Veterinary Dental Specialties, and Oral Surgery, San Diego, California. Now, thanks to a decision in September by the American Veterinary Medical Association's Council on Education (COE), recent graduates may do better still.
"Dentistry is an integral part of veterinary medical practice and is a crucial component for the health and welfare of multiple animal species," wrote the COE in its revisions to minimum standards in veterinary medical education. "It is essential that students are trained in dentistry."
Specifically, the COE, which accredits DVM or equivalent educational programs, added just two words – "and dentistry" – to Standard 9 on the curriculum. The Standard now says that curriculum must include exposure to "principles and hands-on experiences in physical and laboratory diagnostic methods and interpretation … disease prevention, biosecurity, therapeutic intervention (including surgery and dentistry), and patient management and care … involving clinical diseases of individual animals and populations." (Italics added by Veterinary Advantage.)
"Honestly, it should have occurred years ago," Brenda L. Mulherin, DVM, DAVDC, and clinical professor of dentistry and oral surgery at Iowa State University, told Today's Veterinary Practice, an NAVC publication. "Veterinary dentistry is something that almost all general practitioners will need to have some knowledge of. While most practitioners will need to perform some type of oral procedure at least once in their career, the knowledge that is bestowed upon most graduates is minimal."
"Students have always wanted more dentistry," said Dr. Amy Stone at the University of Florida College of Veterinary Medicine. "They fight over spots and rotations." Accordingly, UF has grown its dental program steadily since the late 1990s. Interest in dentistry has heightened among the entire profession as well, "partly because spays and neuters are now done in rescues before they have gotten out into the general practice," she said. "Dentistry has now become more of a focus."
Dentistry is an investment
Most veterinarians understand the medical and financial benefits of performing dentistry, said Niemiec. And they are responding accordingly.
"We did a study from 2008-12 where we looked at the number of retained roots from extractions. It was over 90%. Imagine if 90% of your patients died under anesthesia; I think you would change something. But currently, more vets are taking dental radiographs, and this has decreased – though not completely alleviated – retained roots."
Still, there exist some disconnects regarding proper dental care, he added. To achieve a significant medical benefit, dental care requires a significant investment in equipment and training.
"Dentistry is done well or not at all," he said. "One thing we are seeing much more of is iatrogenic pathologic jaw fractures. This is because vets know that these teeth need to be extracted but don't have the equipment or training to extract them safely. The increasing popularity of small and toy breed dogs is also to blame."
Investment comes with a cost to the client, he added. But most clients are willing to bear that cost if they are properly educated. "The main issue is that veterinarians and staff say, 'Fluffy needs a cleaning' instead of 'Fluffy needs a cleaning or all these bad things can/will happen; these are all the steps that are required, and [this is what we do] to ensure safety and effectiveness.' It's this training and effort that is critical."
Anesthesia safety is paramount, and thorough pre-operative testing protocols are essential to successful dentistry, said Niemiec. "The biggest pushback to dental care is fear of anesthesia, with finances a close second. Working patients up increases anesthetic safety. We know we are going to decrease the function of the vital organs slightly during anesthesia. A healthy pet deals with it fine, a sick one can't. A pet lost under anesthesia likely means many who don't get the care they need. Further, by explaining the value of the pre-op protocol, we ease the client's concern. Finally, it is a direct source of income for the clinic."
Assessment in a year
AVMA's Council on Education "does not prescribe the number of classes, laboratories, etc. that a college has in any area of the curriculum," Dr. Karen Brandt, head of AVMA's Education Division, told Veterinary Advantage. "The standard states the curriculum in veterinary medicine is the purview of the faculty of each college, but must be managed centrally based on the mission and resources of the college."
In order for colleges to adjust to a revised standard, the Council on Education will not initiate an assessment of a revised standard until after one year.
Home dental care
Dental care isn't confined to the veterinarian's office. It's a 365-day commitment on the part of pet owners in partnership with the veterinary team. There are plenty of home-based products for Veterinary Advantage readers to recommend, and veterinary professionals can increase compliance as well as revenues by stocking them in the hospital.
A vital part of periodontal wellness
"Home care is a vital part of periodontal wellness, and veterinarians and their staff should include them as part of every pet consultation," said Courtney S. Carney, MBA, director of marketing for Virbac Corp. Home care may consist of passive care, such as a chew, and active care, such as toothbrushing and antiseptic rinses.
"With the growing acceptance of pets as part of the family, owners expect the same level and quality of care they receive from their health professionals. Because of this, they not only welcome the recommendation from the veterinarian but expect it. Influencing how a patient's health is maintained between visits to the clinic ultimately means better patient outcomes. A healthy patient helps sustain the confidence the pet owner has in [the veterinary practice]."
While not the primary reason for making dental an integral part of the practice, the clinic can realize added benefits by doing so, says Carney. "According to the APPA, 50% of dog owners buy some chew. That is about 45 million dogs. There is an opportunity not only to recommend chews that support periodontal wellness but also to keep the clinic financially healthy."
Partnership
"Reps should reinforce what veterinarians already know – that the key to preventing oral disease is to educate clients on prevention at the very first puppy or kitten visit," said Tracy Revoir, DVM, manager of technical marketing, Dechra Veterinary Products. "But clients also need to consider their pet's oral health as a partnership. Veterinarians provide regular dental cleanings, and clients provide home care through toothbrushing, water additives, and dental chews. By adhering to a consistent program of home care, clients will greatly improve their pet's oral health and may be more likely to return for regular dental cleanings.
"Unfortunately, veterinary professionals do not receive much training in dentistry while in school," she continued. "And in many practices, dentistry accounts for less than 10% of the gross income. But with an appropriate dental program, dentistry can contribute an additional 25% to the overall income.1 Home care is an important yet underutilized part of preventive dentistry. And although home care products are available elsewhere, having them at the clinic increases revenue and compliance."
1. Berg, ML. Build a thriving dental practice. Today's Veterinary Business. Dec. 2017. todaysveterinarybusiness.com/build-thriving-dental-practice.
Equipment considerations
Superior equipment
Superior dental equipment speeds procedures, increases efficiency, and is less traumatic to the pet:
Old, dull, or damaged equipment not only creates the potential for injury but is far less effective. For example, damage to the last 1 mm of an ultrasonic scaler tip renders it 25% less efficient and 2 mm loss results in 50% less efficiency.
A new drill, ultrasonic scaler, elevator, or curette can markedly cut down on surgical time and increase the number of procedures performed each day.
It is important to note that 1) time is money and 2) decreased anesthetic times are better for patients.
Equipment care & maintenance
Quality maintenance of dental equipment improves efficiency, increases its lifespan, and maximizes the practice's investment. Technicians/assistants should properly maintain power equipment, which includes:
Oiling handpieces and maintaining compressor oil if necessary.
Care and sharpening of hand instruments, which is critical but often poorly performed, if at all. Hand scalers should be sharpened at least weekly; daily is ideal.
Maintaining and sharpening elevators, scissors, etc.
Cleaning, drying and sterilizing dental instruments.
Other considerations
Improving preoperative testing protocols improves the safety of each procedure and increases the practice's revenue. They include:
Complete blood panel: Renal and hepatic indices, CBC, and thyroxine testing.
Urinalysis: Especially useful for assessing slightly elevated renal indices in cats by concurrently evaluating urine specific gravity.
Chest radiographs: More than 50% of patients > 6 years of age have significant findings on chest films; in addition, hypertrophic cardiomyopathy is often not ausculted.
Electrocardiogram prior to anesthesia.
Provide superior intraoperative and postoperative care through:
Temperature maintenance: Circulating warm-water or warm-air blankets.
Monitoring: Blood pressure measurement, electrocardiogram, carbon dioxide monitoring, etc.
IV fluid administration: For hydration support and medication administration.
Source: "Dental Services: Good Medicine for Patients & Practices," Brook A. Niemiec, DVM, FAVD, Diplomate AVDC, Today's Veterinary Practice.
Pet owners need guidance
Client education plays a pivotal role in integrating veterinary dentistry into the practice's service offerings and in lifetime healthcare plans for canine and feline patients, said the American Animal Hospital Association in its 2019 AAHA Dental Care Guidelines for Dogs and Cats. Some suggestions:
Explain the value. The most important step in achieving compliance with oral health recommendations is getting the client to understand the value and believe in the importance of regular dental care. This awareness generally results when the client realizes that oral pathology is a source of chronic pain, infection, and poor quality of life for the pet.
Be consistent with terminology. A fundamental aspect of delivering high-quality veterinary dental care is for the practice team to use consistent dental care terminology and messaging with the client. When this is consistently done using tools such as a written treatment plan, client compliance with oral health recommendations will generally follow.
Explain anesthesia. The client should be told that their pet needs a comprehensive, anesthetized oral exam and dental radiographs in order to perform a preventive cleaning or dental-periodontal therapy. It is also vital that the client understands the distinction between awake and anesthetized dental procedures.
Relate the pet's oral health to that of the client. Oral health should be discussed at the first appointment and every visit thereafter. Clients are familiar with their personal oral health. It is helpful to use the client's existing personal hygiene habits for themselves and their children as a bridge to dental recommendations for a pet.
Scaling is for professionals only. Clients should be informed that groomers and others should never be allowed to scale a pet's teeth. Scaling of teeth must always be accompanied by polishing and must only be done by trained veterinary personnel operating in a clinical setting with an anesthetized animal.
Recommend home oral hygiene and products. Advise clients regularly of the potential damage done by inappropriate chew toys and the benefits of regular home dental care. In offering this guidance, specific recommendations are more likely to be followed.
Discuss the anesthetized oral exam. It is critical to have a written protocol to avoid misunderstanding regarding an anesthetized oral exam. It is not until the mouth and oral radiographs have been evaluated under anesthesia that a full treatment plan and the costs of a dental procedure can be accurately determined.
Explain the role of nutrition in oral health. When appropriate, many clinicians encourage pet owners to select complete and balanced "dental" diets as the lifelong source of nutrition for the pet. As with any recommendation, practitioners should evaluate compliance and efficacy for the individual patient during subsequent examinations.
Communicate upon discharge. Address all procedures and potential complications, immediate postoperative home oral care (e.g., no brushing until surgically manipulated gingiva has healed), medications and their side effects, and any diet changes that might be necessary (e.g., soft or premoistened food in the immediate postoperative period). If clients are not properly advised of normal postanesthesia behavior and postoperative side effects affecting a pet, they may be reluctant to allow another procedure.
Materials needed for the practice of veterinary dentistry
Necessary materials
Antiseptic rinse
Prophy paste in individual single-use tubs (fine grit)
Prophy angle and cups
Hemostatic agents
Needles and syringes
Intraoral dental radiographic capabilities
Equipment to prevent hypothermia: conductive blanket, forced-air warming blanket, circulating water blanket, towels, blankets, IV fluid warmer, dental water reservoir warmer
Gauze sponges
Antimicrobial agents for local application
Resorbable suture material sized appropriately for surgical needs (3-0, 4-0, or smaller) Bone augmentation/guided tissue regeneration material
Local anesthetic drugs and delivery system
Necessary equipment
A dental machine with tubing and attachments for low- and high-speed handpieces, mechanical scaler, suction, and pressurized air/water delivery system
Dental radiograph generator (wall, ceiling mount, or floor model)
Suction
High- and low-speed handpieces (two of each)
Pressurized air-water delivery system
Autoclave or gas sterilization system
Various sizes of high-speed and low-speed burs (round/crosscut taper/finishing burs)
Power scaler with tips for gross and subgingival scaling (ultrasonic, subsonic, piezoelectric)
Head or eye loupes for magnification
Source: 2019 AAHA Dental Care Guidelines for Dogs and Cats, American Animal Hospital Association
Photo credit: istockphoto.com/DenGuy
Sidebar photo credit: istockphoto.com/Nataba
Sidebar Photo credit: istockphoto.com/JimVallee