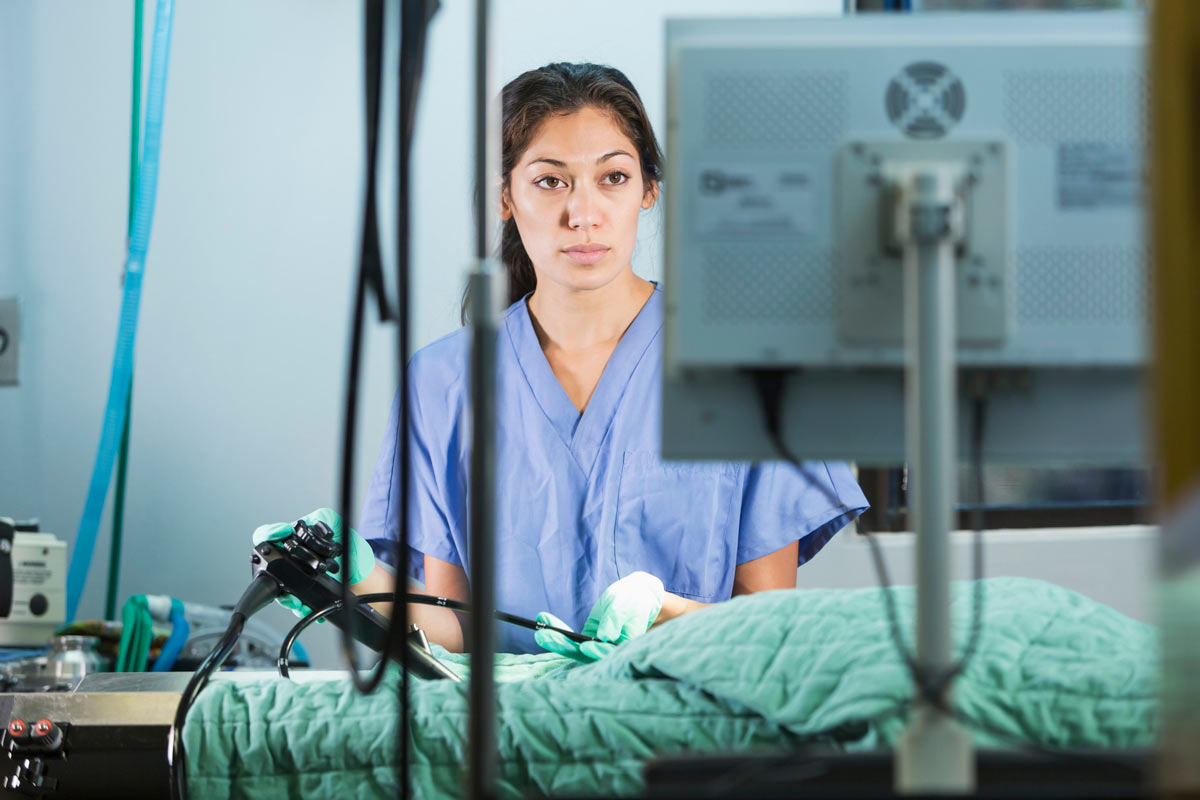 Veterinary Equipment – "Subject to Change"
Equipment is in high demand at veterinary clinics. But the industry will have to navigate shortages and delays for the foreseeable future.
From coast to coast, the scene was eerily the same. As summer transitioned to fall, ports from Savannah to Los Angeles were reporting record delays, with ships offshore arrayed like cars in a traffic jam waiting to unload their goods.
And the delays were costing more than just time. According to a Bloomberg News report, two years ago, a 40-foot container cost less than $2,000 to transport goods from Asia to the U.S. Today the service fetches as much as $25,000, if an importer pays a premium for on-time delivery.
On the retail side, shipping delays and shortages for in-demand products led retail experts to urge consumers to start holiday shopping as early as September, ABC News reported. The downward spiral first started when COVID-19-induced shutdowns in Asia drove shipping and production delays. That created shortages in shipping containers and was compounded by limited warehouse space, trucking issues and labor shortages.
Some experts warned that the delays could exist well into 2022, if not longer. But for the here and now, animal health industry stakeholders whom Veterinary Advantage spoke to said they're planning with the understanding that these disruptions will be with us for the foreseeable future.
Client expectations
Robby Brooks, technology solutions strategist for MWI Animal Health, said that while MWI Animal Health has had a great year in equipment sales, between the shipping ports and the manufacturing process in the global supply chain being interrupted, the challenge right now for distributor reps is setting proper expectations with customers.
For instance, several clients are planning to open new practices soon, but they will have to factor in longer lead times for the arrival of equipment orders. "As a new practice, you may be ready to open, but we may not be able to get your cages, anesthesia machine or surgery monitor," he said. "They're going to have to make decisions sooner than ever before. These are questions and scenarios that the market has not had to think about before."
There's a lot more planning involved. Brooks and his team have added lead times to their quotes and proposals, with "Subject to Change" in big red letters due to the dramatic shifts in supply. "In certain cases, something as simple as an anesthesia machine has gone from two to three days shipping to now 14 to 16 weeks of lead time. It's staggering."
Nearly all businesses across industries and regions are facing longer lead times and more uncertainty on when they can deliver their products. Consumers, too, are leery. A recent survey of more than 1,000 U.S. consumers found that worries about more delivery delays, product shortages, and disruptions were worsening across the nation. According to Oracle, which conducted the survey, over the past year, supply chain disruptions have become top-of-mind for nearly all Americans and have had a widespread impact on day-to-day life. Other survey findings included:
Almost half (45%) of people admit they never thought about how products were delivered prior to the COVID-19 pandemic, but now nearly everybody (91%) considers the supply chain when making a purchase.
87% of people have been negatively impacted by supply chain issues over the past year, with many Americans unable to purchase certain items due to shortages (60%), forced to cancel orders due to delays (51%), and even rationing essential items out of fear of running out (40%).
Supply chain disruptions have left people feeling frustrated (61%), impatient (46%), anxious (45%), and angry (34%). Nearly all (92%) are concerned that supply chain shortages will prevent them from being able to buy what they need, and 66% are worried it will ruin their holidays.
Year-end ramp up
Despite these frustrations, as the end to the calendar year approaches, reps were still anticipating a ramp-up in orders from doctors wanting to take advantage of Section 179 tax benefits. "I think what's going to happen is practices that are busier than ever may be bumped up in their tax bracket from 24% to 32%, or from 32% to 37%," Brooks said. "Their accountants are going to tell them they have write-offs to take advantage of, and they'll call us to discuss what equipment they can spend it on."
Categories such as ultrasound and laser therapy are growing in popularity with practices. Many veterinarians
are also at the point where it makes sense to upgrade in categories such as digital X-ray, where the price point for newer, more advanced equipment is tens of thousands of dollars lower than when they first invested in the technology.
In many ways equipment sales have shifted from a year-end scramble to a year-long priority. In the past, veterinarians often waited for the tax write-offs or the best deal at a trade show. But now, since most of the companies they are dealing with are corporately owned, Q2 is just as important from a shareholder's perspective as Q4.
Brooks said each year, he and his team get a wish list from their more established customers. He and his territory managers try to start the process earlier than they would have in the past. "What I try to instill in my territory managers is, let's get that wish list started earlier rather than November and December, when we typically see
the mad rush – especially now that there might be back orders." Brooks anticipates back orders to continue into 2022 because of the Delta variant and unknowns of respiratory season.

Introducing new products in the COVID era
Earlier this year, Bionet America, Inc., a manufacturer of bio signal medical equipment, such as electrocardiographs (ECG /EKG), spirometers, fetal and patient monitors, introduced a new product to the veterinary market – VEMO, a veterinary wearable ECG sensor.
VEMO was created out of a desire to help improve outcomes for animals post-surgically. Jason DeFrancesco, director of sales, Bionet America, said research points to 50% or more of anesthetic deaths and anesthetic complications actually occur after the surgery. "Coincidentally, there's not a lot of monitoring that is being done after the surgery." What usually happens is the pet has the operation, they go into a recovery cage and the veterinary team will monitor basic vital signs from time to time. "One of the problems post-surgically is it's hard to get a monitor into the recovery cage. There are wires, the pet is waking up, and they're inclined to chew on things, take things off. So it's difficult to monitor a pet in recovery."
VEMO transmits vital signs to an application on a tablet that will then automatically record those vital signs and then trigger any alarms to another tablet or smartphone. With VEMO, a tech can essentially walk away from the recovery area, knowing that a patient's vital signs are being monitored. "So it allows them to tend to other clinical needs, or alert the clinician of any problems before it's too late."
While the company was excited to get the product in front of veterinarians and their staff, amid a pandemic and with limited to no in-person access to those clinics, they had to rethink the traditional rollout out and messaging. DeFrancesco said one positive was that with distributor reps essentially locked out of clinics, Bionet's sales team could spend more time with them via Zoom, going deep into the product and conveying the value of how it could help clinics. Because 99% of its sales are done through distribution, Bionet's time spent with distributor reps on these calls was critical. "We were able to get the message out to the sales reps efficiently, but also at the level of depth that we needed to," he said. "So they were able to understand the product well enough so that when the clinics reopened,
they were able to go in there and sell it."
For Bionet, doing front-end lead generation for distributor reps has helped create synergy – securing warm leads so that reps can go into the clinic and close the sale. "We've also been aggressive as far as putting different incentives together for different distributors from a manufacturer standpoint." Bionet has also ramped up its marketing towards the clinics and end-users. Because travel has been restricted, the company has reallocated those funds into marketing, such as through magazines, newsletters and e-blasts.
DeFrancesco said he's observed an "absolute uptick" in equipment demand coming from veterinary clinics over the last year. "I think part of that is coming from people adopting more pets, people getting more pets during quarantine and thus clinics getting busier and busier."
Fortunately, Bionet has been able to forecast what stock was needed so that they haven't had any of the back order or challenges that some of its competitors have, DeFrancesco said. "Our lead times have consistently been 24 to 48 hours for just about all of our products; whereas I know some of our competitors have had supply issues. We were fortunate to have made the manufacturing decisions well in advance of COVID to have the supply that we would need through the pandemic."
Specifically within the patient monitoring category, supply shortages are a significant issue, mostly due to one small, particular part that for some manufacturers can't be sourced, or there is difficulty in sourcing, and therefore the monitor can't be built to spec, DeFrancesco said. "That's something I'm seeing in the industry quite a bit."
There's also a rise in the adoption of monitoring devices. For example, 10 years ago, very few clinics were monitoring end-title carbon dioxide (EtCO2). Now, for Bionet alone, EtCO2 sensors go out on more than 50% of their monitors. Clinics are not just adopting more equipment, but they're expanding the capabilities of the equipment they're already using.
"People care more about their pets than they ever have before," DeFrancesco said. "We're starting to see the humanization of medicine in the veterinary industry, which is contributing to more and better equipment being used. As a result, companies are spending more on R&D to come out with new technologies for the veterinary industry."
Almost surprisingly, many senior veterinarians are the ones adopting this technology and incorporating it into their workflow. Even though they might be planning to sell their clinic or unwind over the next five to 10 years, "they're still adopting the technology because ultimately that's raising the value of their clinics," DeFrancesco said. "I'm seeing the adoption of equipment and technology across the entire spectrum of the generations."
Think-tank decisions
Brooks has noticed that there are more people at veterinary clinics involved in the decision-making process for equipment orders. He compares it to a think-tank mentality. "We're seeing sort of a group mentality of the office manager, or an associate, or a technician more involved in the process."
Before it was usually just the owner saying, "I need to make the decision because it's my money." But practices are having more and more trouble retaining staff. That could be a technician, receptionist, or even an associate. Because veterinary clinic owners are having to pay more to their staff – especially associates – they're also wanting to bring them in on the equipment conversations. "A lot of times, an owner will tell us, 'I don't really believe in ultrasound, but my associate sees value in it.' So that's where we'll see the adoption of some of those modalities, like laser, ultrasound, endoscopy. The clinic owner may not see the value in it, but his or her associates, or the technicians, may find it of interest."
Along with associates, more veterinary technicians are becoming decision influencers within the clinics. Part of that is because vet techs are being asked to take on more responsibility. "Veterinarians and clinic owners are looking more than ever to the technicians as consultants as far as what the clinic needs for equipment, what will make their job easier, make their jobs safer, and what will be better as far as the patient's workflow," Brooks said.
Whenever possible while calling on accounts, DeFrancesco wants the influencers involved with the decisions, both to build relationships with them, and to have a thorough conversation on the clinic's needs. "So while ultimately the veterinarian or the clinic owner is writing the check for the products, the technicians and the support staff are very much involved as far as what products are going to be selected."
Section 179 and COVID-19
Much of the equipment businesses purchased to conform to COVID-19 restrictions will qualify for the Section 179 tax Deduction.
Eligible equipment
Tangible business equipment purchased to modify businesses and/or to conform with COVID-19 restrictions and measures will generally qualify for the Section 179 tax deduction. This includes sanitizing stations, temperature check stations, dividers/plexiglass shielding, new printed signage, and similar business equipment purchased to modify the workspace for employees and/or the public. As always, check with your tax professional or the IRS website for specifics on types of eligible equipment.
Section 179 is not affected by COVID-19 financial assistance
The Section 179 tax deduction is unaffected by any other government program a company may have participated in. For example, if a company received a forgivable PPP loan due to COVID-19 affecting their operations, they are still eligible to claim a Section 179 tax deduction provided they (a) purchased eligible equipment and put it into service by December 31, and (b) have a taxable income after any adjustments pertaining to the programs in which they participated.
How much tax can the Section 179 deduction save me?
Section 179 can save you considerable dollars on your taxes, which can be very meaningful for a company affected by COVID-19. A free Section 179 Calculator is available on the Section 179 website to calculate tax savings.
Financing equipment and the Section 179 deduction during COVID-19
Companies may still finance equipment and take a Section 179 tax deduction. Again, this is irrespective of any other programs a company may or may not have participated in. The usual Section 179 parameters remain: must have purchased (or financed/leased) eligible equipment, put it into service by December 31, and also have a taxable income. See this Section 179 Qualified Financing page for more information.
Source: section179.org
Photo credit: istockphoto.com/DenGuy
istockphoto.com/kali9