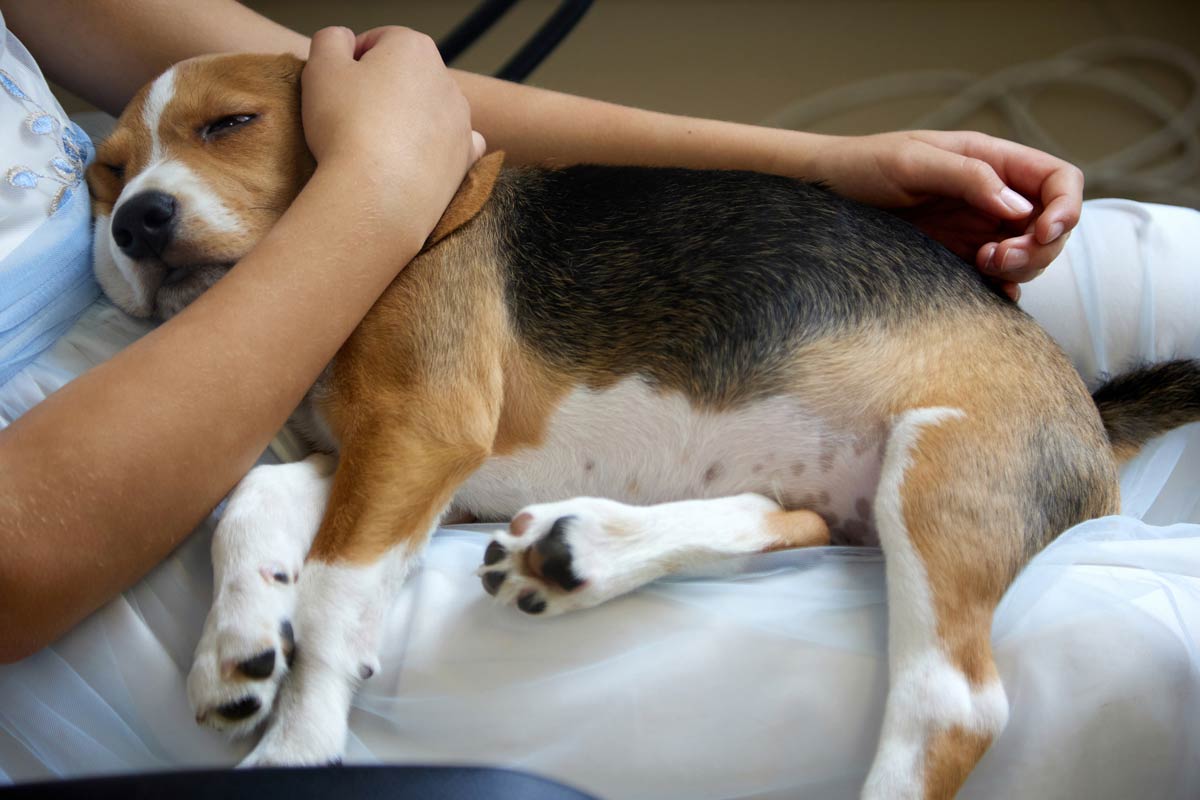 Veterinary Pain Management: Needed Relief
The business of veterinary pain management can be a benefit to the client-patient relationship as well as the clinic's bottom line.
From her vantage point as a practitioner, there have been two big changes over the years in the perception of pain and treatment, said Natalie Marks, DVM, CVJ, Blum Animal Hospital. The first has been the original philosophy that we wanted animals to feel pain postoperatively to be quieter and help with recovery. "Little did we know how counterintuitive that was on so many levels: pain impeded healing, raised cortisol levels, was a source of stress and anxiety, and actually caused deterioration in the human-animal bond."
The other area that has changed significantly is our ability to recognize changes in body language and physiologic parameters indicative of pain. "We previously thought that dogs and cats would vocalize if painful," she said. "We of course know that is not the case, and there are many other factors for us to assess like heart rate, respiratory rate, appetite, facial grimacing, ear position, body position, and even body temperature."
Indeed, there have been tremendous advancements in the areas of pain assessment, detection, and management over the last decade, in both human and veterinary medicine, said Dr. Marks. "We also have learned more about the physical and emotional consequences of chronic pain. With the pandemic puppy explosion, the Great Resignation leaving so many pet parents working from home, and the continuing shift of pet parents seeing their pets as children, there is a want and need for pet parents to see their furry family members happy and free of pain."
Dr. Marks believes when practitioners elevate their pain management skill set, it will help improve clinical outcomes. She cited three ways:
It will help a practitioner feel more secure in asking more focused history questions.
It will make veterinarians feel more comfortable in their physical exam assessments and recommendations.
Finally, elevated pain management education will give practitioners more options for cocktails and additional or alternative therapies to recommend for patients.
"Once a practitioner feels more secure and knowledgeable in the areas of pain detection and management, it allows for a much more thoughtful and thorough treatment plan, including targeted diagnostic imaging, multimodal pain management, and appropriate drug monitoring and follow-up appointments," she said. "Not only will these significantly improve patient care, but they will also generate revenue in the extremely important diagnostic profit centers."
Options abound
But where to start? When Chris Lewis, DVM, MPH, DACVPM, was in school in the early 2000s, non-steroidal anti-inflammatory drugs (NSAIDs) were the go-to treatment, and one of the only options, for veterinarians. "NSAIDs were, and still are, used to help reduce pain and inflammation," said Dr. Lewis, technical services veterinarian for Vetoquinol USA. "And those were often only used when the animal showed signs of pain."
Eventually, supplements – like glucosamine and chondroitin, which have also been used for decades – were introduced into the veterinary market, but often not used until the animal was already showing signs of joint issues. "Sometimes it was started earlier for active dogs, or dogs that we knew had a joint problem because it was intended to slow the progression of the disease and try to help the joints stay healthy."
While there wasn't a lot of solid science behind glucosamine and chondroitin 20 years ago, we have learned a lot more since then, said Dr. Lewis. "It's just conflicting science because some studies show benefits and many show none; it does not show negative effects, but how much does it really help? There have been advances in the number and types of supplements, and there has also been an increase in the number of NSAIDs and pain relief products available. There are many more NSAIDs now than there used to be. And they each have slightly different profiles that can lead to potential side effects in various ways. Options have increased to where now there are a lot of options to support joint health out there, and it can be overwhelming for veterinarians."
Indeed, general practitioners may be unable to keep up with all the latest research available, Dr. Lewis said. "They can definitely fall behind or be overwhelmed when they try to dive back into the research," he said.
Distributor reps can help veterinarians make sense of the options by laying out the different categories of products and approaches available to manage the condition, along with the latest research.
According to Dr. Marks, common categories of treatment for pain include nutraceutical supplements (i.e. glucosamine and chondroitin, omega 3 fatty acids, etc.), therapeutic and weight management diets, and oral and injectable NSAIDs, and opioids.
While new products are coming out regularly, nuances exist that practitioners will have to evaluate. For instance, Dr. Lewis said a new product is coming out soon that can actually block the perception of pain, but it doesn't stop inflammation or address degradation of the cartilage or further worsening of the joint. "It's great in that it stops the pain, but it doesn't address the other things going on. So what can we do to give a holistic, multimodal approach to treating the pet? When I talk about arthritis management, I say multimodal all the time, because sometimes we can focus on one aspect of care and forget other approaches."
NSAIDs are well tolerated by most animals, said Dr. Lewis. "But sometimes we can have animals that don't tolerate the medications well. We can see GI issues, and issues with liver function or kidney function. It's not necessarily that we want to avoid NSAIDs at all costs. It's just they have the potential for having some adverse reactions in the body. We want to reserve NSAIDs for when they're really needed."
Weight management and exercise can't be ignored in pain management discussions, especially for prevention. Maybe the pet doesn't play fetch anymore. Can the pet owner take his or her dog on walks to keep movement up? "If we can make some changes earlier, if we can keep their weight down, if we can keep them active, if we can use supplements and other helpful approaches, it can reduce our need for NSAIDs. We want to keep them healthier, longer."
Multimodal is the keyword in pain management discussions, said Dr. Lewis. One treatment does not fit all, and in fact, may not fit that same dog or cat from one stage of life to the next. "If we can help the pet owners recognize some of the early symptoms or early changes, then we can use nutraceuticals up front, and NSAIDs sparingly for when they have a flare-up," Dr. Lewis said. "The use of certain products can potentially slow the progression of the disease, so that animal does not have as severe signs as early, and hopefully has a longer, better quality of life. We're also giving the pet owner a better experience with their beloved pet."
A word on cost
Distributor reps can bring plenty of value into their discussion on pain management treatments with their veterinary clinics, including knowledge of the different options of care, understanding of the subtleties between the ingredients of supplements, and even the differences among NSAIDs. Another benefit? Expert recommendations on which products and price points work best for each clinic's client base.
Dr. Lewis said you don't want to pigeonhole a clinic or a client because he's seen some rural clinics with amazing, advanced care, and a clientele willing to pay for it. But when it comes to economics, especially in today's economy, the reality is that some pet owners won't be able to pay for certain treatments. Generics can give veterinary clinics a complete line of pain management products. "We know generic NSAIDs are going to help reduce pain and reduce inflammation even if the pet owner can't afford a holistic, multimodal approach," he said. "It's whatever we can do to help that animal incrementally."
The decision of which products to carry ultimately comes down to the veterinarian. Some veterinarians may get into a groove with specific treatments and be less receptive to new products, but Dr. Lewis encourages distributor reps to be persistent. Ask questions like:
"Hey doctor, have you seen this new approach or tool in the toolbox for managing osteoarthritis?"
"I see you're using NSAIDs and a traditional glucosamine or chondroitin product … are you aware of UC-II and how it promotes joint health?"
"Are you utilizing omega fatty acids?"
Providing options, preferably those backed by the latest science, helps get veterinarians off autopilot, Dr. Lewis said. "It helps vets realize that while what they have been doing has worked, now they have new things they can do to make the lives of the animals even better. And oh, by the way, these options can improve profits for the clinic.
Early education
Once the veterinary clinic has a plan of action for the products and treatment it will recommend, early discussions from not just the veterinarian, but also the veterinary team, are key to effective pain management. "We know how busy veterinary clinics are now and will be for some time," Dr. Lewis said. "The veterinarian doesn't typically have 10-15 minutes to spend on a lengthy discussion about osteoarthritis, and options for care." Training the whole staff so technicians, assistants, receptionists, and client service reps understand approaches and options to care will provide consistent messaging across the entire clinic for the pet owner. "A client might need to hear something three times, or seven times, before they finally get it," Dr. Lewis said.
A great example of educating pet owners is when a younger, large-breed dog is diagnosed early in life with hip dysplasia. "While the patient may not be that symptomatic at first, we know that this disease creates a high risk for osteoarthritis, pathology in other joints, and the potential for chronic pain management," Dr. Marks said. Depending on the client and their emotional state at the time of diagnosis, sometimes Dr. Marks will set this stage at the same appointment, while other clients need some time for acceptance and then a recheck appointment a week or two later for more information about the journey ahead. Dr. Marks and her team talk with the pet owner about the tenets of proactive management including maintaining a lean body mass at all times, daily exercise, a balanced high-quality diet with antioxidants and omega-3 fatty acids, regular rechecks, and signs to watch for of pain and discomfort.
"The most powerful guidance to give team members is what signs of pain look like to a pet parent at home (when asking history questions) and what visual observations we can make in the hospital before starting an exam," Dr. Marks said. These would include some of the parameters already mentioned (appetite, energy level, sleeping patterns, interaction with pet parents and other housemates), as well as physical parameters like hair coat quality and possible matting, asymmetrical muscle mass, lameness, body postures, facial grimacing, weight loss, and breathing patterns.
Whether it's a German Shepherd puppy whose genetic predisposition is to develop arthritis later in life or an older cat who can no longer jump up on the counter, continuing the discussion throughout the stages of their pet's life will help pet owners to think more proactively about pain management. "It's hard to prevent arthritis, but early intervention and early action can definitely slow the disease and give the animal a much better life," Dr. Lewis said.
Photo credit: istockphoto.com/Aleksandr Zyablitskiy
Photo credit: istockphoto.com/Viktorcvetkovic