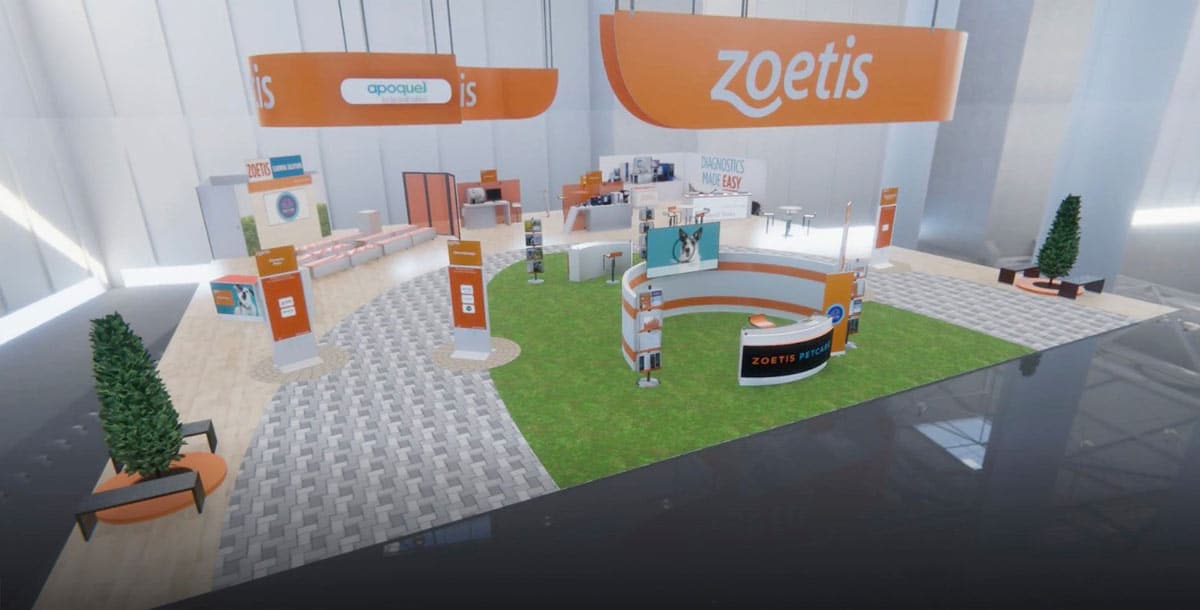 VMX 2021 Registration Open
New virtual options and enhanced safety protocols feature in VMX 2021.
The NAVC, the publisher of Veterinary Advantage, announced that VMX 2021 will take place January 16-20, 2021 in-person in Orlando at the Orange County Convention Center. It will also take place, for the first time, virtually through the VMX Virtual platform, which features interactive educational programs, networking, and a 3D Expo Hall.
"We are excited to open registration for VMX 2021 and to expand the reach of the world's premier veterinary event by making it digitally accessible for the first time to more people around the globe including those who, in the past, might not have been able to attend VMX," said NAVC CEO Gene O'Neill. "Through our new digital platform, veterinary professionals anywhere can learn from and engage with the world's most renowned veterinary professionals, explore our industry-leading expo hall, and network with colleagues wherever they are most comfortable – at home or live from Orlando, Florida at the convention center. The health and safety of VMX participants are paramount and the NAVC is introducing new safety measures and working closely with the Orange County Convention Center, our host hotels, and Visit Orlando to make sure we provide a safe and healthy experience for everyone who comes to VMX."
New for VMX 2021
The NAVC will debut a wide selection of RACE-approved continuing education credit hours as live sessions at the in-person Orlando event and virtually through interactive online and on-demand sessions. On-demand sessions will be available for 90 days after the live event concludes. VMX participants can network and explore new products, services and equipment featured in the VMX Expo Hall onsite at the convention center and online all year long through VMX Virtual Expo. The NAVC broke new ground in January at VMX 2020 when it launched VMX Virtual Expo, the veterinary industry's first virtual expo hall to use advanced simulation technology to provide a "just like being there" 3D experience.
New safety measures
The NAVC has added many new health and safety guidelines for VMX 2021 that adhere to strict safety protocols and guidelines from the CDC, federal agencies, and local partners – including social distancing, cleaning, sanitizing, disinfecting, temperature checks at entrances, and various onsite health reminders. The NAVC will also utilize larger conference rooms for learning sessions to safely accommodate VMX attendees. The Expo Hall aisles have been widened and specific one-way traffic flow and various social distancing measures will be in place.
Masks will be required at all times while inside the Expo Hall, meeting rooms, and while inside the Orange County Convention Center (OCCC).
The OCCC is the largest convention center in the U.S. to receive GBAC Star (Global Biorisk Advisory Council) accreditation on outbreak prevention, response, and recovery protocols. Additional measures of protection include personalized medical concierge services in collaboration with Orlando Health and Visit Orlando. This groundbreaking industry collaboration, among the first of its kind nationwide, includes 24/7 access via phone, tablet, or computer to a physician, access to an onsite medical expert to provide health services, including coronavirus testing and guidance regarding specific event planning.
Guided by its Recovery and Resiliency Guidelines, the frequency of cleaning and sanitizing at the OCCC has increased in all public spaces with an emphasis on high contact surfaces including elevators, door handles, public bathrooms, ATMs, stair and escalator handrails and all seating areas.
"We look forward to welcoming back the North American Veterinary Community's world-class veterinarians and industry leaders for the 2021 Veterinary Meeting & Expo (VMX)," said OCCC Executive Director Mark Tester. "We have implemented a series of precautionary measures to be head and shoulders above other regions for response, recovery and prevention as we operate with our new normal. Our strategies provide public assurance and confidence in prioritizing and protecting the health and safety of all VMX 2021 guests and attendees."
Now open: Zoetis VMX Virtual Expo Hall booth
Veterinary industry professionals won't have to wait until January to engage with Zoetis regarding its newest products and continuing education programs. They can now visit Zoetis' booth 24/7, all year-long, at the VMX Virtual Expo Hall.
In mid-August, the North American Veterinary Community (NAVC) announced the opening of the Zoetis VMX Virtual Expo Hall booth, providing year-round opportunities for veterinary professionals to engage with and learn about the company's new products, diagnostics and treatment options within the NAVC's state-of-the-art VMX Virtual Expo Hall.
"We are thrilled to join the VMX Virtual Expo Hall, which is an ideal platform to expand Zoetis' presence to customers all year long," said Melissa Decker, vice president, U.S. Petcare Marketing at Zoetis. "It provides the opportunity to share our immersive exhibit content and helpful resources, to generate new content each month, and to offer free continuing education across Therapeutics, Preventatives, and Diagnostics."
Zoetis' custom-designed virtual expo booth will serve as a go-to source for veterinary professionals to dive deeper and stay current on feline medicine, dermatology, point-of-care testing, and new products as they become available throughout the year. Zoetis is placing a particularly strong emphasis on continuing education (CE), adding new topics each month. Interactive content will be updated monthly within the virtual platform, the company said in a release.
"VMX is the veterinary industry's premier annual conference where the world's leading veterinary organizations launch and showcase their products and services each year," said Gene O'Neill, NAVC CEO. "The VMX Virtual Expo Hall expands the reach of VMX all year long and provides innovative ways for companies to engage with their customers and provide new opportunities for veterinary professionals to explore their products and services no matter where they are. Having Zoetis join our VMX Virtual Expo Hall further enriches the experience for all."
The VMX Virtual Expo Hall is an immersive and interactive platform that uses advanced simulation and gamification technology to recreate and capture the experience of being at a live trade show event. It supplements VMX by expanding its renowned expo hall 24/7, every day of the year. Visitors digitally move through the VMX Expo Hall and experience the entirety of an exhibiting company's virtual booth, talk live with company representatives, view and download content into their "virtual backpack," watch webinars and videos and even load up on all the free giveaways.