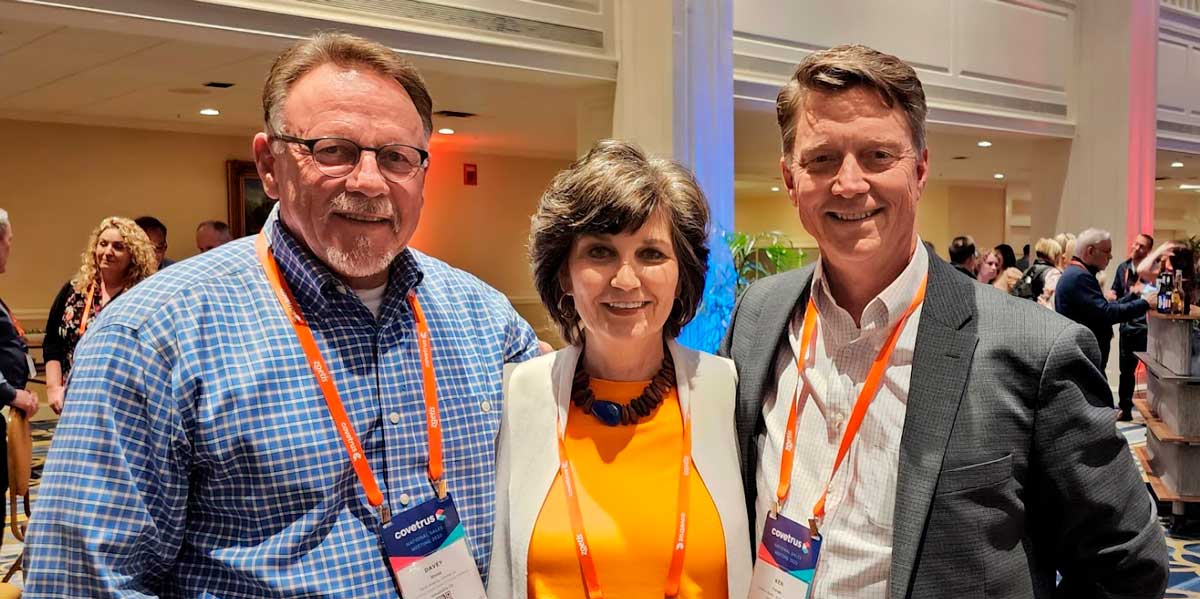 Words of Wisdom for Work Life Balance
Industry veterans share their insights into finding the right balance between hard work and personal well-being as a distributor sales rep.
With more than 120 years of sales experience between them, retiring Covetrus sales leaders Lynn Bixler, Ken Parish and Davey Stone discussed with Vet-Advantage how distributor sales reps can prioritize their personal well-being while balancing a successful sales career in a competitive industry. (For more on their stories, read the May-June 2022 print issue of Vet-Advantage)
Lynn Bixler: My daughter just got a job with Zoetis, starting at the bottom. She's going to have to prove herself to move up the ladder. What I told her and what I've told any new person that I've hired is to ask a lot of questions. Ask veterinarians what keeps them up at night. Ask because you care. You have permission to ask because you do care.
If you take care of your customer, they'll take care of you.
Don't worry about hitting your numbers. Take care of your customer and the numbers will be there.
Davey Stone: Knowledge is power. When we were just selling product to customers and if we were the go-to person that the veterinarian could depend on to give an honest evaluation of a product and how to use it, that was powerful. So, if you're selling more than just product, like we are with solutions, know what you're selling.
Study and do your homework. If you consider yourself a professional salesperson, study the craft. Would you go to a physician who didn't have a medical book in his or her office? You probably wouldn't. You probably wouldn't go to an attorney who didn't have a law library. It's not any different for a professional salesperson. Continue to educate yourself on the art of selling and conducting proper business practices like budgeting, understanding a P&L, building strategy, etc. Read business books to continue to better yourself, and understand how to truly partner with your customers in those areas.
Work hard. You've got to get up early and stay late.
Be passionate about what you do. I have always said I could train someone to sell, but I can't instill passion in them. People who are passionate will win at the end of the day.
Do something you enjoy. I can say this honestly as a guy who's done it for almost 45 years, I was so lucky to have been tapped on the shoulder and given an opportunity in this space, because it just seemed like yesterday that I started.
Do something that you love doing and it won't be work. That would be my advice.
Ken Parish: Like Davey said, do something you enjoy, and you'll never have to work a day in your life.
Here's another one – work smarter, not harder.
Work/life balance is important. When I was a rep, it was full commission, and I didn't see my babies grow. I had some routes that took more than a full tank of gas to cover. I think I learned to work smarter later on.
We have some reps in this industry that have stayed into their 70s because they really enjoy the work. They provide revenue to the company, and self-satisfaction and a job well done for themselves, so they stick around. If you're looking at how those reps do work/life balance, generally it's because they have added value to the veterinarian, to their customer. Back in the old days, veterinary practices would actually wait on lunch for you, because they knew you were coming and you were basically part of their team.
It's a good industry to get into, and it's evolving. Thank goodness millennials are committed to this industry that know technology so well and can help the veterinarians adapt.
You can burn yourself out if you want to. But just like Davey said, find something you love to do and figure out how you can do it, and you'll be fine in this industry. It's got decades left.
Stone: Love the work, and it will love you back.