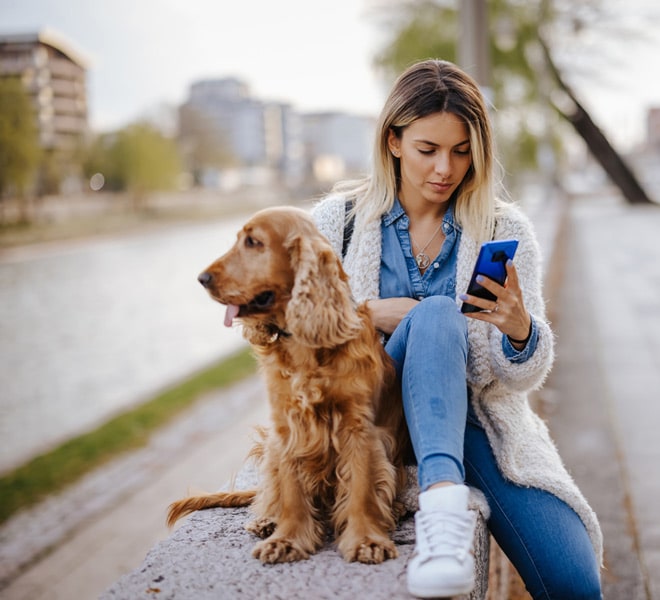 The Future Is Now for Connected Veterinary Care
Companion
|
February 2023
Veterinary practices already have innovative solutions available to make the connected care experience with clients easier. Will they take advantage?
The technology to power the veterinary practice of tomorrow is already here, said Ying Chen, Covetrus Customer Officer, Product. She points to today's computers as an analogy. The operating system as a connected framework, whether it's Microsoft Windows, MacOS, or even Chrome OS, hasn't changed dramatically over the years, but the nature and function of applications in an operating system have changed significantly, producing seismic shifts in many fields, such as human health, transportation, and food service, to name a few. The same is true in veterinary medicine.
The operating systems veterinary practices utilize today will continue to play an essential role in providing an integrated experience. But with each new day, veterinary practices are going to have new ways of thinking about the applications they use, such as client communications, different ways of exploring telehealth, and new opportunities for solutions like teleradiology.
"The operating system remains the foundation for all you can do," Chen said. "How you use that system was once thought of as the future, but I contend it's here now."
In an interview with Veterinary Advantage, Chen discussed how to introduce new technologies into veterinary practices, the solutions they're really looking for, and the importance of hearing about a veterinary practice's pain points as a starting point in conversations.
Vet-Advantage: Technology can do wonders for small businesses like veterinary practices. But you emphasize to industry stakeholders the importance of listening before discussing these solutions. Why do you believe that's so important?
Ying Chen: At Covetrus, we believe it's vital to meet the practice where it's at when it comes to technology. We ask our veterinary partners: "What are your biggest pain points? What are your biggest opportunities?" You have to start at the beginning to understand their challenges and struggles before we talk about technology. By understanding needs – or pain points – we can come up with the right recommendation in the form of technology that can help solve these challenges.
Technology can do amazing things, of course, but it can't work in a silo. When you talk about implementing new technology into a practice, it's not just the veterinarian who should have a say in the decision. It's also the front desk, the veterinary technician, the practice manager, and others within the organization because each role will utilize the technology in different ways.
Practices are dealing with so many challenges around workforce and workforce management. For example, one of the things that we keep hearing from veterinary practices is the fact that clinical staff spend a lot of time doing non-clinical work such as answering the phone, helping people understand when their next appointment is, or maybe a reminder of when they should actually get the refill of their prescription. All of these are an important part of running a successful practice, but with the right technology, these and other day-to-day transactions can be managed more efficiently so that clinical staff can see as many pet patients as they can, deliver exceptional service, and continue to maintain and grow a great relationship with pet parents.
Another example is appointment reminders. Practices spend an enormous amount of time calling pet parents to remind them about an appointment. With empowered self-service technology, a practice can send reminders via email and/or text. Your team could then spend more time on activities crucial for the success of the practice.
In 2022, Covetrus introduced Pulse, an innovative cloud-based veterinary operating system (vOS) that seamlessly connects veterinarians to the technology they need to optimize their operations amid workforce challenges and a drumbeat of demand.
A first-of-its-kind suite of technologies, Pulse drives efficiencies by consolidating the applications practices rely on for day-to-day operations into an all-in-one integrated system. With its user-friendly design and cloud-based accessibility, Covetrus Pulse meets the urgent needs of a veterinary community that is stretched to capacity.
Vet-Advantage: What are the differences between "big technology" and "small technology"?
Chen: I like to talk about this in terms of Small Ts and Big Ts. When we think about Big Ts, this is where you hear a lot in the marketplace about the role of artificial intelligence (AI), for example. Whereas, when I think about Small Ts, I think about technology that essentially takes the place of a manual task a practice does on a day-to-day basis. The practice can leave that to software so they can focus on the pet parents.
An example of this is integrated payments. We're all used to credit cards, so that technology isn't new. However, if you incorporate technology with integrated payments, your staff doesn't have to reconcile between what was swiped through all the receipts versus what's inside of your practice management system. This can save the practice a significant amount of time. You're basically hiring Small T to do a job.
Vet-Advantage: New technology can be great, but also intimidating for new users. How do you balance the introduction of new technology into a veterinary clinic with veterinarians remaining at the center of the animal care journey?
Chen: This goes back to meeting the practice where they are and making sure the entire staff is comfortable and excited about using the new technology. Understanding their biggest challenges and pain points, and what manual workpieces are getting in the way of their team performing clinical work. Once you have identified these obstacles, technology can be used to overcome them so the clinical staff can do clinical work.
You want to make sure that everyone from your veterinary practice team has the opportunity to try out the software so that everybody feels like they're in the process of evaluating how effective the technology is. One way of doing this is training. Veterinary practices need to lean into training so that they can support the adoption of the technology.
With any sort of change management, you need to invest in the human element, making sure that team members can find support easily. Whether it's self-service capabilities or being able to dial up a human, or being able to have on-site training, I think that that's how you can make the adoption of technology a little less daunting. Once you understand the technology, you quickly see how it can save you time. This is how you get the team over the 'hurdle' of change management.
We've had a lot of conversations with practice managers around our operating systems. It's rewarding to see practice managers super excited about a new way of thinking about them and how they're excited about the capabilities it unlocks. We have repeatedly seen that when people are super excited about the technology and involve their team in the conversation, we see better engagement.
As previously mentioned, a lot of the technology we're talking about has been around for a while. What's new are all the different ways it can be used that practices may not have realized to the benefit of the practice and their pet parents.
Vet-Advantage: We know a lot of pet parents are highly motivated when it comes to the health and wellness of their pets. Before they get to an appointment, pet parents have already searched for the symptoms their pet is having and what may be causing them. But there's a lot of information out there that may not be accurate. How can pet parents and veterinarians work together to make sure the information they are receiving is well-vetted? 
Chen: This can be a challenge and opportunity for practices and pet parents. How do you cut through the online noise for accurate information about pet health conditions, their symptoms, and treatments?
Few of us take a diagnostic diagnosis at face value. We are going to use a search engine of choice to find information. The vastness of the internet, however, can prove to be a minefield if you don't fully understand the source of the information. The same is true for pet parents. Now more than ever, we have an opportunity to unlock content to help pet parents who are looking for information from a reliable source.
Great Pet Care, a Covetrus company, provides pet parents with information about pet health and different ways of mitigating diseases. Most importantly, the content is provided and vetted by veterinary professionals.
How does this fit into vet practices? It's simple. Collaborating with Great Pet Care, a practice is able to provide care to pet parents who have done their research online before they even walk through the door. For me, it's more about novel use cases and different ways of unlocking the value of content so that you can help provide connected care.
Great Pet Care
Great Pet Care, a Covetrus solution, provides pet parents with practical, medically-sound pet health information, delivered with clarity and kindness.
"Imagine if your pet's veterinarian was also your best friend. Someone you could count on to put the needs of you and your pet first," the website stated. "That's the experience we're striving to create."
Great Pet Care's team consists of pet-industry veterans who have worked for brands including petMD, PetSmart, Petco, and Chewy.com. "We're here to make pet care less confusing by providing relatable, vet-reviewed information about pet health and wellness." Some features of its resources and content include:
All content is thoroughly researched, fact-checked, and reviewed for medical accuracy prior to publishing.
Great Pet Care works with board-certified veterinarians, licensed veterinary technicians, and expert trainers to provide the best advice possible.
"We're committed to reviewing every piece of content on an annual basis to ensure up-to-date medical standards and information," the company said on its website.
Photo credit: istockphoto.com/bojanstory
Photo caption: Ying Chen