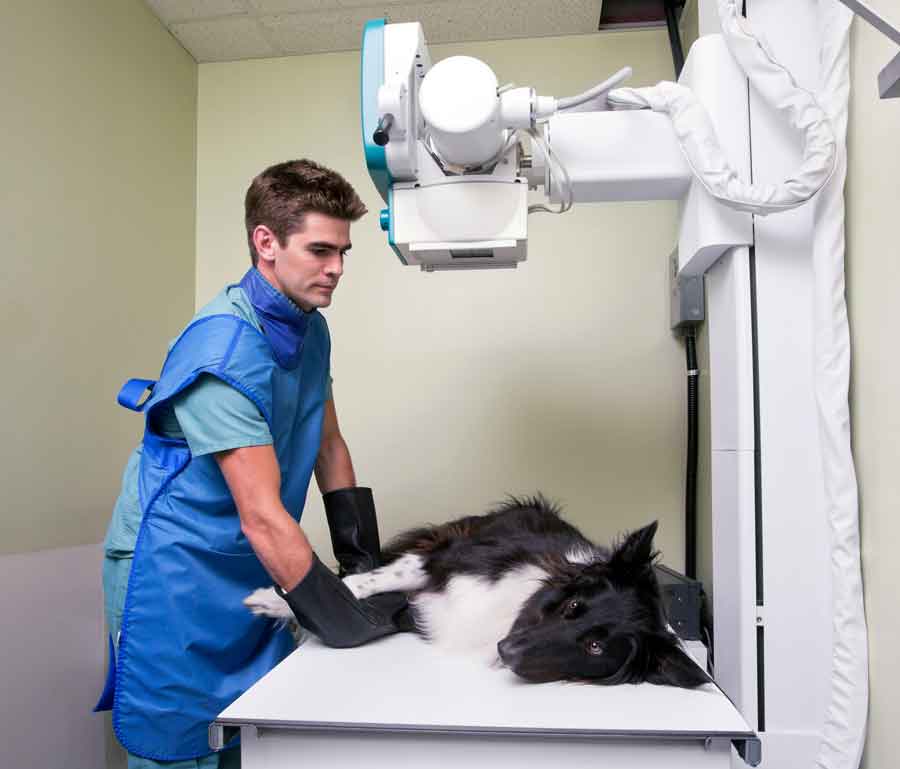 Some Assembly Required
When discussing equipment purchases with clients, details matter.
Capital equipment is never an easy sell. "It takes understanding from the technology side as well as implementation on the clinic side," said Dan Flood, a business development strategist for MWI Animal Health. "You must truly understand the modality and what it is capable of offering for your customer before you give any recommendations. Consulting with a clinic is not a quick meeting; most times to uncover a true need, it can take many calls or months."
Today's equipment sale goes beyond just the equipment itself. Words and phrases that pop up now in equipment conversations include functionality, connectivity, and ROI. Veterinary Advantage spoke to several equipment experts regarding the intricacies of the equipment discussion and the terms and details to emphasize during the discussion.
Options
Sarah Gotwols, the inside sales rep for Penn Veterinary Supply, said that years ago, there were limited options available for any piece of equipment compared to today's market. "Now the options are endless. This is a rapidly advancing industry that is highly competitive both in practice and in sales. Veterinarians are competing against each other to offer more advanced procedures, and therefore, have driven the market on equipment availability."
The complexity of care is also rapidly increasing, she said. "We are fast approaching a time in this industry where standards are in line with human medicine, something that technicians have strived for over the past two decades. Increasing the quality of care standards has created a demand for a higher level of technology that we did not see previously."
In order to determine what a practice needs, it's critical to ask questions – lots of them. "Get to know what's important to them," said Gotwols, "because what's important to one technician or doctor may not be the first thing on another technician's or doctor's mind." For instance, capnography (carbon dioxide monitoring in the respiratory gases) is relatively new and an important parameter in the monitoring world, "but not every doctor and technician feels it is necessary for every procedure," she said. "You've got to ask the appropriate questions to get to know what needs they're looking to fill."
Methodology
Understanding the practice's current method of care is important, said Matthew Fletcher, veterinary equipment & design specialist for Patterson Veterinary. For instance, in acquiring radiographs, a customer with film will get a much-improved image from a lot of available digital systems, "so perhaps a mid-range system with a mid-range image (and mid-range cost) is more sensible."
Alternatively, a customer with a 5-10-year-old DR panel will likely only see improved images in the upper-mid-range and top tier quality systems, Fletcher said or should be considering 3D X-ray / CT / fluoroscopy as an additional imaging modality if better imaging capability is of No. 1 importance.
Linked to how they acquire radiographs is discovering the amount of radiographs taken in-clinic on a monthly basis. "This helps provide a customer with an idea of a sensible return on the investment plan, which in turn helps them understand how the monthly income generated from radiology plays against the monthly financing payment to purchase." Ensuring the income covers the payment – but in some instances, continues to allow profit to be generated for practice cashflow purposes – is very important in choosing their budget for a new system, Fletcher said.
Understanding the practice's current system's capabilities and how it functions within their workflow is important. "Seeing the physical system, its location within its room (which is not always a dedicated room) and within the practice layout itself, helps narrow down the most sensible options to recommend," he said. "However, this visit also helps a knowledgeable veterinary-specific X-ray provider to perhaps offer a better way to fit radiology within that same practice workflow."
Additionally, where does the veterinary hospital see itself in the future? This can help build a complete picture of a client's needs. "By understanding the hospital's past and present X-ray system(s), capabilities and workflow … in discovering their thoughts and vision for the future development of their practice from a perspective of medical service provisions, additional discussions can be brought forth on 3D X-ray, CT, fluoroscopy, laparoscopy and ultrasound imaging modalities."
Training
Mark Steiner, Eastern regional sales manager, Midmark Animal Health, said training and equipment sales go hand in hand. "We don't want a veterinary practice to purchase equipment that they don't know how to use or not know how to maximize its return on investment," he said.
To that end, the company created the Midmark Academy to help clinics "increase revenue, improve productivity and provide better patient care." Midmark's training is performed in-clinic by veterinary technician specialists (VTS) or boarded dentists. The program includes a benchmarking tool to customize training to the specific needs of a veterinary hospital. Training takes place within the clinic and with the clinic's equipment. Packages include a Dental Success Kit with tools, client education materials and templates to jump-start a dental program. There are also ongoing coaching, monitoring and refreshers available.
"Clinics have been open and excited about the training resources that Midmark has provided," said Pete Wenning, Western regional sales manager, Midmark Animal Health. "Of course, this has been an innovative offering from Midmark and as with any new platform, momentum continues to build every year. This is especially true since we have continued to expand our CE accredited training programs. Many clinics have been searching for a continuing education platform that can assist in staff education on the exact equipment that they utilize every day in their own clinic."
However, some clinics may not realize that they potentially have a gap in clinical education. In these situations, Wenning said it is fundamental for the distributor to have a valued professional relationship with the clinic for the purpose of having well-intentioned and meaningful conversations with the practice manager. "We have received very positive feedback from the training sessions that we have performed and are constantly striving to adapt and improve our offerings."
"By selling the equipment alongside the training program, we can ensure our customers are getting the most out of our products," said Steiner. "Equipment also increases revenue, which in return allows the practice to spend more on goods and services."
Warranty and Support
"The trickiest thing about purchasing X-ray systems is knowing what to ask about the ins and outs of the warranty and support," said Fletcher. He says there are three things that allow an X-ray system to function to its maximum capability:
The quality of the hardware
The quality of the software
The quality of the service and support
Within the hardware aspects, there is the DR panel receptor and the X-ray table itself. "One cannot function without the other, and so the customer should be very diligent in ensuring they understand who exactly provides (manufactures), supports (remotely) and services (on-site) both pieces," Fletcher said.
Frequently, a panel and table will be manufactured by one group, often abroad, and then imported by another group and/or packaged with a new name/branding, "which is how the veterinarian is presented with it," he said. "The questions here are who and where is the support for the hardware both a) remotely, and b) on-site? Additionally, are those groups different companies? Will the group selling the DR Panel actively provide the support remotely themselves but require the customer to use a third party group to come on-site should a physical repair be needed? In this instance, does the third party group service and prioritize human facilities with their larger support contracts over the veterinarian, and if so, what is their turnaround time for having a technician on-site? Will it be next-day, two-days, or a week?
Fletcher said it's easy to support a veterinarian with a remote call/login and an overnighting of a replacement DR panel if needed under warranty, "but if the X-ray table is the problem, there isn't any group who will overnight that due to the size!" Thus, a question for veterinary practices to have answered is, how soon can on-site service be provided in the event of an issue?
Lastly, the question should be asked of who is expected to switch out a broken DR panel for the replacement/loaner panel? Is it the veterinarian/staff, or is it the X-ray service group? And, what is the level of time and effort required? With whom does any liability damage reside?
"The devil is in the details with warranty and support."
Connectivity
The importance of connectivity to veterinary practices varies widely, said Fletcher. "It truly depends on the practice."
The key is to ensure the veterinarian understands that they should have some kind of off-site backup for their images, whether generic cloud storage or cloud storage that allows viewing capabilities, he said. "It is very important a customer is helped to protect themselves from a data-loss situation."
Beyond this basic backup function, the range of connectivity runs between a wish for complete connectivity of practice management software (via a PACS and the X-ray CPU), vs. merely emailing images from the X-ray CPU itself, said Fletcher. "It usually depends on the size of the practice or the personal experiences of the doctors/owner (s). For a larger practice – both in terms of square footage and/or numbers of staff – having the ability to perform Modality Worklist and Query Retrieve functions provides them high levels of increased productivity of staff, he said. "The Modality Worklist function allows an X-ray to be ordered in an exam room by a doctor or LVT, and all data automatically pre-populates on the X-ray CPU ready for any technician to take. No extra data entry is required, and less or no data entry mistakes are made!"
Query Retrieve allows images to be opened via either the practice management software and/or a PACS software linked to it to allow viewing and display of radiographs in the exam rooms to customers, "meaning no need to walk a customer back to the X-ray room to do so," Fletcher said.
However, a smaller practice (both in terms of square footage and or numbers of staff) gains far less benefit from the functions of Modality Worklist and Query Retrieve, and simply having the ability to view images using the X-ray system's own viewing software in exam rooms and other locations provides them an improved workflow and added value, he said.
Return on investment
Years of knowledge and relationships with manufacturers play large roles in determining the right fit for the clinic, said Flood. The right piece of equipment can often be a struggle when budgets must be followed.
"You must understand a true ROI on any capital you present," he said. "This will help the clinic understand how the equipment will pay for itself over a certain period of time. We understand bringing on new technology will require upfront costs. With MWI Financial solutions, we are able to get the capital they need in the clinic now to start capturing revenue."
Main Photo credit: istockphoto.com/leaf
A week in the life of a manufacturer territory manager
Pete Wenning, Western regional sales manager, Midmark Animal Health, said a territory manager usually doesn't have a typical week or a set number of customers to call on. "At least not in the traditional sense that you would usually see from a manufacturer rep in the pharmaceutical industry."
For capital equipment, the territory managers usually have much larger territories than a traditional manufacturer representative, Wenning said. "For this reason, it is not the best use of time for a capital equipment representative to simply cold call or do ride-alongs from clinic to clinic with their distributor reps. Instead, the territory managers will communicate closely with their distributor reps to target leads in geographic areas or for certain products. The territory manager will then coordinate a schedule with their distributor reps to come up with solutions for these target clinics."
Each week, the reps select a geographical area within their territory to work depending on needs and opportunity, said Mark Steiner, Eastern regional sales manager, Midmark Animal Health. "They'll travel to that area and stay for several days and make about 15 visits. Some are related to new leads and some are existing business. We work very closely with our distribution partners
to generate leads and
close business."
Wenning said close communication is very beneficial for both the manufacturer rep as well as the distributor rep. This close communication allows both parties to form a partnership built on trust as well as a key understanding of what is going on in the field. "This communication is instrumental in allowing both partners to deliver the customer/clinic with the best possible solutions. In turn, these solutions should benefit the clinic and help build a stronger business, which will benefit the industry as a whole."
Photo Credit: istockphoto.com/Rost-9D
A week in the life of a veterinary equipment specialist
Veterinary Advantage asked Matthew Fletcher, veterinary equipment & design specialist for Patterson Veterinary, to give a snapshot of his responsibilities and workweek.
It includes:
Provision of information on options for, and on-site demonstrations of, veterinary-specific medical equipment and cabinetry.
Consultancy in the opening of new veterinary practices, and in the remodeling and expansions of existing practices, with a network of banks, accountants, realtors and contractors.
Workflow design of veterinary practices.
A typical week involves 2-3 meetings per day:
With veterinarians on their equipment needs, wants, wishes and desires, as well as performing on-site training on equipment.
Additionally, site visits with architects, contractors and Patterson Veterinary service technicians in relation to practices they are assisting to open, remodel or expand, whether in the design, construction or installation phases.
Liaising with manufacturer partners on updates / new equipment options, stock-levels, manufacturing timelines, shipping timelines, delivery dates and installation requirements and expectations.
Also:
Drinking copious amounts of coffee!